Buffalo checks are HOT! As in, like everywhere I turn in the home decor stores – I see it. It adds whimsy and depending on the color you choose – it can add a pop or be subtle. It adds a bit of whimsy- yet can also be timeless and classic. You can go with the traditional black and white or …consider grey and white or a light beige.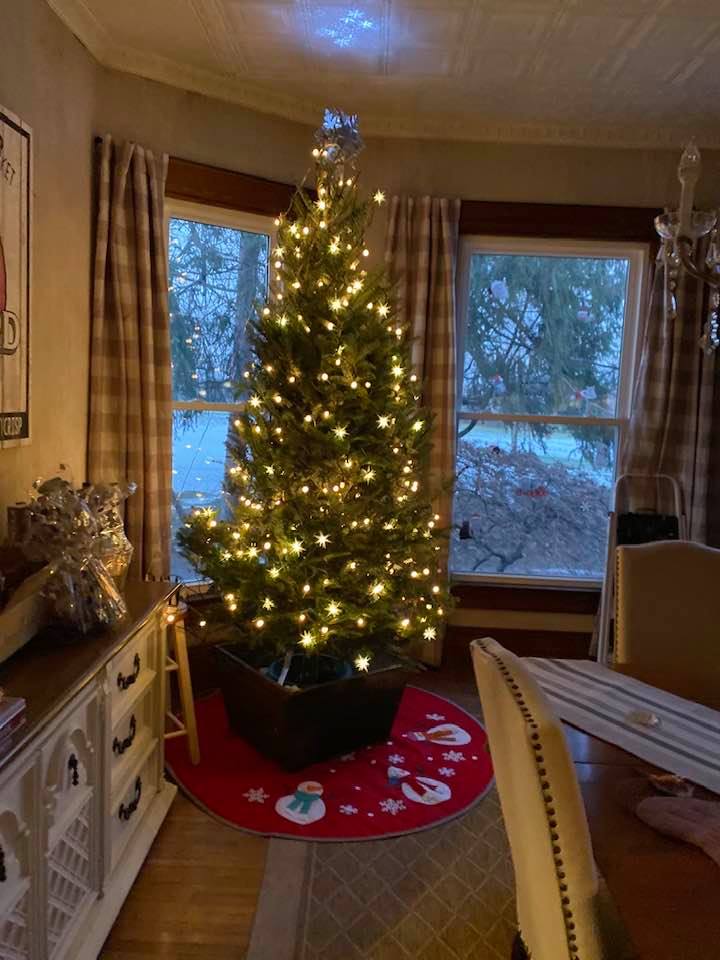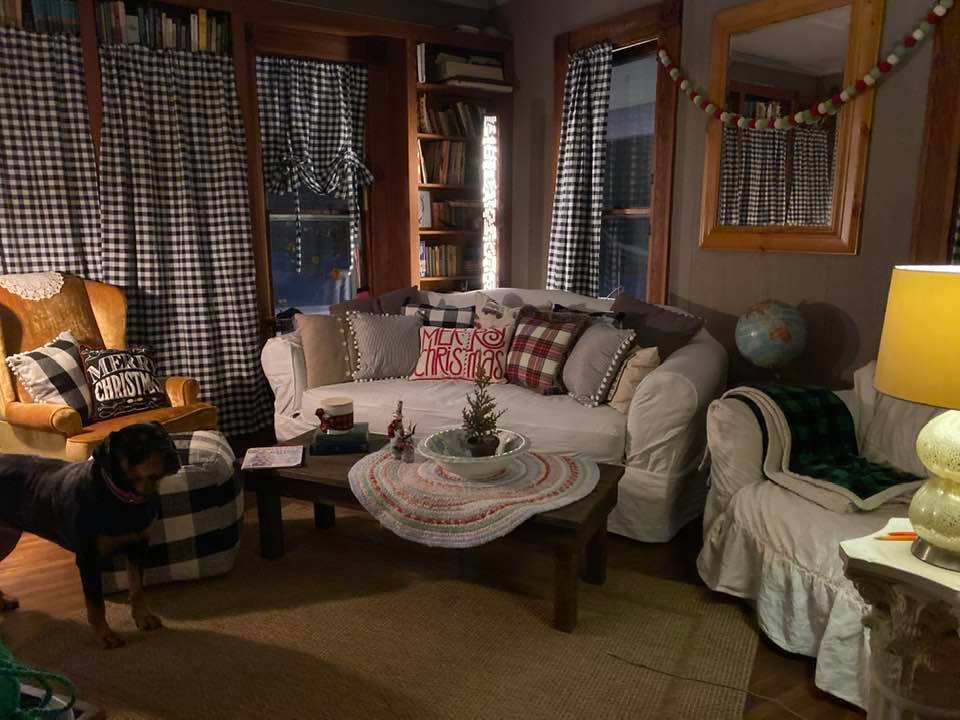 Funny, because I am usually a few years behind on trends….I just like what I like…and don't change too quickly and I am not ashamed to admit that. But, I have caught the Buffalo Check fever and probably was getting into it a little too much! In fact I was starting to wear buffalo plaid every day- so I had to real it in. I'm not joking.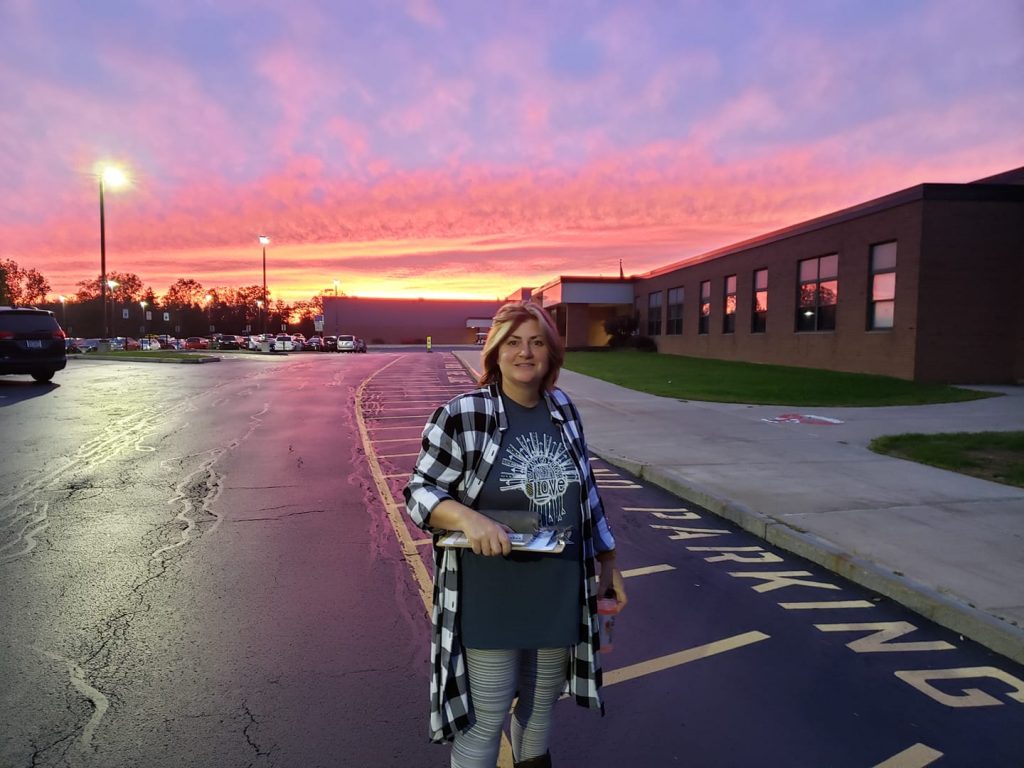 At my Macedon, NY store location – as it got closer to the fall and winter moths, we decided to change the pattern on our front sidewalk from the previous, pattern that we did in the spring. Keep reading to see how we achieved this look and check out our Youtube video on how we did this.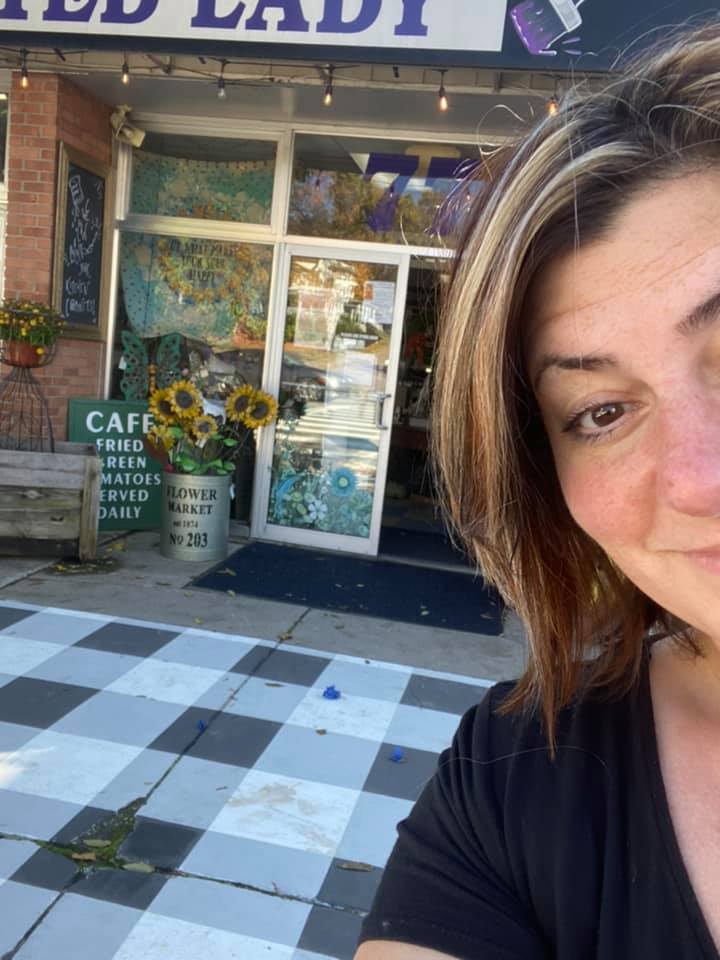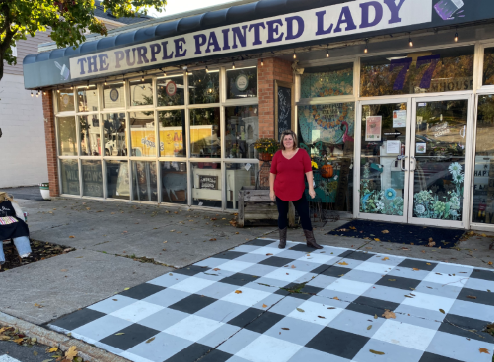 First, we swept the sidewalk well and then began to paint over the old pattern we already had on our sidewalk. We used Old White Chalk Paint® by Annie Sloan first and created a solid base coat. Old White Chalk Paint® by Annie Sloan is a great color because it is a soft white but does not have any yellow to it. As for determining to paint the whole base in a white versus a black – my thought is it's always easier to paint darker colors over light versus light colors over a dark base.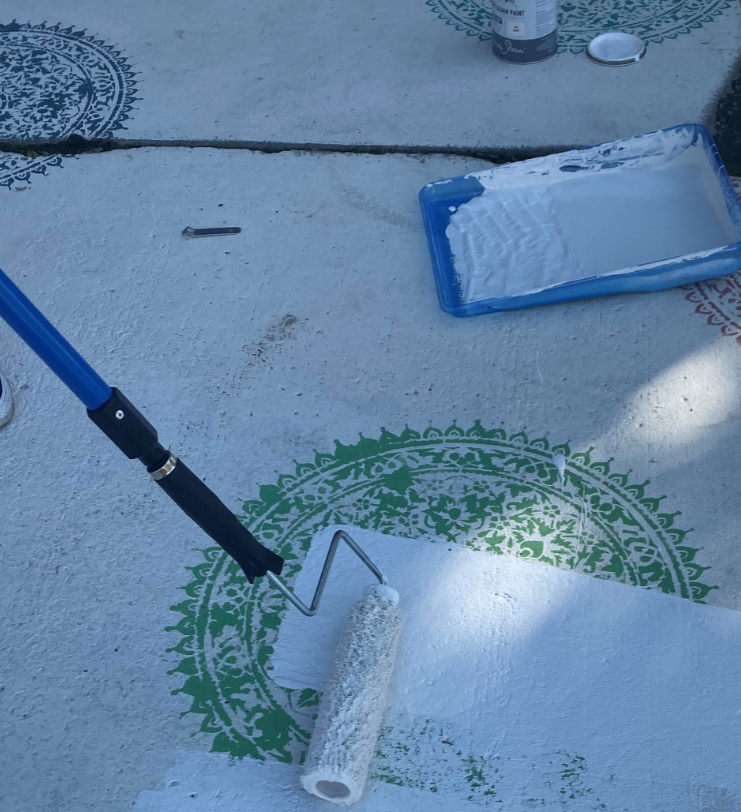 Once the paint was totally dry, we began measuring and outlining vertical stripes with painter's tape. Most importantly, you need to think about should the tape be in the INSIDE of the line or OUTSIDE of the line. (again, watch my video so you can get a visual on this)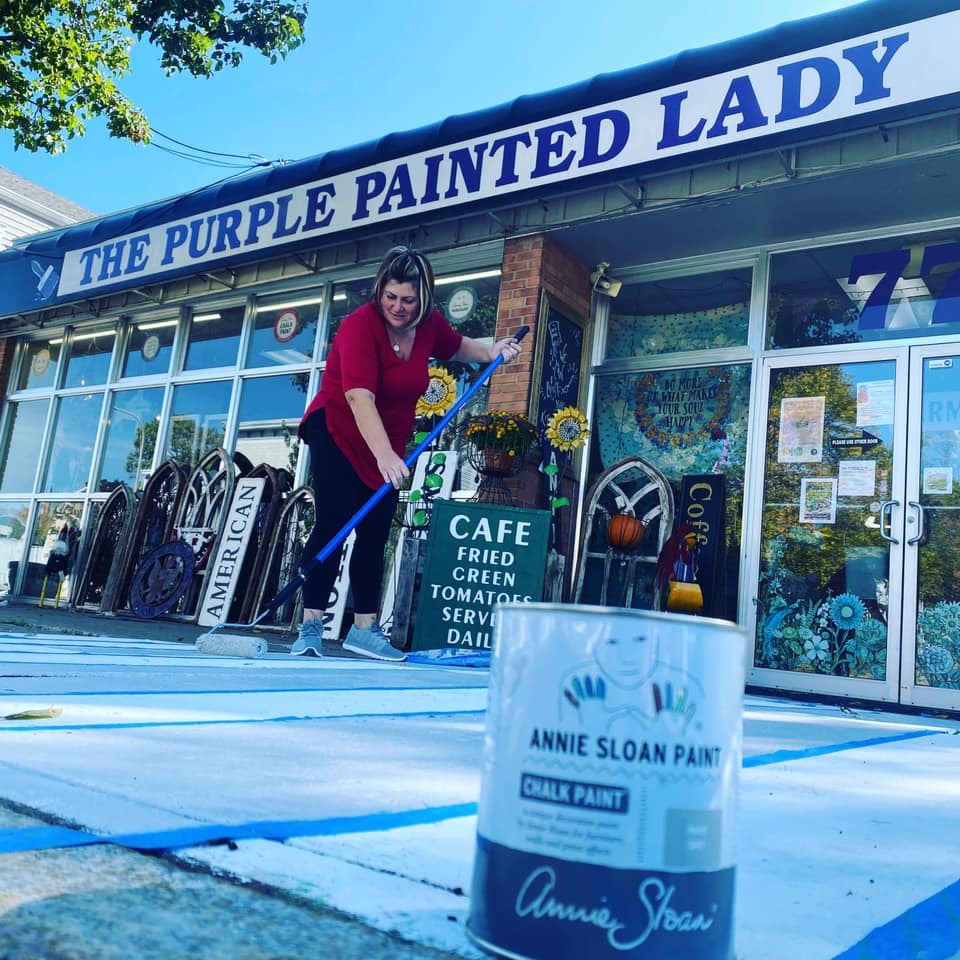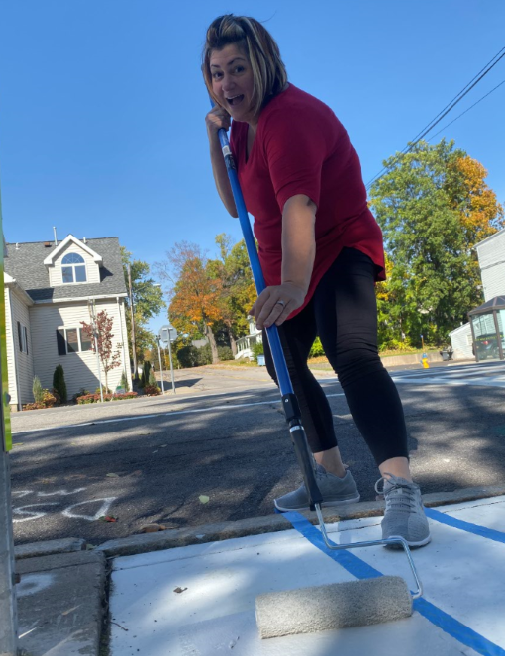 We then used Paris Grey Chalk Paint® to paint the vertical stripes with a roller that had a medium to long pile nap. For furniture, we always recommend a foam roller, but for something textured like concrete or a brick wall, a nappy roller is actually better because it helps get the paint into the crevices better!
For the horizontal stripes, we alternated Graphite and Paris Gray Chalk Paint® to create the "check" pattern. I have seen so many ways to approach painting Buffalo check. On furniture, some will retap over stripes to avoid, but the section we painted was about 10 feet by 10 feet- so it was easier to just be strategic.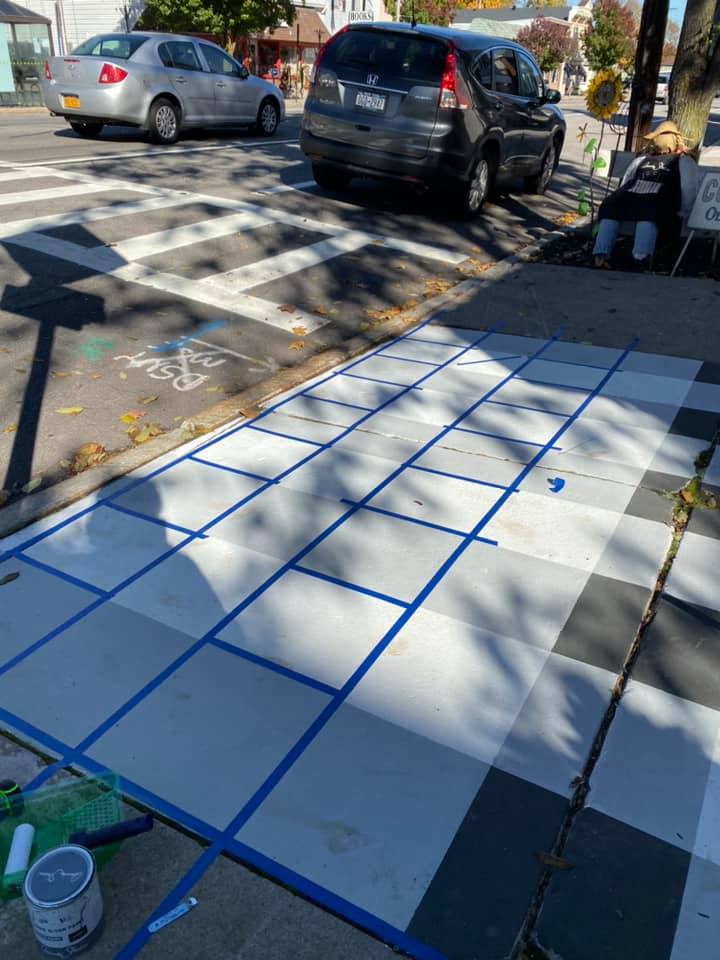 Once one color was dry, I would take painter tape and use a previous square from another row to line my tape straight. (if you watch the Youtube video – this will make more sense hopefully.)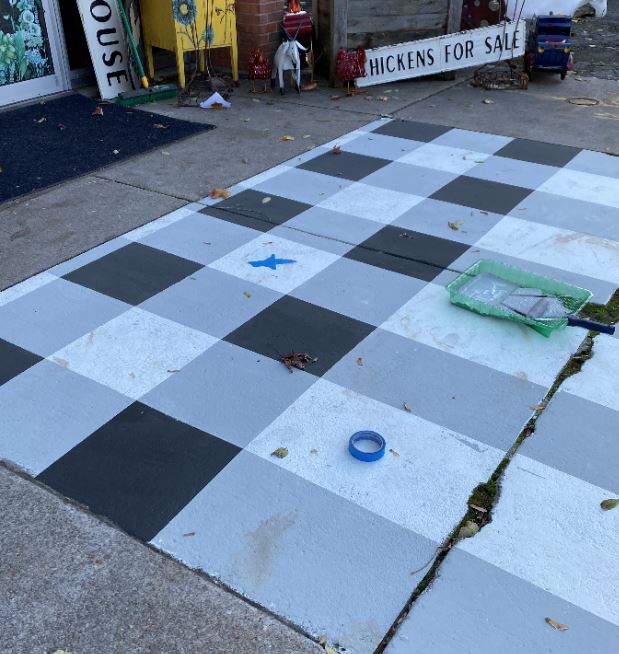 Here I am in chilly mid-November, bare foot and painting outside. Yes, people drive by my shop in this small town and think, "what is that crazy lady up to now?!" But I don't care…I am having fun and some day when I look back on my life- I will only laugh! Anyway, the next image was taken right before we started painting the Graphite Chalk Paint®. I love Graphite because it is a warm Charcoal. Still a dark color, but not a true black.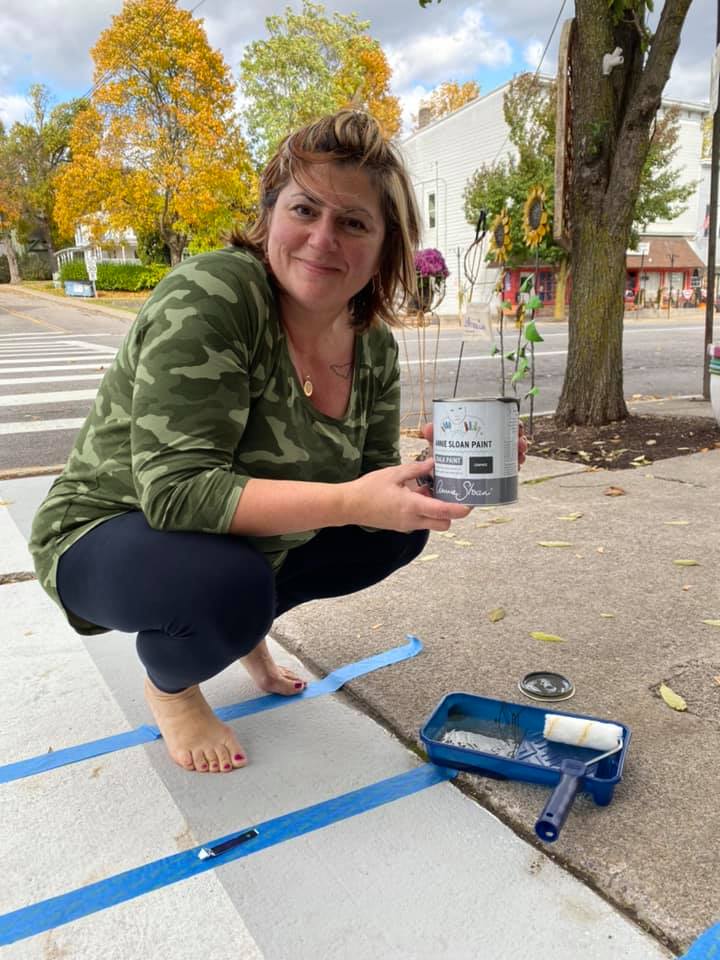 Again, just to recap, make sure you lay your painter's tape outside of the space you are painting – otherwise you could make the square too small.
TOPCOAT?: Annie Sloan's Matte Lacquer or Gloss Lacquer can be used either inside or outside. So,, if you are painting a concrete floor inside your home, I would strongly recommend sealing it with either Annie Sloan's Matte Lacquer or Gloss Lacquer. We chose to not seal this outside, but you need to consider Annie does recommend a topcoat and does not really promote this paint for outside walkways. Since we are in western New York and we get that white stuff here called snow…..our front sidewalk is literally plowed by a truck with a 350 pound snow blade that drags over it and then, to torture it some more…..rock salt is thrown all over it to prevent ice. So, we went into this knowing we will need to re-do it in the spring.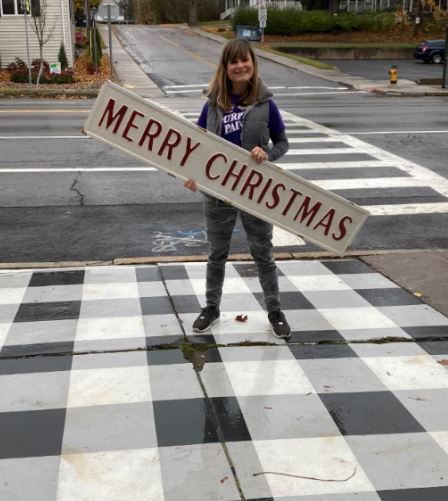 We love how festive it looks now that it is finished!
Here is the sidewalk after 2 solid months of snow and salting. It looks like a worn faded flannel.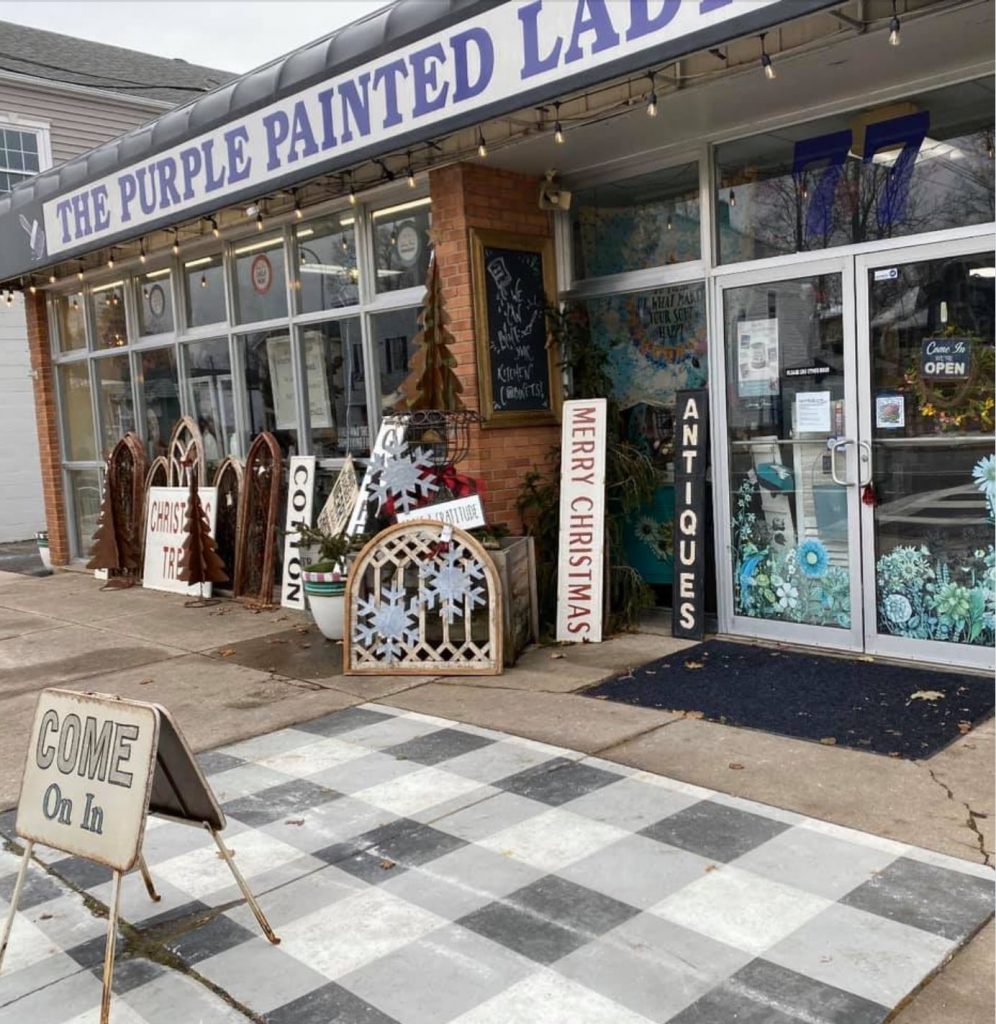 You can watch our video of the whole process here: https://youtu.be/4sLD3hgEmgs
BUY PRODUCT FROM …..THE PURPLE PAINTED LADY®:
Trish always shares, "first- if you have a local stockist- go visit them and build a relationship with them. Go to them with your questions and project issues." BUT- if you do not have a local stockist- we invite you to try our customer service!As for buying any of the products we mentioned earlier in this post- I hope that you select The Purple Painted Lady® to be your one stop resource! We have two locations in western NY. Check out our Information tab and come and meet us! Otherwise- if you are not located near me- the following information may apply to you. This information is directed to those who do NOT have a local stockist. Because if you do – go and meet them, shop from them and build a relationship with them. The guidance, information and knowledge they share with you – will be invaluable. Get inspired by their shop that they lovingly curated – just for you! Enjoy that one on one experience! But for those who are in a location where there is no one selling paint products- and you must buy on-line- consider us. With that said, visit www.anniesloan.com to find a stockist near you. We are here to help you, our customers! We want you to be successful!
SOME OF THE REASONS WE THINK THE PURPLE PAINTED LADY® CUSTOMER SERVICE IS THE BEST: * We love our customers and it shows!* Ordering online? If you order before 3 pm EASTERN TIME any day Monday thru Friday – we will ship out your package that SAME day either via USPS or UPS. We ship orders out every since week day all over the US. (THIS IS DIFFERENT than SAME DAY DELIVERY. We do not offer that)* We offer low flat rate shipping cost so if you are one town away or 10 states away- the shipping cost is the same.* We have awesome follow up customer service, too!*
SHOP ONLINE HERE : ) And I will be here to help you as you progress through your future project! And if I do say so myself- we offer the BEST customer service that you will ever experience! Lastly- if I was helpful to you- ….please consider leaving a positive review on my Facebook business page sharing your positive experience or thoughts about The Purple Painted Lady®. Here is a link to my Facebook page=> http://www.facebook.com/pages/The-Purple-Painted-Lady/291882785710 This really helps me! (wink, wink!)
XOTrish
The Purple Painted Lady®