The Purple Painted Lady® (please LIKE my Facebook page by clicking on my business name to the left) loves hearing from all of you on the projects you complete after we coach you through with instructions.
Here is a great "HOW TO" by Kim Gray:
And just a quick disclaimer….There is significant prep (cleaning and rinsing) prior to this type of application! ALWAYS – always do a fresh water rinse after using cleaning agents on the tile when cleaning PRIOR to painting. Bathrooms get hairspray, body moisturizer, toothpaste, little boy messes, make up, etc. CLEAN that floor and rinse it well before painting! (rant over) Also- this is NOT intended for anywhere IN the shower area.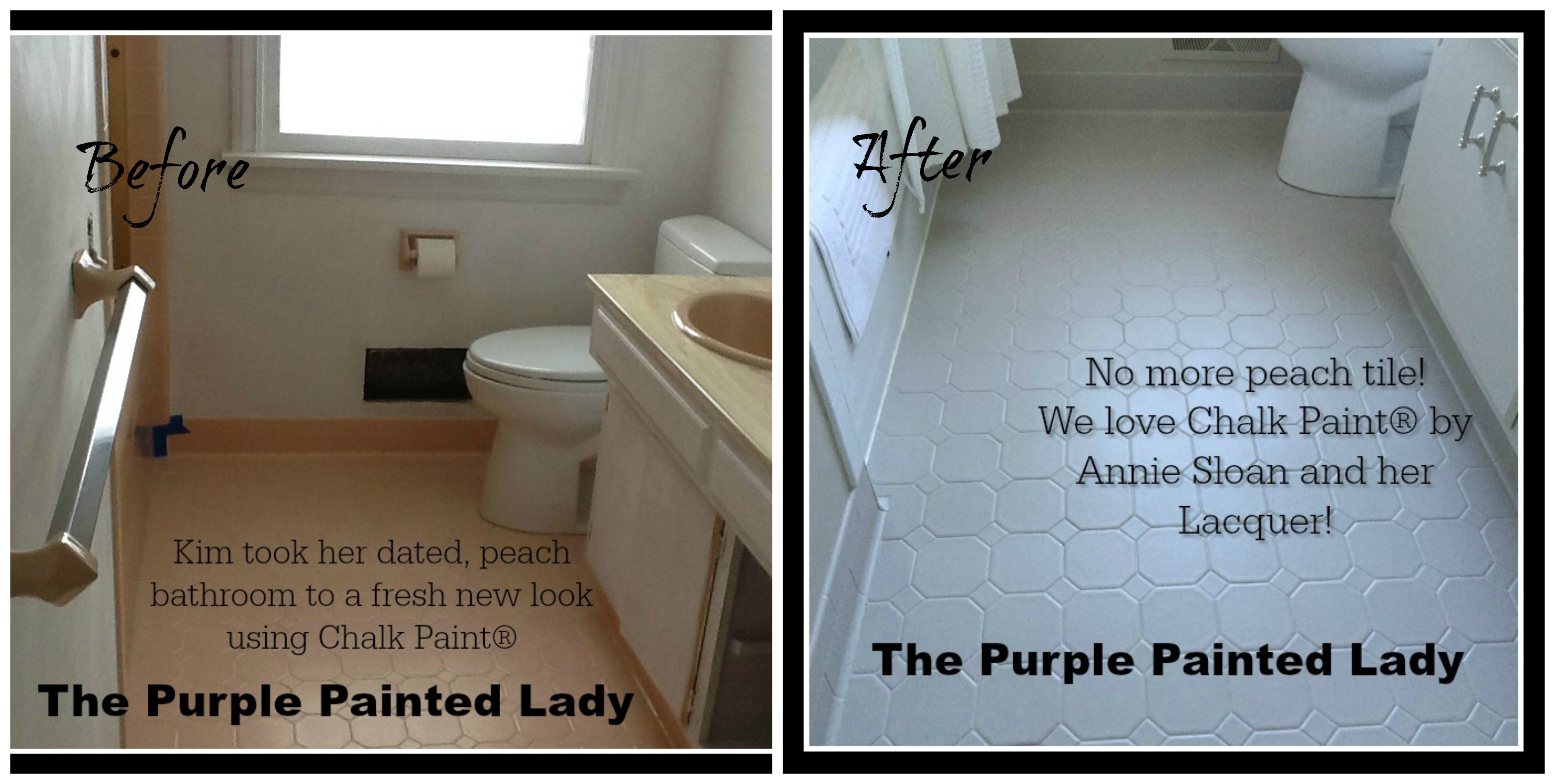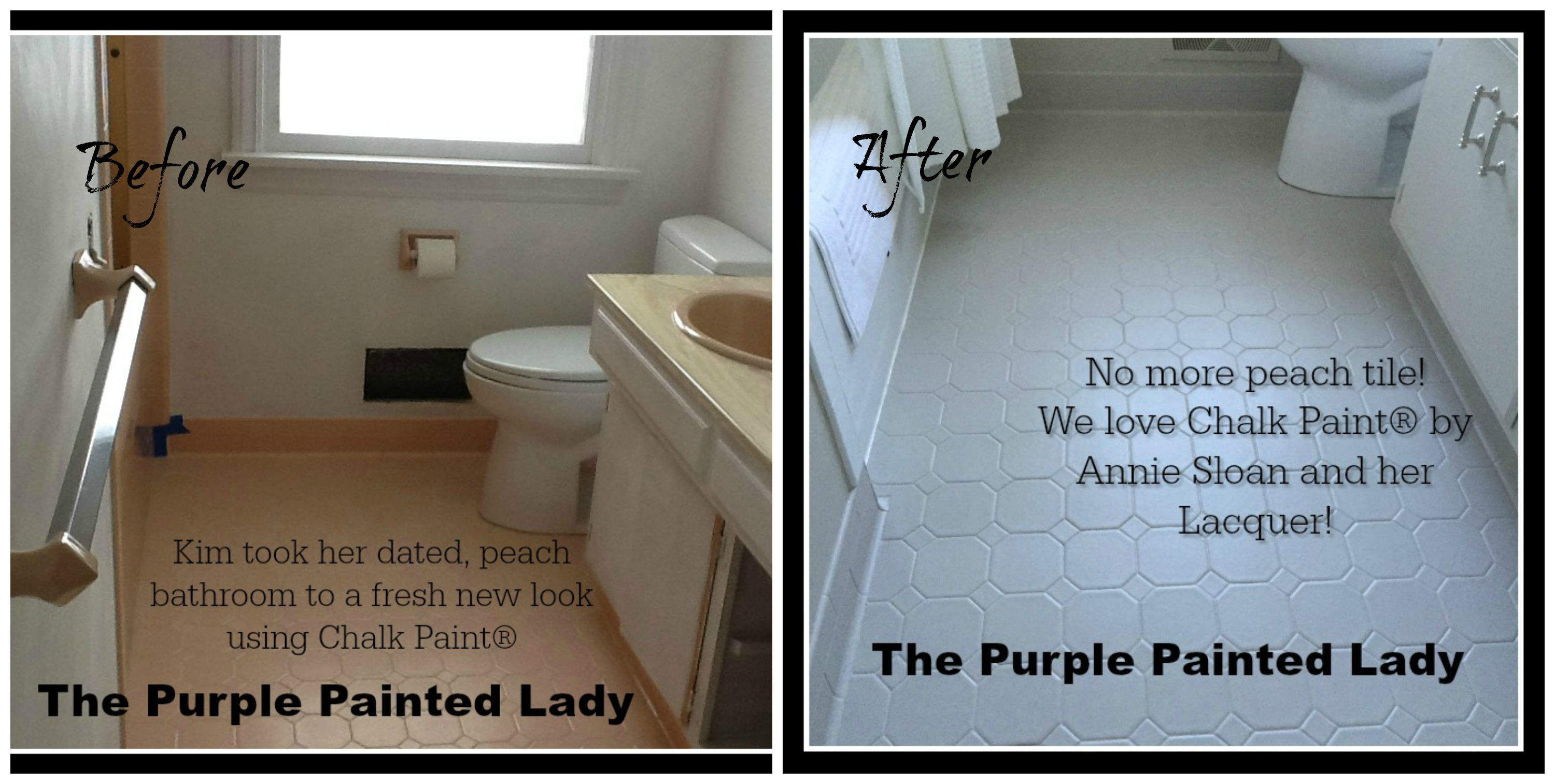 Dear Trish,
I spoke with you a few times regarding painting my bathroom tile floor with Annie Sloan Chalk paint®. The results were gorgeous and I'm so happy with the look of the bathroom. In this email I will give you a short description of what I did and also some before and after photos. Your help at the store and on the phone was fantastic. Can't wait to paint my couch at my cottage (among other things) this summer.This is the before photo but I had already stripped the wallpaper and primed the cabinets (sometimes it's so bad you just can't stop and take a picture) trim and doors (were dark peach)
Inside the tub (peach) and tile surround was peach and peach/brown stripe.
We wanted to update the bathroom without the cost of gutting the entire room. What I did was
1. Strip wallpaper, skim coat some areas, prime and paint walls
2. Prime and paint cabinets, doors and trim with oil paint as oil was used previously
3. Had the tub and tile surround professionally sprayed white
4. I went over the counter top with a product called Henry Feather finish with Ardex technology. This yields a surface of concrete over the counter. Very inexpensive way to update one ugly counter top
5. Purchased 2 new sinks
6. Initially I was not going to paint the floor and just leave it peach. But after talking with Trish at The Purple Painted Lady®, I changed my mind and decided to give Annie Sloan chalk paint® a chance. SOO glad I did. I mixed the paint using 2 parts Pure White to 1 part French Linen.

Unmixed, the French linen was almost a perfect match to the color of my cement counter top. A bit of contrast was needed so I mixed it with the pure white.

Here is an example of French Linen mixed with Old White:


PREP:

Before painting I repaired all gouges in the tile and missing grout with Henry's feather finish, sanded the floor and base tile with 100 grit paper, vacuumed the dust, cleaned the floor with mineral spirits using a green scrubber and wiped the floor down 2x with clear water. (always do a fresh water rinse after using a cleaner)

ANOTHER GREAT OPTION to use for cleaning tile prior to painting is Krud Kutter. WE STRONGLY recommend that after using Krud Kutter that you follow up with a fresh rag and clean water. Wipe the whole piece down to remove any residual cleaner. Chalk Paint does not like to be applied on a surface where cleaner has been left behind.

(after cleaning the tile) ……..I let all of this dry overnight to make sure the floor was completely dry. I also taped around the top of the tile, tub and toilet. Although I'm an experienced painter and typically do not tape, it was an essential step this time.

APPLICATION OF CHALK PAINT®:

In total, I applied 3 coats of paint (1 and 2 were thinned with 25% water) and 2 coats of Annie Sloan's Lacquer (first was thinned with 10% water- FOLLOW THE LACQUER INSTRUCTIONS YOU GET FROM The Purple Painted Lady).

Coat 1 of paint was left to dry for 24 hours before painting coat 2. And use that blue Annie Sloan brush to apply!

LACQUER TIPS: (a MUST read)

Working with any Lacquer, is not like working with paint. There are specific steps you must follow. Read this post HERE to learn about Lacquer BEFORE using it. (<==Make sure to read this post!)

After coat 2 (of the Lacquer), I had issues with paint not adhering to parts of the floor (pictures below the finished floor pic). The reason was because of the overspray chemicals from the bathtub surround:

I used both foam roller and a brush for the painting and lacquer. The brush was used on the base tile while the roller was used on the flat floor. The photo above shows where I sanded the tile (50 grit paper using an electric sander) and 1/2 of the area I had started to repaint.

I believe the paint didn't stick due to 2 things.
1. The base title was very slippery. Even with sanding it still had a sheen.
2. Blow back from the tub being sprayed. Although everything was covered, I'm sure there were petroleum substances on the floor.

Things I wish I had done
1. Used 50 grit paper on the entire base tile
2. used the power sander on all the base tile
3. Maybe used a tile primer on the base tile
4. Used a foam brush to paint the grout lines before putting a coat on the entire floor. The roller didn't really push the paint into the grout lines.
Here is a picture of the finished bathroom. Colors are a bit hard to discern. I had to take the photos at night as the bright sunlight washed out all the pictures.

Please know that I am very happy with the final results!! This paint was awesome. I would however recommend that this type of project NOT be anyone's first with Annie Sloan's paint. Although my results were fantastic having some experience would have made this job easier on my nerves!
Kim Gray
We think this project turned out amazing!
ANOTHER BATHROOM TRANSFORMATION BY DANIELLE BATAGLIA: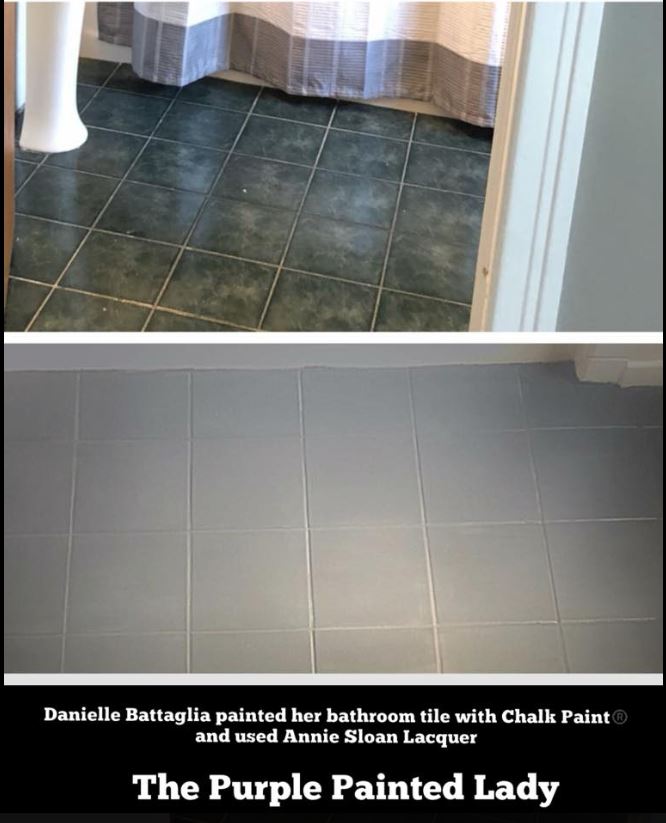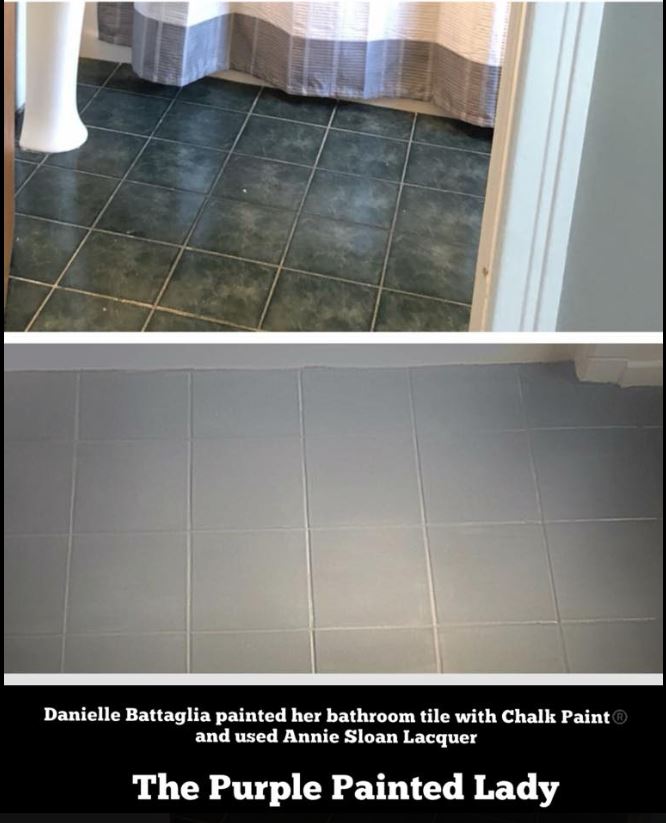 HOW TO CLEAN YOUR PAINTED FLOOR DONE WITH CHALK PAINT® AND LACQUER:
We recommend a product called Fabuloso. You mix it water and you do not let it pool on the Lacquer.OW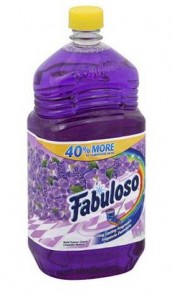 WANT TO GET SOME FREE STUFF?:
The Purple Painted Lady®
LOVES seeing "before & after" photos from her customers! And in fact- we always send a thank you gift if we use your images and story. So, please feel free to share your photos and a little write up by emailing them to Trish at takuntz@rochester.rr.com! Remember to include a few details of your project, any tips/tricks that you like to do that help you, or even something you learned through the process that another person could benefit from!
BUY PRODUCT FROM …..THE PURPLE PAINTED LADY®:
First- if you have a local stockist- go visit them and build a relationship with them. Go to them with your questions and project issues. BUT- if you do not have a local stockist- we invite you to try our customer service!
As for buying any of the products we mentioned earlier in this post- I hope that you select The Purple Painted Lady® to be your one stop resource! We have two locations in western NY. Check out our Information tab and come and meet us! Otherwise- if you are not located near me- the following information may apply to you. This information is directed to those who do NOT have a local stockist. Because if you do – go and meet them, shop from them and build a relationship with them. The guidance, information and knowledge they share with you – will be invaluable. But, if you are in a location where there is no one selling paint products- and you must buy on-line- consider us. With that said, visit www.anniesloan.com to find a stockist near you.
We are here to help you, our customers! We want you to be successful! And, just so you know, when you place an order with The Purple Painted Lady™:
SOME OF THE REASONS WE THINK OUR CUSTOMER SERVICE IS THE BEST:
* We sell Chalk Paint® for $37.99
* If you order before 3 pm EASTERN TIME any day Monday thru Friday – we will ship out your package that SAME day.
* We ship orders out every since week day all over the US.
* We offer low flat rate UPS shipping cost so if you are one town away or 10 states away- the shipping cost is the same.
* We have awesome follow up customer service, too!
: ) And I will be here to help you as you progress through your future project! And if I do say so myself- we offer the BEST customer service that you will ever experience!Lastly- if I was helpful to you- ….please consider leaving a positive review on my Facebook business page sharing your positive experience or thoughts about The Purple Painted Lady. Here is a link to my Facebook page=>
http://www.facebook.com/pages/The-Purple-Painted-Lady/291882785710
This really helps me! (wink, wink!)
XO
Trish
The Purple Painted Lady® ~ the serial no. is 86/641,416 registered with the US Trademark Office
PLEASE VISIT OUR LOCATIONS!
Link to our open hours by location- click HERE.
our MAIN STORE at 77 West Main Street in Macedon, NY 14502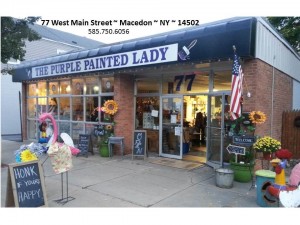 OR
3200 West Ridge Road in Rochester, NY 14626 (The Shops On West Ridge)