Dry Brushing is a technique where you off load most of the paint from your paint brush so there is minimal left. So minimal, that after you apply the paint- it is almost dry already. You are applying the paint very sparingly. Often, I use a dry brush technique to achieve a specific look.
When I say "off load" basically it means you are wiping a lot of the paint off your brush…or taking your brush and painting on another surface with the goal to remove as much paint as possible off your bristles.
Here is an example of dry brushing Old White Chalk Paint® over a wood cabinet.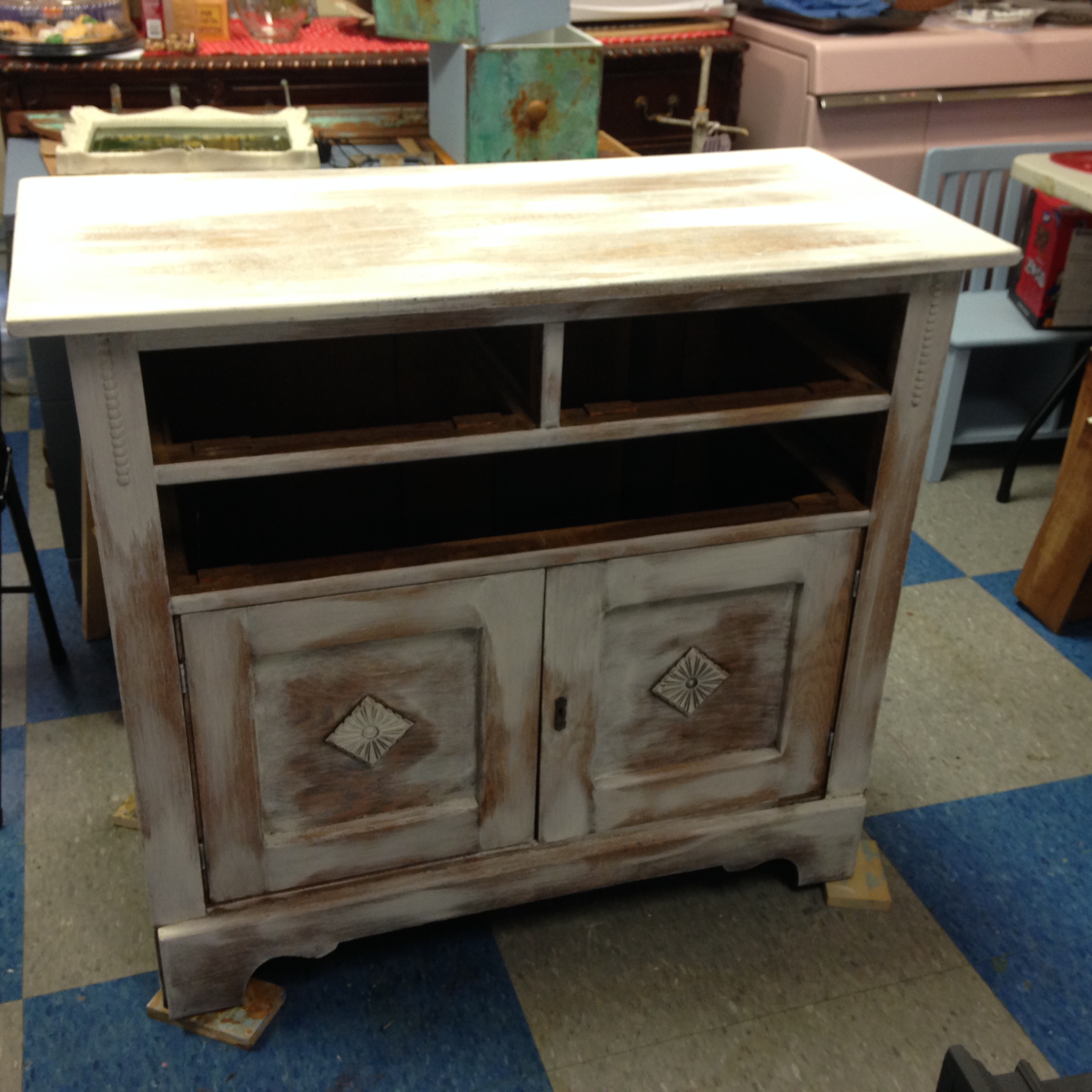 If you have come into our Macedon, NY location on a weekend, you have probably met Courtney. She is part of the team at THE PURPLE PAINTED LADY™ and is super talented! (Courtney is on the left in the photo below)
And if you have needed help with a project, she is extremely knowledgeable about the products we sell! Also in the photo on the right, is Britni. Britni is also part of our team and is also extremely helpful, ca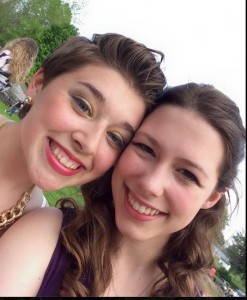 ring and product savvy! I think of these two as "peas and carrots" as when you see one of them, the other is not far behind! Sometimes I call them "Fric & Frac." They often work together and like to think of themselves as "The Purple Painted Lady Dream Team."
Well, on December 26th, 2015, Courtney did a dry brush demo on an old cabinet at our Macedon store using Old White Chalk Paint® by Annie Sloan.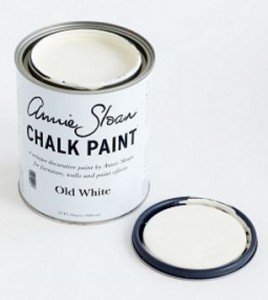 Courtney was experimenting with this technique for the first time and I asked her to do a write up regarding some of the most important lessons she learned as to help others who are interested in trying this.
But first, here is the piece she completed with Britni modeling next to it.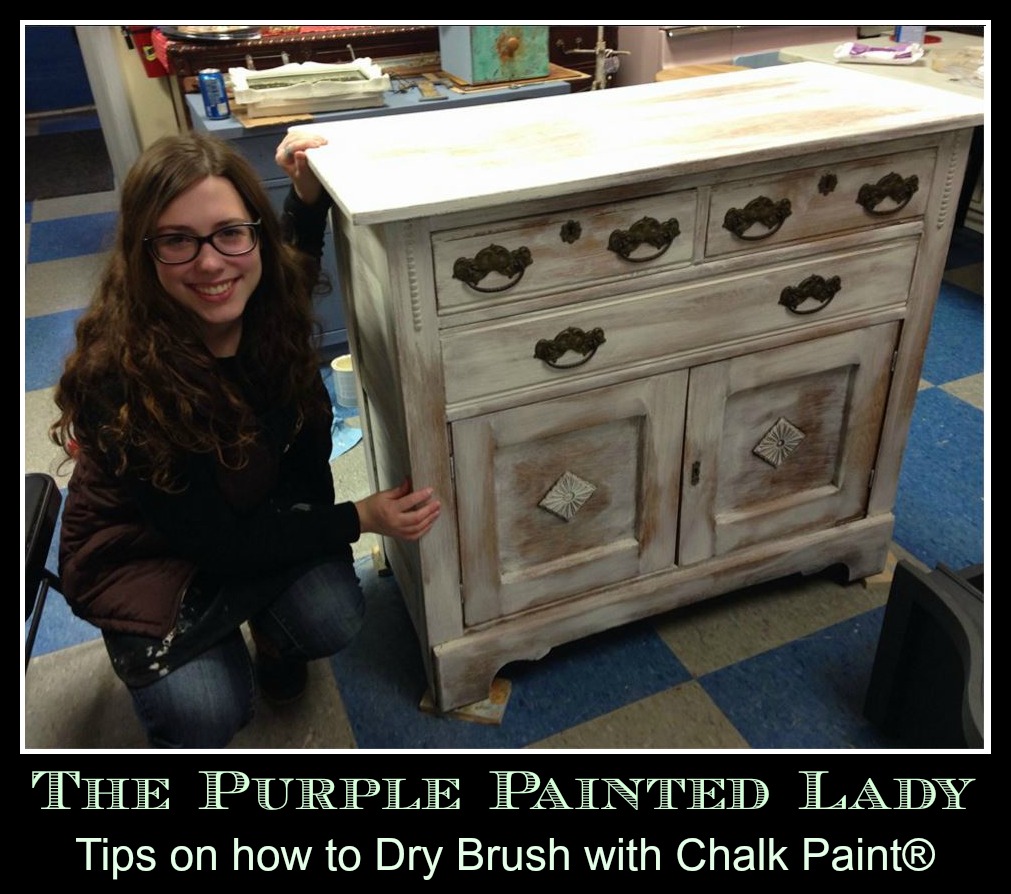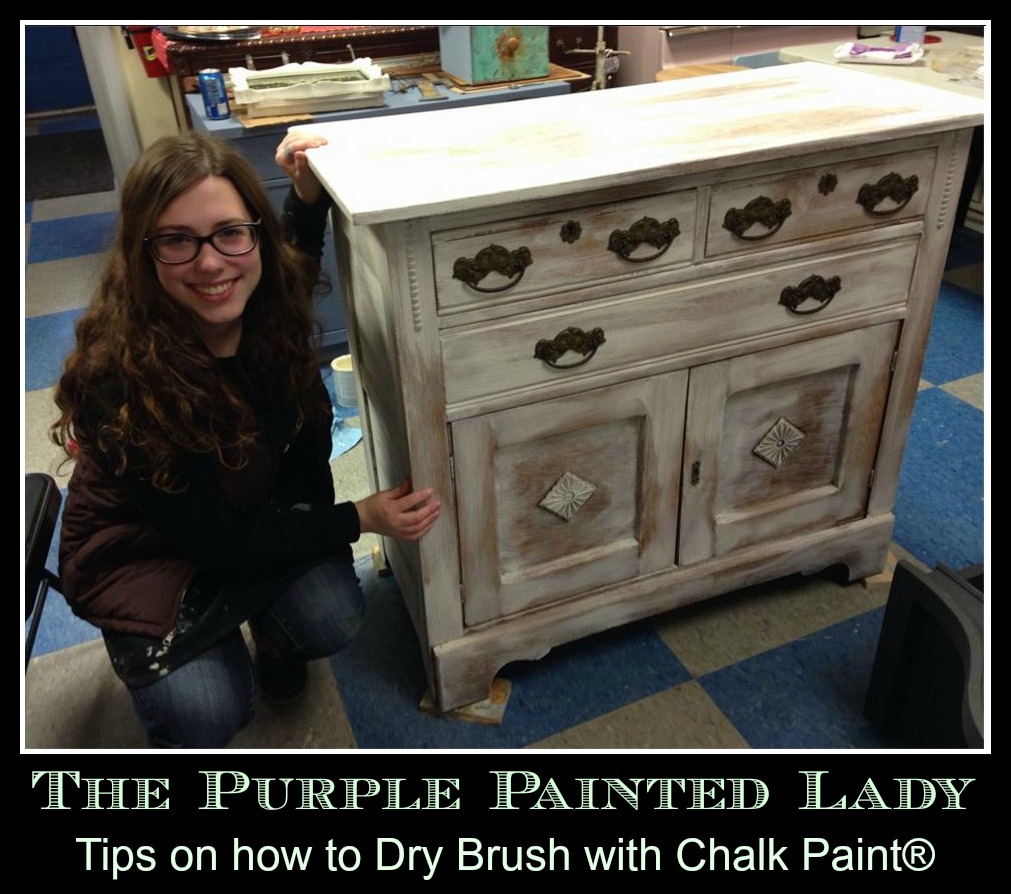 Courtney's "How to Dry Brush" Tips:
1.) Use a brush with a flat edge or bristles cut in a straight line versus a round, domed top brush.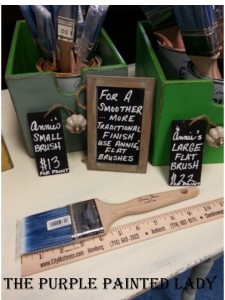 2. Have enough paint on your brush but not enough to paint a full solid line.
3.) Hold your brush more at an angle to get a better drag.
4.) Starting at the edge is good, but that will also be the area that receives the most paint…so, make sure to alternate the sides you start from! (For example- when doing the top of a cabinet or dresser- brush once starting from the left side, then next starting from the right side.)
5.) Work in linear sections so that your strokes look fluid.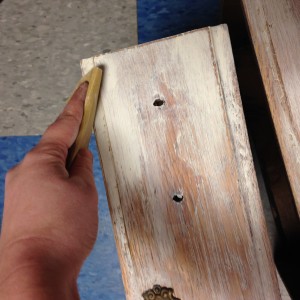 6.) It's a good idea to have a damp cloth near you, that way you can blot your brush on the cloth, pick up some water and feather out the paint a bit easier.
7.) If the piece has architecture, alternate the sides you brush it from as so to have the paint laid from different directions.
8.) Paint inset panels first before painting the borders.
9.) For large surfaces, remember dry brush in the middle also to even out the appearance, versus just painting inward from the edges.
10.) Don't be afraid to use sandpaper to soften strokes that may have been applied a little too heavy once paint is dry.
11.) Take drawers out before painting.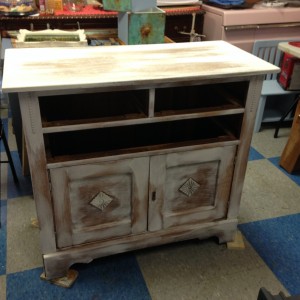 12.) Do not dip your brush into a cup of water to feather out the paint. Your brush will pick up too much water and create a wash which is a totally different look.
13.) Use a paper plate to pour some paint onto. This is more important if using an older brush that may shed, since it is best that the stray bristles go into a plate or paper towel versus the quart of paint.
14.) Use a smaller Artisan brush to paint smaller ledges or hard to reach corners versus attempting to use a large paint brush.
15.) Dry brush WITH the grain of the wood.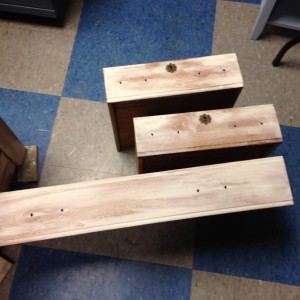 16.) As you drag the paint, lift up on the brush so it looks fluid and the stroke doesn't stop abruptly. Think of this as feathering out the end of the brush stroke.
17. Lastly- always remember to take a photo of your piece "BEFORE" you start you painting project (unlike us, who forgot) and then share your photos on The Purple Painted Lady's Facebook page HERE.
WANT TO WIN FREE STUFF?:
The Purple Painted Lady LOVES seeing "before & after" photos from her customers! And in fact- we always send a thank you gift if we use your images and story. So, please feel free to share your photos and a little write up by emailing them to Trish at takuntz@rochester.rr.com! Remember to include a few details of your project, any tips/tricks that you like to do that help you, or even something you learned through the process that another person could benefit from! Also, when posting photos on your personal Facebook page, Pinterest or Instagram boards, remember to hashtag us by noting this in your post => #thepurplepaintedlady
BUY PRODUCT FROM …..THE PURPLE PAINTED LADY™:
First- if you have a local stockist- go visit them and build a relationship with them. Go to them with your questions and project issues. BUT- if you do not have a local stockist- we invite you to try our customer service!
As for buying any of the products we mentioned earlier in this post- I hope that you select The Purple Painted Lady™ to be your one stop resource! We have two locations in western NY. Check out our Information tab and come and meet us! Otherwise- if you are not located near me- the following information may apply to you. This information is directed to those who do NOT have a local stockist. Because if you do – go and meet them, shop from them and build a relationship with them. The guidance, information and knowledge they share with you – will be invaluable. But, if you are in a location where there is no one selling paint products- and you must buy on-line- consider us. With that said, visit www.anniesloan.com to find a stockist near you.
We are here to help you, our customers! We want you to be successful! And, just so you know, when you place an order with The Purple Painted Lady:
SOME OF THE REASONS WE THINK OUR CUSTOMER SERVICE IS THE BEST:
* We have TWO locations in western NY to better service our customers.
* We sell Chalk Paint® for $34.95
* If you order before 3 pm EASTERN TIME any day Monday thru Friday – we will ship out your package that SAME day.
* We ship orders out every week day all over the US.
* We offer the lowest flat rate UPS shipping cost so if you are one town away or 10 states away- the shipping cost is the same.
* We have awesome follow up customer service, too!
And- it is my paint sales that keep me in business and allow me to be here to help you. (my shameless but honest plug) Here is a link to our on-line shop=>
http://shop.thepurplepaintedlady.com/
: ) And I will be here to help you as you progress through your future project! And if I do say so myself- we offer the BEST customer service that you will ever experience!Lastly- if I was helpful to you- ….please consider leaving a positive review on my Facebook business page sharing your positive experience or thoughts about The Purple Painted Lady. Here is a link to my Facebook page=>
http://www.facebook.com/pages/The-Purple-Painted-Lady/291882785710
This really helps me! (wink, wink!)
XO
Trish
The Purple Painted Lady™ ~ the serial no. is 86/641,416 with the US Trademark Office
PLEASE VISIT OUR TWO LOCATIONS!
our MAIN STORE at 77 West Main Street in Macedon, NY 14502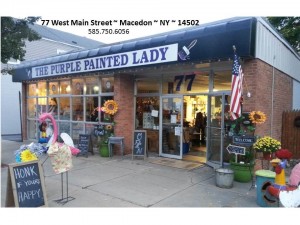 OR
3200 West Ridge Road in Rochester, NY 14626 (The Shops On West Ridge)