Lookie, lookie at this settee with open cane webbing that our customer Angela Giancarlo painted using Annie Sloan
Chalk Paint®
in the color
Coco
and Annie's
Dark Wax
.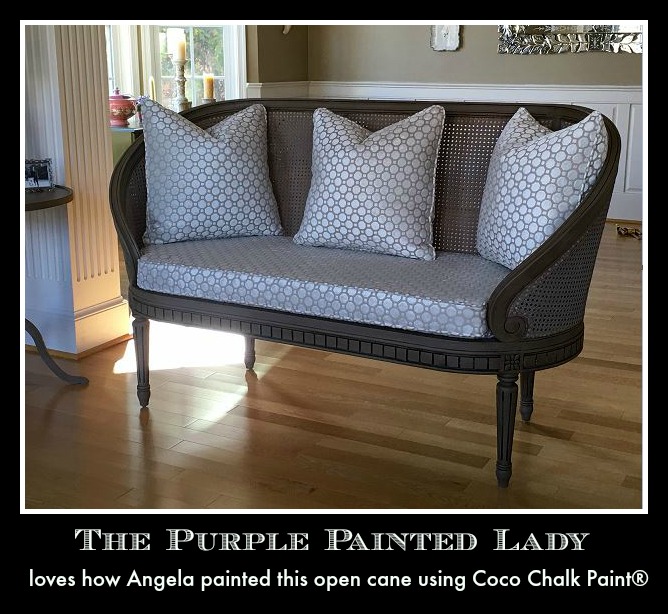 As you can see from the "before" picture below, Angela purchased the settee new.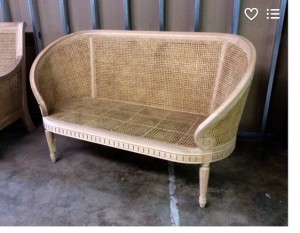 DESCRIPTION OF COLOR USED:
Coco
is the sophisticated side of neutral. It is more like a latte…very similar to Annie's color French Linen. But Coco is more brown or chocolatey versus French Linen – who has a bit of grey. I love Coco paired with Old White and Antoinette. Yum…makes me think of Neapolitan ice cream!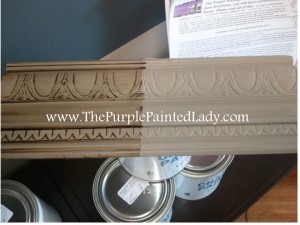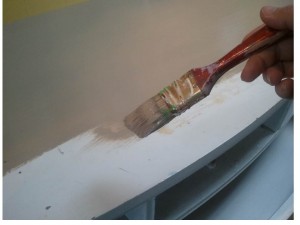 Pardon the incorrect spelling on the name Coco below!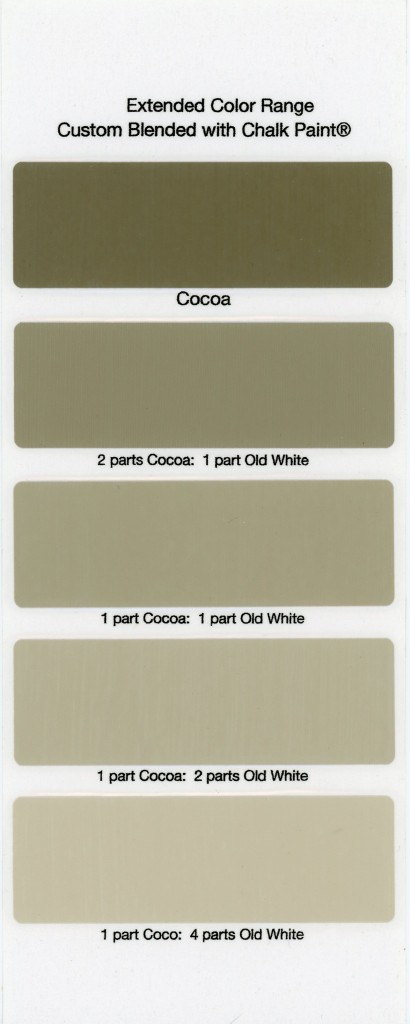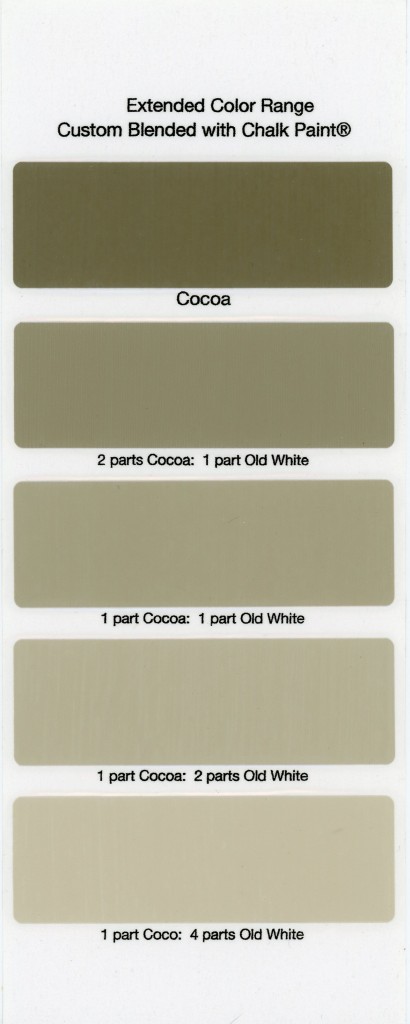 Angela wrote, "Thus, neither the cane nor the wood was treated. Before painting, I wiped the settee with a clean rag dampened with "Life O'Wood," which is a wonderful product that has been manufactured in Buffalo, NY since 1914. (I use
Life O'Wood
on
everything
I paint both before painting and afterward for regular dusting.)" *****
DISCLAIMER: The Purple Painted Lady has never used this product called "Life O'Wood" – but is in the process to try it. So, stay tuned on our review of it!
In general~ The Purple Painted Lady typically recommends cleaning your piece using a rag lightly moistened with
Mineral Spirits
and then doing, a clean water rinse afterward.
ANGELA'S PROCESS:
Angela selected the fabric first (Robert Allen, "Raised Velvet" in "Ivory") and then chose her paint color. Angela's tip is that it is always easier to choose a paint color to match a fabric, versus the other way around. From the fabric she fell in love with, she decided to use Annie Sloan "Coco" because she wanted a "chocolate-y tone." Angela was excited to also use Annie's
dark wax
to give the piece depth and rich.
ANGELA'S PAINTING PROCESS OVER CANE & WOOD:
Angela undertook different painting processes for the cane and the wood (since she knew the cane could have an issue with paint dripping otherwise.).

She painted slowly and in sections ~ small area-by-small area. Cane is tricky — gloppy paint dripping through would make a real mess and likely ruin the piece. Also, Angela added water to the Coco paint to thin it out. She would guess she used a 3-1 ratio of paint to water. She applied three coats to the cane and forced herself to work slowly(!), which she said was really hard for her.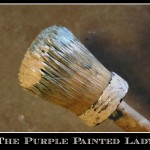 The Purple Painted Lady recommends a dry brushed technique for painting open cane webbing. You will need to do a few coats of paint to build up your color, but you will not get any drips at all!
DARK WAX MADE INTO A GLAZE WITH MINERAL SPIRITS: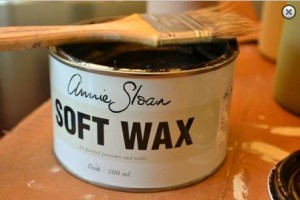 The images below are Dark Wax being applied right out of the tn over a dresser that The Purple Painted Lady painted in Coco.
As for waxing, Angela did not wax the cane — the thought of "glopping up" the cane was too scary for her! (and The purple Painted Lady totally agreed with her choice.)
Also, knowing that the settee is not a piece that will be used on a daily basis gave her greater comfort in her decision to skip the wax on the cane. (BUT keep in mind- Chalk Paint® is an extremely durable paint. It can be used for exterior use without a top coat!)
For the wood, Angela chose to skip the clear wax, and go straight to the dark wax because she wanted a chocolate-y color.
CREATING A GLAZE WITH DARK WAX:
She took the dark wax and created a glaze by combining equal parts of Annie Sloan Dark Wax and
Mineral Spirits
, following The Purple Painted Lady's recipe!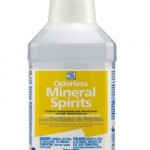 She applied the glaze section-by-section using a waxing brush.
The Purple Painted Lady loves Annie Sloan's wax brushes. Check them out via the links below:
And then there is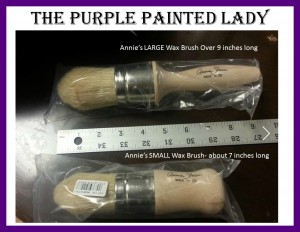 For each section, I left the glaze on for about 20-30 minutes before wiping off with your
totally awesome
rags that are called
"Better Than Cheesecloth."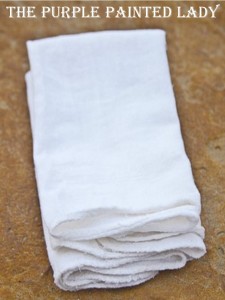 Angela wrote:
Finally, I worked with an upholsterer to design and make the cushion and pillows. We are all ready for the holiday season! And I thank you, Trish, for your extraordinary customer service and treasure trove of information on your website. – Angela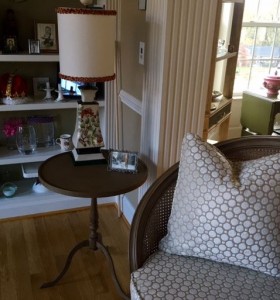 Angela even painted the side metal table to match her settee in Coco Chalk Paint®. Personally, I love Angela's settee!
WANT TO WIN FREE STUFF?:
The Purple Painted Lady LOVES seeing "before & after" photos from her customers! And in fact- we always send a thank you gift if we use your images and story. So, please feel free to share your photos and a little write up by emailing them to Trish at takuntz@rochester.rr.com! Remember to include a few details of your project, any tips/tricks that you like to do that help you, or even something you learned through the process that another person could benefit from!
BUY PRODUCT FROM …..THE PURPLE PAINTED LADY™:
First- if you have a local stockist- go visit them and build a relationship with them. Go to them with your questions and project issues. BUT- if you do not have a local stockist- we invite you to try our customer service!
As for buying any of the products we mentioned earlier in this post- I hope that you select The Purple Painted Lady™ to be your one stop resource! We have two locations in western NY. Check out our Information tab and come and meet us! Otherwise- if you are not located near me- the following information may apply to you. This information is directed to those who do NOT have a local stockist. Because if you do – go and meet them, shop from them and build a relationship with them. The guidance, information and knowledge they share with you – will be invaluable. But, if you are in a location where there is no one selling paint products- and you must buy on-line- consider us. With that said, visit www.anniesloan.com to find a stockist near you.
We are here to help you, our customers! We want you to be successful! And, just so you know, when you place an order with The Purple Painted Lady:
SOME OF THE REASONS WE THINK OUR CUSTOMER SERVICE IS THE BEST:
* We sell Chalk Paint® for $34.95
* If you order before 3 pm EASTERN TIME any day Monday thru Friday – we will ship out your package that SAME day.
* We ship orders out every since week day all over the US.
* We offer the lowest flat rate UPS shipping cost so if you are one town away or 10 states away- the shipping cost is the same.
* We have awesome follow up customer service, too!
And- it is my paint sales that keep me in business and allow me to be here to help you. (my shameless but honest plug) Here is a link to our on-line shop=>
http://shop.thepurplepaintedlady.com/
: ) And I will be here to help you as you progress through your future project! And if I do say so myself- we offer the BEST customer service that you will ever experience!Lastly- if I was helpful to you- ….please consider leaving a positive review on my Facebook business page sharing your positive experience or thoughts about The Purple Painted Lady. Here is a link to my Facebook page=>
http://www.facebook.com/pages/The-Purple-Painted-Lady/291882785710
This really helps me! (wink, wink!)
XO
Trish
The Purple Painted Lady™ ~ the serial no. is 86/641,416 with the US Trademark Office
PLEASE VISIT OUR TWO LOCATIONS!
our MAIN STORE at 77 West Main Street in Macedon, NY 14502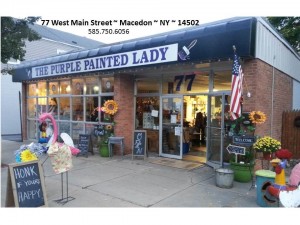 OR
3200 West Ridge Road in Rochester, NY 14626 (The Shops On West Ridge)