I love inspirational quotes on pieces of furniture. Especially, in a kid's room or a front vestibule. Making a statement seems, …cool to me.
The most recent quote I am painting is "Life Moves Pretty Fast. If you don't stop & look around once in a while, you could miss it!" Are you a "Ferris Bueller" fan- because if yes- you know this quote and you may want to – click here.
A couple weeks ago- I painted this "Love" dresser. The shot below shows it almost dine. There was still a little bit of painting left on it…..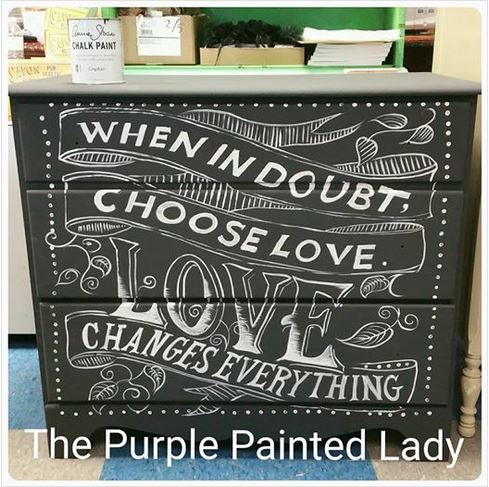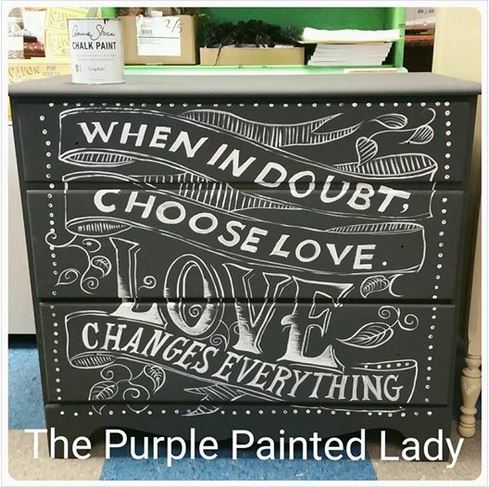 When it comes to typography on painted pieces, it is very popular!
The dresser below is still in the works. First we painted the dresser with Graphite Chalk Paint® by Annie Sloan. Graphite is reminiscent of Gun Metal. It is a soft charcoal black – which I like to compare to a dark slate color or a vintage slate chalk board in an old school room! It is made with purplish blues, browns, and it is not completely black.
Graphite is a popular color, especially when I am detailing a piece with vintage typography. I receive a lot of emails about this color. But again– I want to clearly state again though – this is NOT black.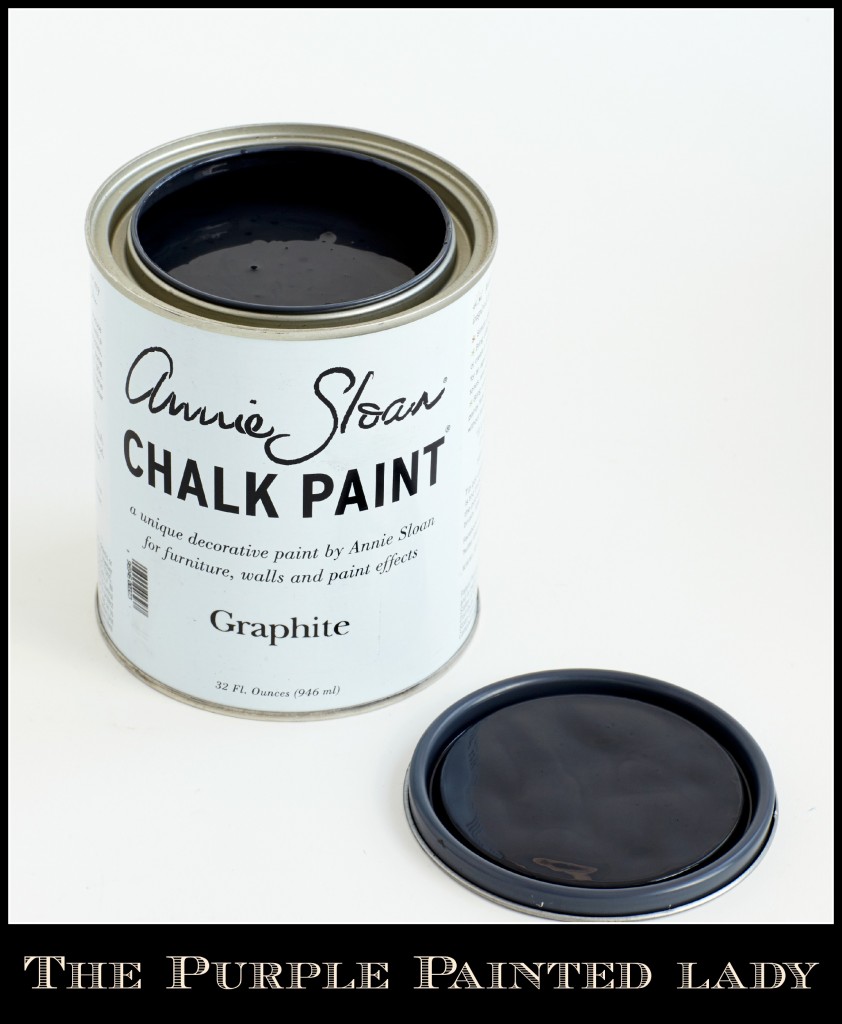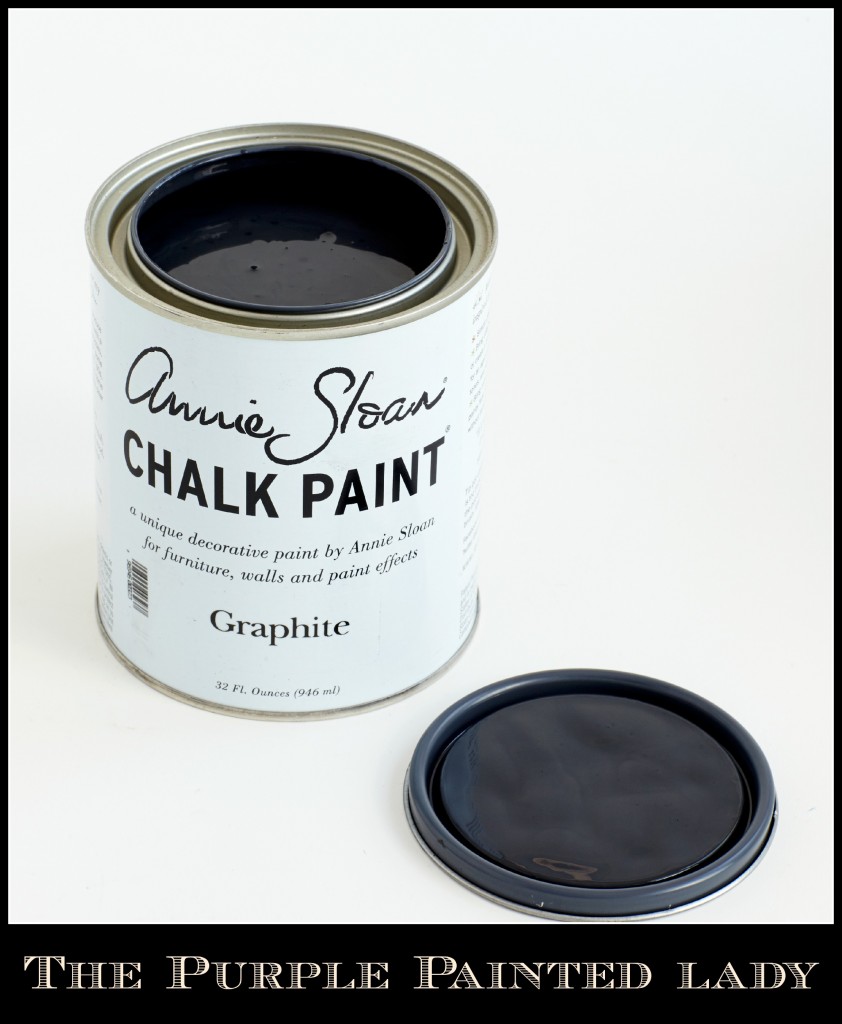 Once my dresser was painted and dried- I then followed the steps I have noted in another post here on my website. So, in case you are interested in trying this yourself- check out an old post I wrote called "Typography! How does she do it?"
CLICK HERE TO READ THE POST ON STEP BY STEP INSTRUCTIONS
The main thing is that Chalk Paint® is ideal for this technique.
As you will read- I like to use a projector and push an image up on to my dresser.
Using a water color pencil in the color I plan on using to fill in the design- I copy the design onto my piece.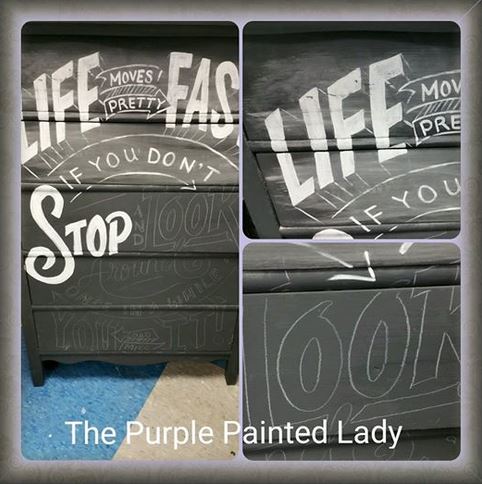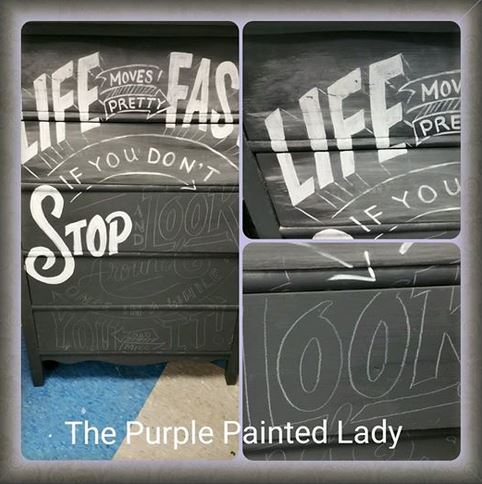 In the photo I have here- I used a white water color pencil.
I will typically take the drawers out to paint the design, and then- using sandpaper- I distress my painted letters.
This will create a super smooth finish. Note the white dust on the Graphite paint on the upper drawers from sanding over the white letters.
Do not worry about that because once I go over this with my Annie Sloan Clear Wax- the residual dust will disappear.
Stay tuned and we will post soon showing the results using Annie's Clear Wax over this piece.
BUY PRODUCT FROM …..THE PURPLE PAINTED LADY™:
First- if you have a local stockist- go visit them and build a relationship with them. Go to them with your questions and project issues. BUT- if you do not have a local stockist- we invite you to try our customer service!
As for buying any of the products we mentioned earlier in this post- I hope that you select The Purple Painted Lady™ to be your one stop resource! We have two locations in western NY. Check out our Information tab and come and meet us! Otherwise- if you are not located near me- the following information may apply to you. This information is directed to those who do NOT have a local stockist. Because if you do – go and meet them, shop from them and build a relationship with them. The guidance, information and knowledge they share with you – will be invaluable. But, if you are in a location where there is no one selling paint products- and you must buy on-line- consider us. With that said, visit www.anniesloan.com to find a stockist near you.
We are here to help you, our customers! We want you to be successful! And, just so you know, when you place an order with The Purple Painted Lady:
SOME OF THE REASONS WE THINK OUR CUSTOMER SERVICE IS THE BEST:
* We sell Chalk Paint® for $34.95
* If you order before 3 pm EASTERN TIME any day Monday thru Friday – we will ship out your package that SAME day.
* We ship orders out every since week day all over the US.
* We offer the lowest flat rate UPS shipping cost so if you are one town away or 10 states away- the shipping cost is the same.
* We have awesome follow up customer service, too!
And- it is my paint sales that keep me in business and allow me to be here to help you. (my shameless but honest plug) Here is a link to our on-line shop=>
http://shop.thepurplepaintedlady.com/
: ) And I will be here to help you as you progress through your future project! And if I do say so myself- we offer the BEST customer service that you will ever experience!Lastly- if I was helpful to you- ….please consider leaving a positive review on my Facebook business page sharing your positive experience or thoughts about The Purple Painted Lady. Here is a link to my Facebook page=>
http://www.facebook.com/pages/The-Purple-Painted-Lady/291882785710
This really helps me! (wink, wink!)
XO
Trish
The Purple Painted Lady™ ~ the serial no. is 86/641,416 with the US Trademark Office
PLEASE VISIT OUR TWO LOCATIONS!
our MAIN STORE at 77 West Main Street in Macedon, NY 14502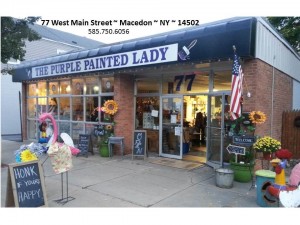 OR
3200 West Ridge Road in Rochester, NY 14626 (The Shops On West Ridge)