we are so proud of Gerri (shown in this photo) ~ one of our special customers in Syracuse, NY.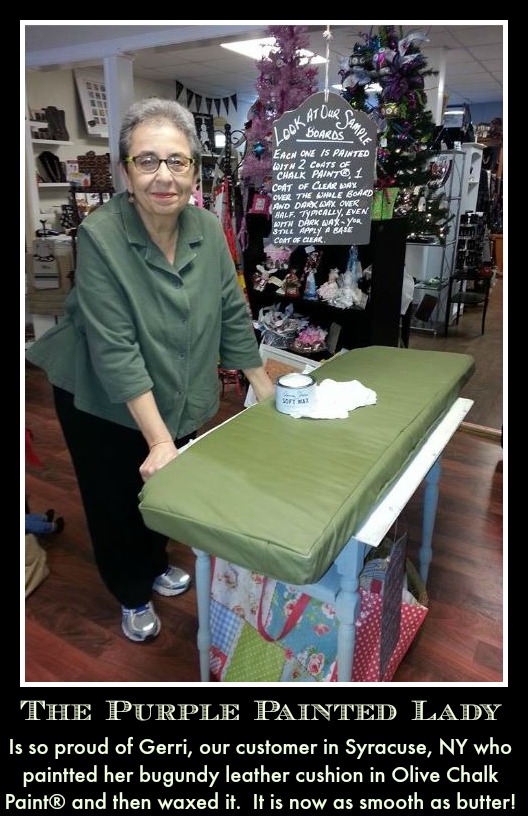 She painted her burgundy leather cushion with Chalk Paint® decorative paint by Annie Sloan.
Gerri painted a few thinned coats of the color Olive. We recommend that you apply your first coat- and allow 24 hours of wait time before you paint another coat.
Gerri thinned her paint slightly with water. (adding between about 20% water to whatever amount of Chalk Paint® you have)
Then- after her last coat of Chalk Paint® dried, she sanded the paint softly with some 400 grit sandpaper. In this step- make sure to be careful not to sand the edges or corners. Again- stay away from the edges so you do not accidentally wear thru the paint.
Once she polished the surface- the paint felt smooth and soft.
Lastly- she visited me at the Baldwinsville shop, and I helped her finish it off with an application of Annie's clear wax.
APPLYING WAX TO LEATHER:
After the paint on your leather has been dry for about 24 hours, then wax. (this extra time allows your paint to really set up, adhere and cure)
To apply the wax, we used a lint free cotton rag instead of a wax brush. The leather is soft and subtle and we found using a rag to be best, but you may have a different opinion- and that is fine. Go with what works for you.
Basically- we gently rubbed the wax around and in and then stopped when it felt smooth and almost dry to the touch. This was a super easy process and the wax sealed the paint and made it feel like the most luxurious leather coat you have ever felt.
If you apply too much wax and need to remove the excess, just take a fresh, clean, lint free rag and gently wipe off the excess.
Be gentle when rubbing near the seems , corners or edges so that your removing of the wax does not act like a "wet distress" where you remove the paint. It is normal to get some color transfer on your rag that you are applying your wax with, so do not panic when that happens.
Have you painted anything leather? If yes- please post a photo on our Facebook page and one of you will be selected to WIN a free gift from The Purple Painted Lady on Monday, December 29th, 2014.
The Purple Painted Lady (that's me!) sells chalk paint® in three of her locations through out western NY and also- via her on-line store/website!
If you do not purchase through me…I hope you give us the opportunity to do business with you! We sell Chalk Paint at $34.95 per quart which is the lowest price I can legally sell it for based on the contract to be a distributor. I ship out every week day all over the US. We offer the lowest flat rate UPS shipping cost so if you are one town away or 10 states away- the shipping cost is the same. We ship same day if your order is placed before our daily UPS pick up. Also- it is my paint sales that keep me in business and allow me to be here to help you. (my shameless, but honest plug) Link to Our On-Line Store HERE.
: ) And I will be here to help you as you progress through your future project! And if I do say so myself- we offer the BEST customer service that you will ever experience!
Here is a little post about what I mean when it comes to customer service and what you should expect from us – click HERE.
Thanks so much!
Trish —