Paint your old leather boots with Chalk Paint® by Annie Sloan?
Absolutely!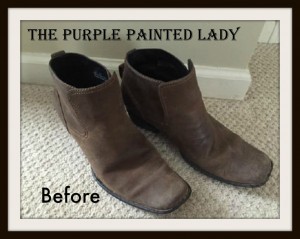 My friend Kerry Stich, is a Personal Color Analyst and owns a business called Indigo Tones located in Pittsford, New York.
Indigo Tones
32 ½ South Main St Pittsford, NY 14534
(585) 249-9738
kerry@indigotones.com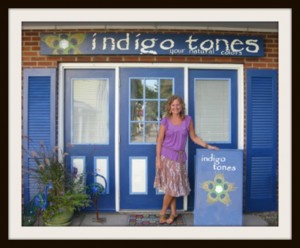 Kerry transformed her boots with Florence. Don't they look awesome?
Kerry says that the color Florence is the most universal color that looks wonderful on everyone! So, when shopping for clothes- look for Florence.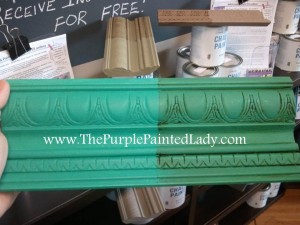 To paint your leather boots, thin your Chalk Paint® decorative paint by Annie Sloan with a little water.
Add about 10% to 20% water to the amount of paint needed for your boots. It won't take much paint to paint your boots…maybe a couple tablespoons as most.
Try "dry brushing" your first coat on initially and see the results. Do you like it? Yes? Great- apply a coat of wax over your boots.
If no….go ahead and apply more paint.
Either way- once done painting, apply a uniform coat of clear wax. It will moisturize your paint and protect your boots!
Kerry's specialty is doing individual color analysis. She will be a life saver for you since she guides you on which colors are best based on your skin and hair color. A color analysis consultation at Indigo Tones will give you the tools you need to build a wardrobe that compliments your coloring, your personality, your lifestyle, and budget. Kerry's unique approach to personal color analysis will also help you understand more about who you are and what makes you feel confident.
She provides the highest quality botanically based mineral cosmetics, organic skin care, natural fiber swatch books, and handmade jewelry and accessories. Indigo Tones is about finding the simple, natural ways we can make our lives better!
Check out Kerry's Facebook page HERE.
The Purple Painted Lady (that's me!) sells chalk paint® in three of her locations through out western NY and also- via her on-line store/website!
If you do not purchase through me…I hope you give us the opportunity to do business with you! We sell Chalk Paint at $34.95 per quart which is the lowest price I can legally sell it for based on the contract to be a distributor. I ship out every week day all over the US. We offer the lowest flat rate UPS shipping cost so if you are one town away or 10 states away- the shipping cost is the same. We ship same day if your order is placed before our daily UPS pick up. Also- it is my paint sales that keep me in business and allow me to be here to help you. (my shameless, but honest plug) Link to Our On-Line Store HERE.
: ) And I will be here to help you as you progress through your future project! And if I do say so myself- we offer the BEST customer service that you will ever experience!
Here is a little post about what I mean when it comes to customer service and what you should expect from us – click HERE.
Thanks so much!
Trish —