Who doesn't like to earn free merch?
Hey, hey, Hey!
We just implemented a fun rewards program that keeps track of how much you spend with The Purple Painted Lady and then allows you to get something for free. And "FREE" is awesome in my book!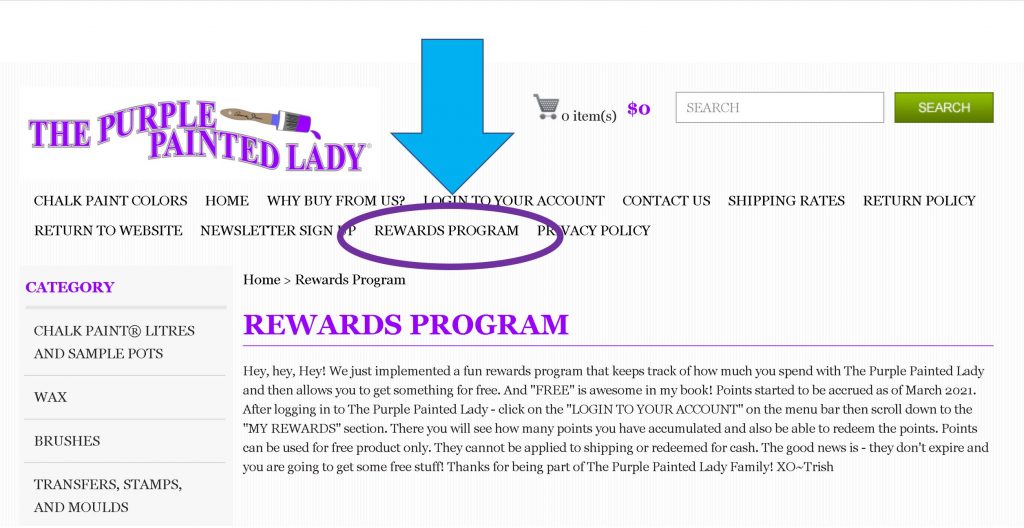 How do you get free stuff? You need to create an account and then log in when placing orders with us. CLICK HERE TO CREATE AN ACCOUNT ON OUR SHOPPING CART
Then, once you start placing orders, every dollar equates to a point. Points started to be accrued as of March 2021. So, if you have an account – log in to The Purple Painted Lady – click on the "LOGIN TO YOUR ACCOUNT" on the menu bar then scroll down to the "MY REWARDS" section. There you will see how many points you have accumulated and also be able to redeem the points.
Points can be used for free product only. They cannot be applied to shipping or redeemed for cash. The good news is – they don't expire and you are going to get some free stuff!
These points can be redeemed the next time you order from us. We are unable to apply them to a past order. We have specified products that can be redeemed for points instead of paying full price for them. The points that a product can be redeemed for does not equal the price of the product…for example, a sample pot costs $10.99 but can be redeemed for 400 points. You can think of it like if you spend 400 dollars with us, that entitles you to a free sample pot of Chalk Paint®!
How many points do I have? Super simple. As long as you have created an account on our shopping cart ( The Purple Painted Lady ) and then log in to your account when placing an order- you will accumulate points. So, after logging in How can you see how many points you have accumulated? When you log in to your customer account, the rewards accumulated appear at the bottom of your account information like so:

Clicking on the "View Details" will show information such as when you accrued the points and for what reason. If you click on "Redeem", it will open a page showing all the products allowed to be redeemed. You can click on Redeem and it will add it to your cart with a cost of zero.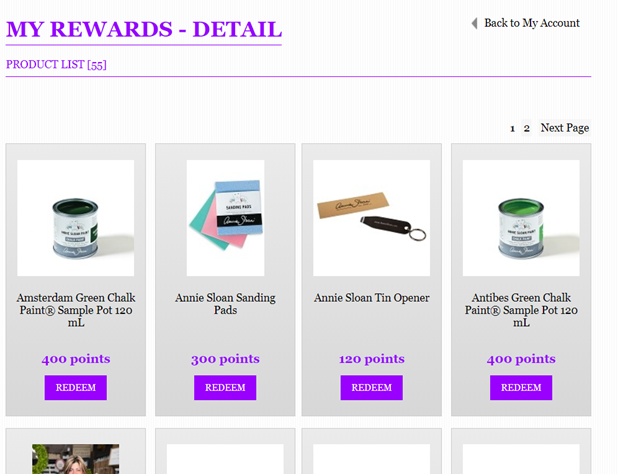 So, the moral of this story is
Make sure to create an account on our shopping website
Make sure to log in to your account when placing an order
Thanks for being part of The Purple Painted Lady Family!
XO~Trish