We adore this little wine cabinet that our customer, Leanne, refinished using Chalk Paint® by Annie Sloan in the color Svenska Blue. She also added Transfers by Iron Orchid Designs to give the piece a little something extra!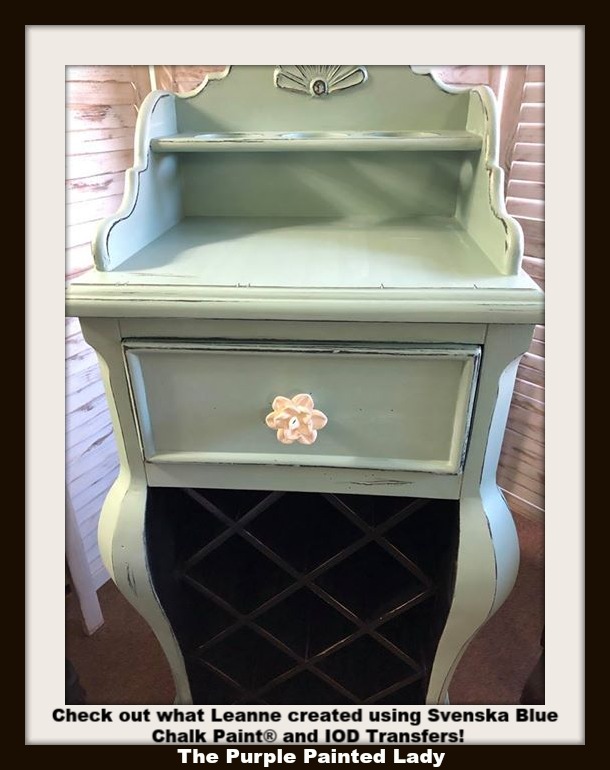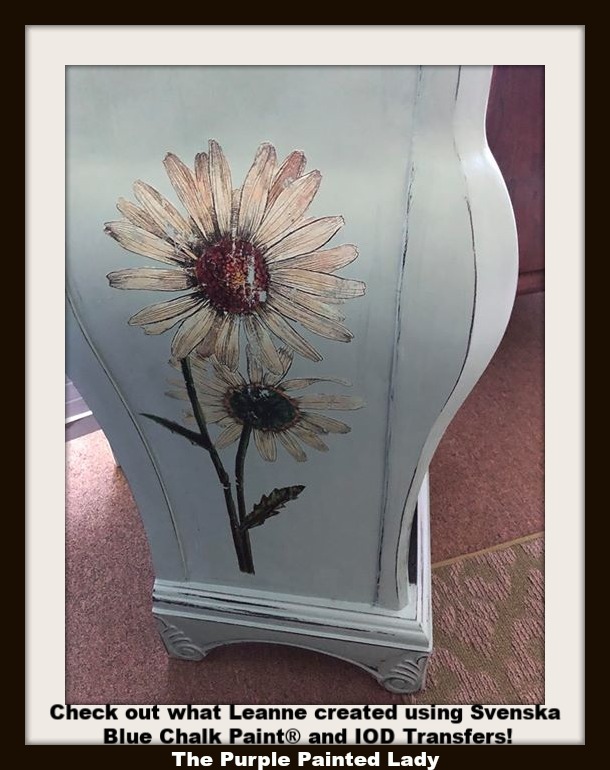 We always start by cleaning a piece of furniture with either Odorless Mineral Spirits or Krud Kutter! Then, we will do a fresh water rinse to remove any left over chemicals from the cleaners. Sometimes…you can get away with just one coat of Chalk Paint®, but we typically recommend 2 coats to achieve full coverage.
Next, I would apply the IOD Transfer. Leanne chose to use the transfer called Wild Flower Botanical. You can view our post HERE which gives step-by-step instructions on how to apply transfers. After that application, I would distress – I will even distress the transfer very lightly sometimes! Not everything is set in stone….some people may prefer to distress prior to applying their transfer – that part is up to your discretion!
Last, would be the topcoat application. Personally, I LOVE Annie Sloan's Chalk Paint Wax as a topcoat. Clear Wax gives such a nice, smooth finish….and I also like the fact that you are able to get a higher sheen by buffing if that is what you prefer! We actually have a video on how to apply Clear Wax HERE. Some people may prefer to use a brush on topcoat (like Clear Topcoat Sealer) over a piece they have applied a transfer to because they feel it is delicate, which is TOTALLY fine…but you can absolutely use Clear Wax without damaging your transfers!
TIPS FROM LEANNE:
Leanne shared with us that when it comes to transfers….patience is key! Gather all of your information first – watch videos, read instructions, and get inspired! Leanne prefers to use a brush-on topcoat over her transfer, but like I mentioned before…wax is great, too!