I am always amazed at the versitility of Annie Sloan's products! And something I would like to point out, is that at The Purple Painted Lady®….we don't just retail these products- we seriously use them. We push them, we pull them, we want to experiment with them- so when you havde a question- we have an answer based on experience!
One of the easiest ways to add richness and depth to a piece of furniture is with using Dark Wax to finish it!!! Dark Wax ages a piece and gives it a depth of richness compared to nothing else! This posts is specific to Annie Sloan products, but keep in mind- whatever is your product of preference- explore using Dark Wax like we show here.
Anyway…to focus back on track here- Anne who is part of our team recently created a Dark Wax "glaze" with our Annie Sloan Soft Wax and Odorless Mineral Spirits.
This is Anne! Fortunately, Anne has been part of our team for years now. She has pretty much used Chalk Paint® by Annie Sloan for every home DIY project you can imagine. Anne has painted her kitchen cabinets, bathroom vanity, baby's crib, dressers, coffee table, her outside brick on her front porch, her mantle, her fireplace's brick facade, and etc……….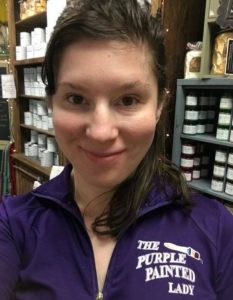 Anne recently transformed a raw wood table we have in our Greece, NY location using Annie Sloan's Dark Wax mixed with Odorless Mineral Spirits. Anne mixed the two in equal amounts to thin the Dark Wax to a "glaze" consistency.
Here is a close up of the table prior and the products Anne used.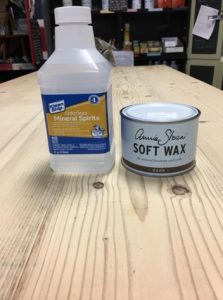 Anne took a plastic spoon and scooped a couple tablespoons of Annie Sloan's Dark Wax and placed them into a plastic cup. She then pouredan equal amount Odorless Mineral Spirits into the plastic container and mixed the two well. This will cause the Dark Wax to not be so thick and work more like a stain. The below photo shows the change on the raw wood after the initial application. Anne use an inexpensive Chip Brush and brushed it on and then followed up with wiping off the excess using lint free Scott Shop Towels.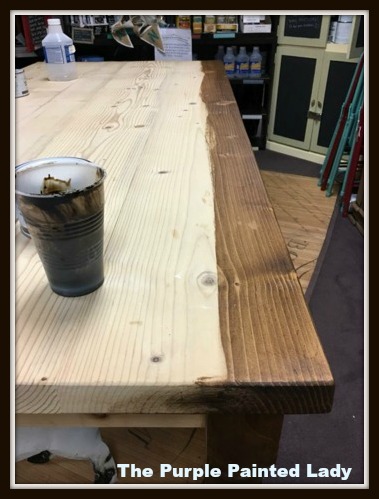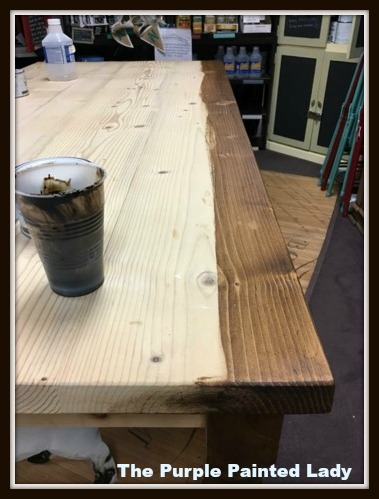 Here is an action shot of the wood leg with the Dark Wax "glaze" being applied.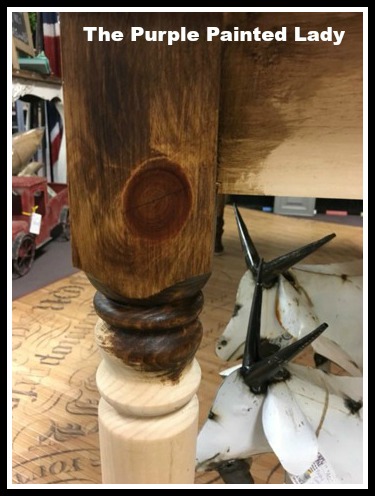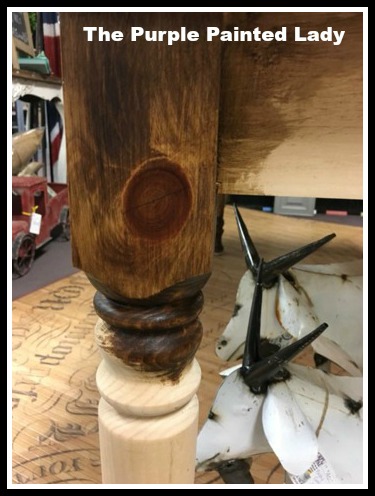 Seriously- you have to try this technique if you have a raw wood project. It is so easy and beautiful! Here is the tabletop completed.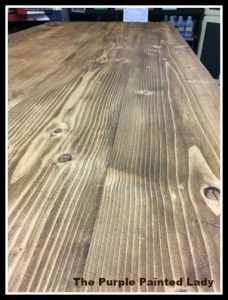 And- here is the table back in place at our Greece shop location.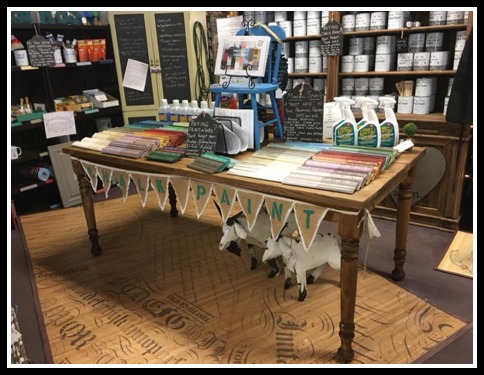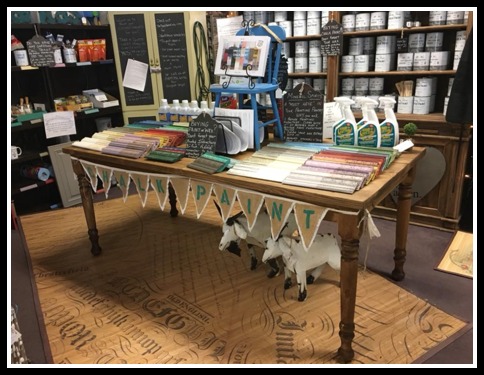 SAVE this image to Pinterest to remind you of this technique!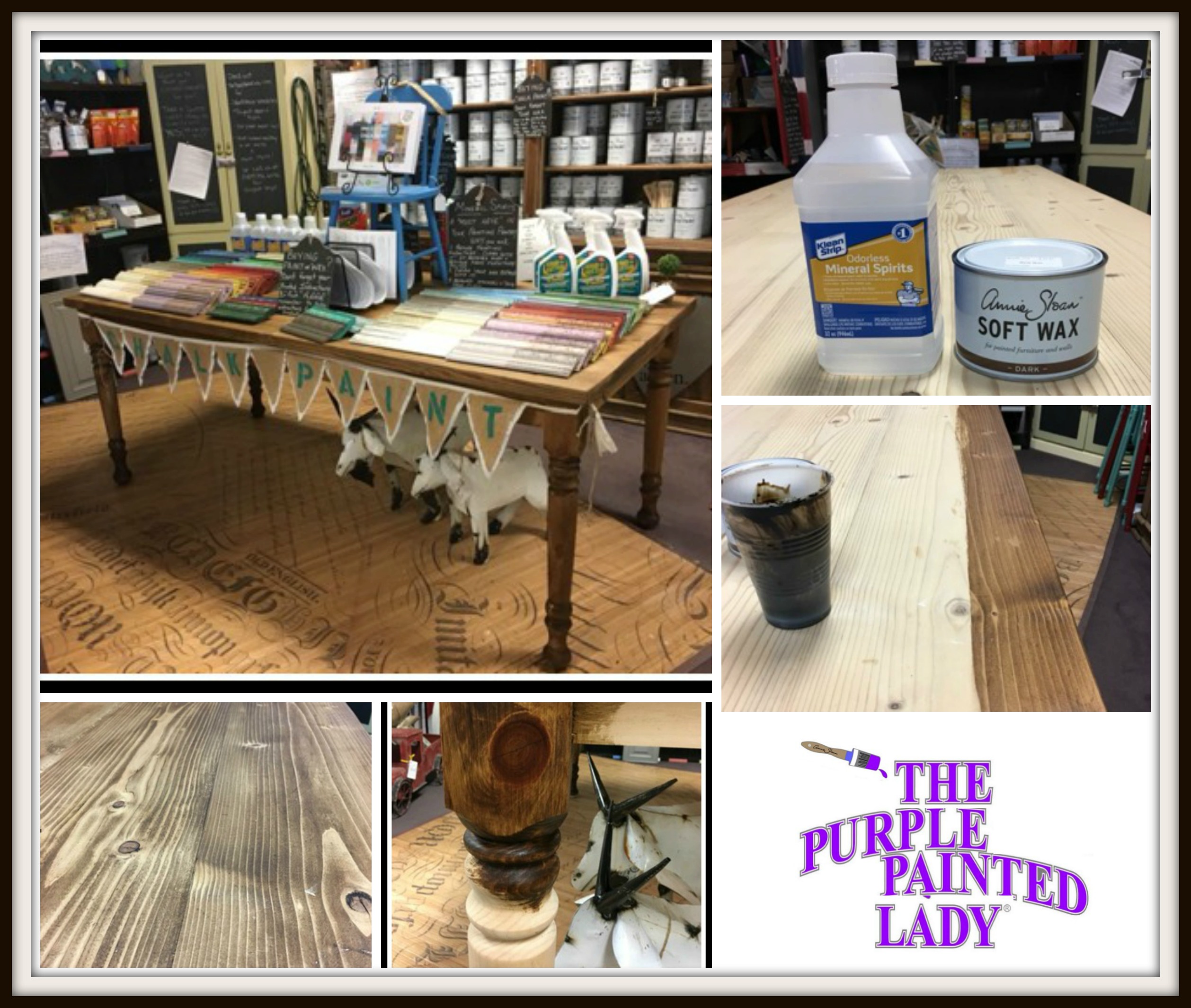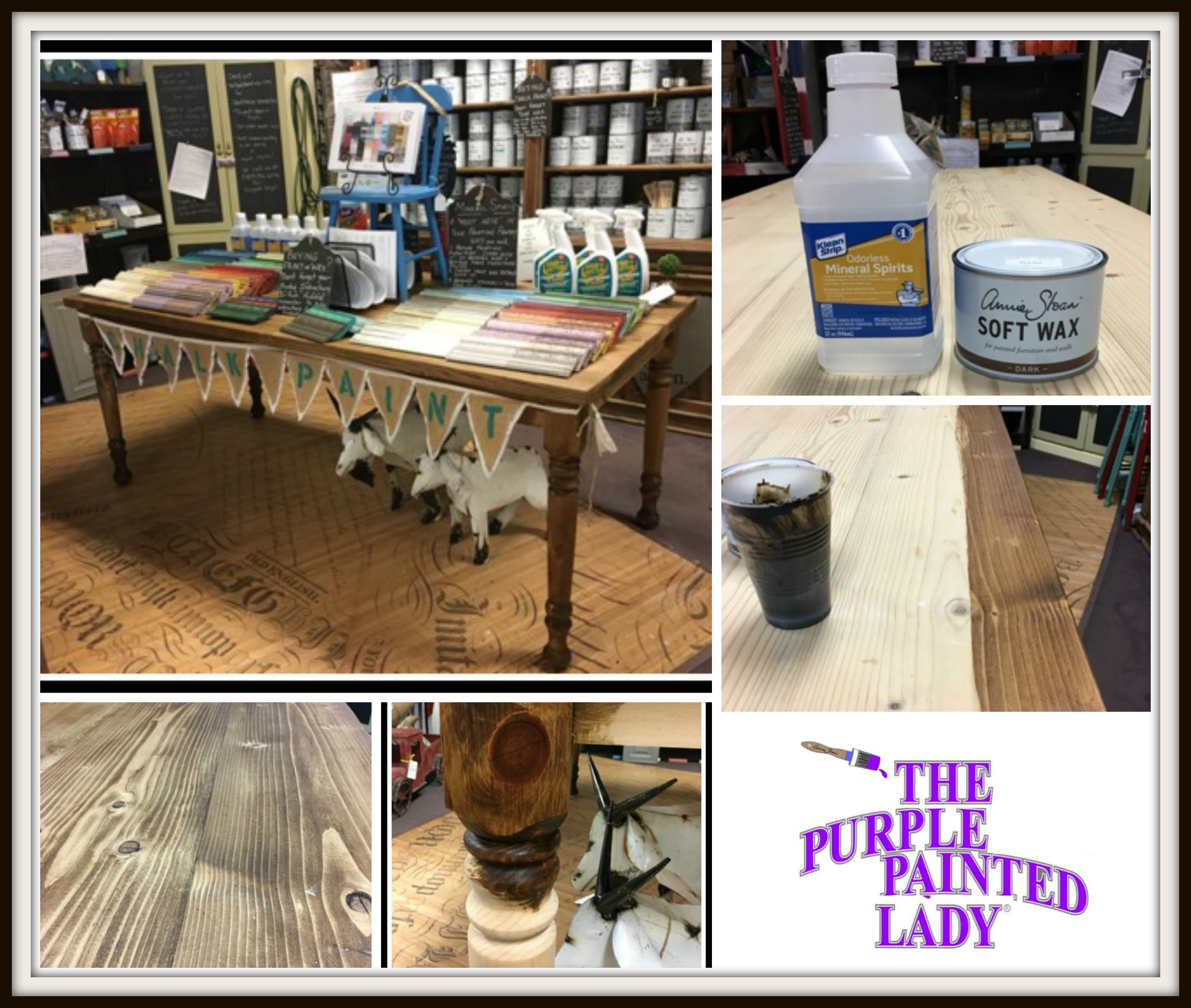 BUY PRODUCT FROM …..THE PURPLE PAINTED LADY®:
Come visit us at
EAST SIDE OF ROCHESTER (Our MAIN store!) 77 West Main Street in Macedon, NY 14502 OPEN Mon – Wed 10– 4, Thurs 11–7, Fri 10 –5 & Sat 10-4.…CLOSED SUNDAY
If you live out of NY state, if you have a local stockist- go visit them and build a relationship with them. Go to them with your questions and project issues. BUT- if you do not have a local stockist- we invite you to try our customer service!
As for buying any of the products we mentioned earlier in this post- I hope that you select The Purple Painted Lady® to be your one stop resource! We have two locations in western NY. Check out our Information tab and come and meet us! Otherwise- if you are not located near me- the following information may apply to you.
This information is directed to those who do NOT have a local stockist. Because if you do – go and meet them, shop from them and build a relationship with them!!! The guidance, information and knowledge they share with you – will be invaluable. Get inspired by their shop that they lovingly curated – just for you! Enjoy that one on one experience!
But for those who are in a location where there is no one selling paint products- and you must buy on-line- consider us. With that said, visit www.anniesloan.com to find a stockist near you.
We are here to help you, our customers! We want you to be successful!
SOME OF THE REASONS WE THINK THE PURPLE PAINTED LADY® CUSTOMER SERVICE IS THE BEST:
* We love our customers and it shows!
* We want you to be succesful the first time you use this product, so you fall in love with Chalk Paint® and tell all your friends about it! So, with that said, we promise to provide you with all the "know how" information you need to be a DIY Warrior!
* Ordering online? If you order before 3 pm EASTERN TIME any day Monday thru Friday – we will ship out your package that SAME day. We ship orders out every since week day all over the US. (THIS IS DIFFERENT than SAME DAY DELIVERY. We do not offer that)
* We offer low flat rate UPS shipping cost so if you are one town away or 10 states away- the shipping cost is the same.
* We have awesome follow up customer service, too!
: ) And I will be here to help you as you progress through your future project! And if I do say so myself- we offer the BEST customer service that you will ever experience! Lastly- if I was helpful to you- ….please consider leaving a positive review on my Facebook business page sharing your positive experience or thoughts about The Purple Painted Lady®. Here is a link to my Facebook page=>
http://www.facebook.com/pages/The-Purple-Painted-Lady/291882785710
This really helps me! (wink, wink!)
XO
Trish
The Purple Painted Lady® ~ the serial no. is 86/641,416 with the US Trademark Office