I had to share this AMAZING transformation by Red Living of a pine plank floor painted in Chalk Paint®.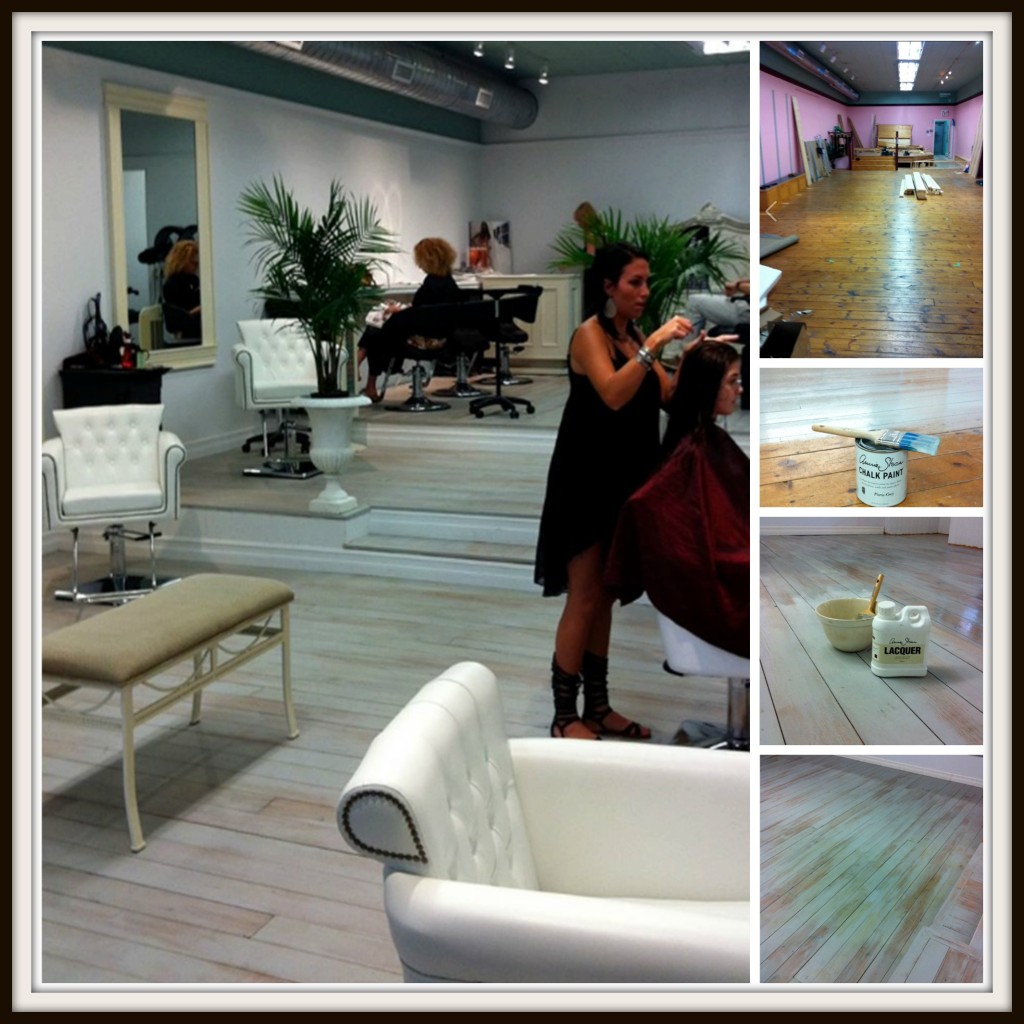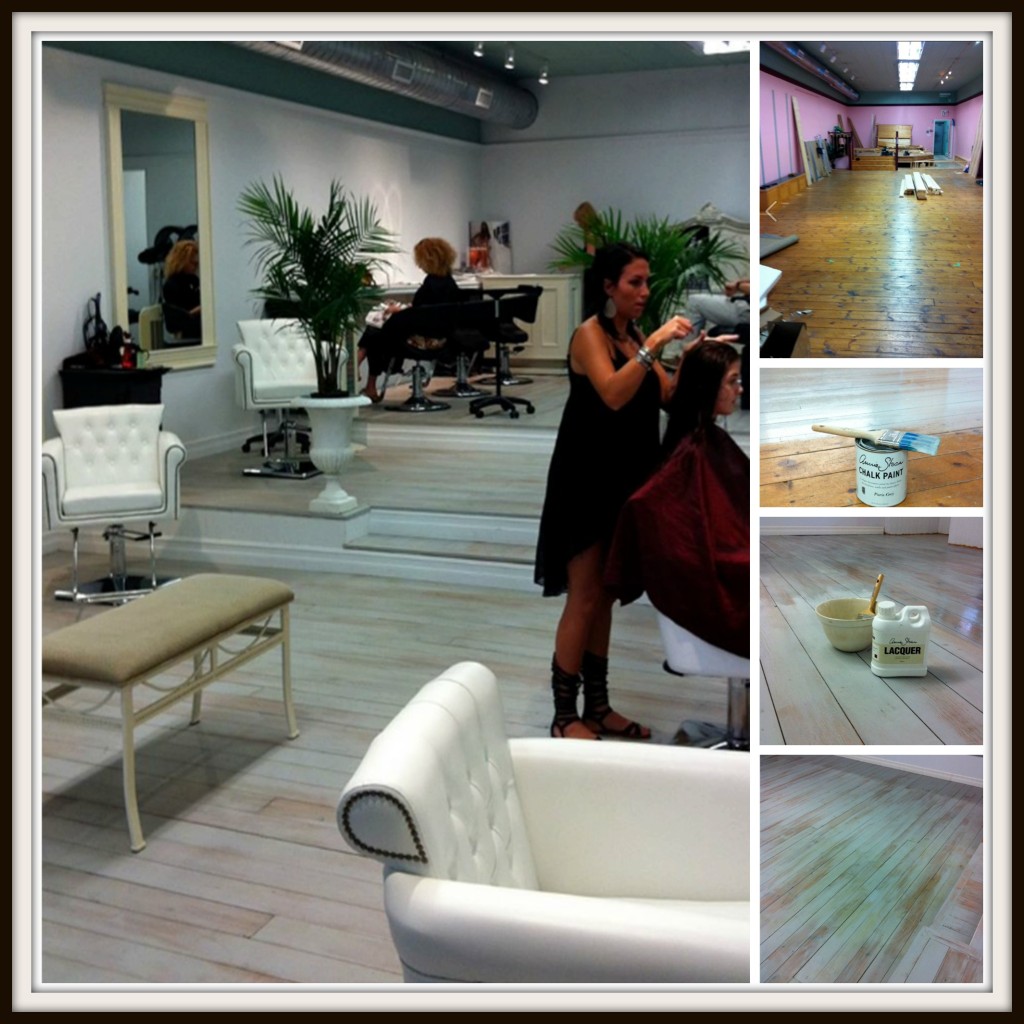 Paris Grey was the color of choice for this chic…well, soon to be chic Hair Salon – that opened a few stores away from their shop. They painted the whole floor using Annie's newest 2 inch flat brush.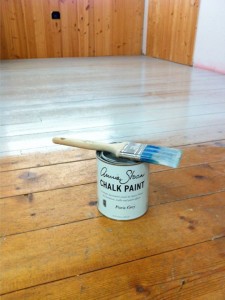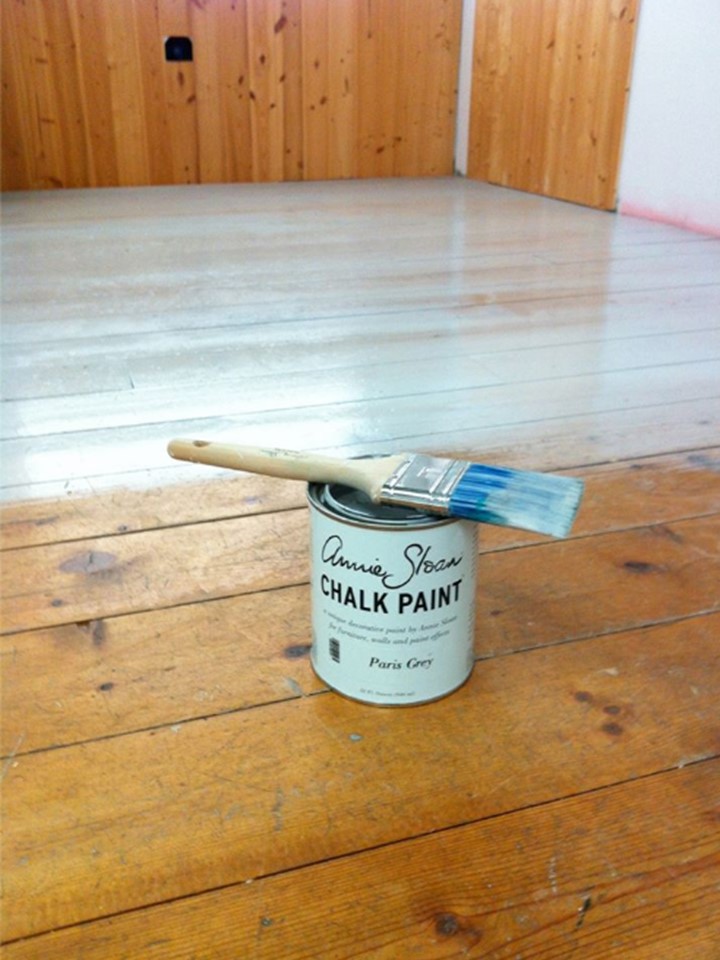 If interested in checking out Annie's flat LARGE paint brush that gives a smoother finish, click HERE.

Red Living stated that they loved the "bounce" in this brush – along with water – they covered 1200 sq feet with 2 quarts of Paris Grey Chalk Paint®. (YES! You read that correctly- they watered down the paint and since they only did one coat- they covered the entire salon floor!)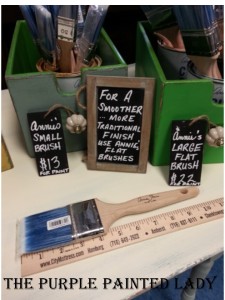 The floor is protected using Annie's Lacquer. Her Lacquer was created for inside use on floors with high traffic!
Annie retails her Lacquer in both a MATTE finish and also a GLOSS finish.
If interested in learning more about Annie's Lacquer – click HERE.
The Lacquer did pull up some of the tannins from the pine wood through the paint- (since a coat of shellac was not applied prior) but this turned out brilliant cause it looks like they added more colours – like chateau grey and duck egg which "appeared" on some of the boards – love – looks very custom. (the mirror frames are old white/cream.)
IF USING LACQUER OVER A DARK COLOR PAINT? => KEEP IN MIND…..as with any matte finish product, it is recommended that you use a gloss finish first , then apply the matte when going over darker colors. The flattening agents in the product that give it a matte finish will show as a cloudy look over dark colors. You have to cover with a gloss first. Annie Sloan Lacquer in the 750 mL containers comes in both a GLOSS and MATT.
To read more about when to use shellac, click HERE.
Red Living used 5 litres of Lacquer. The first coat was watered down a slight bit and they used a wide brush.
Here is an important tip! Get a nice brush that is specifically for applying Lacquer!)
The wide brush used to apply the Lacquer- they said made it go on beautifully. Most importantly with Lacquer- is that you do not dilly-dally. Apply it fast, with a confident brush stroke and do not back brush. To read about Annie's Lacquer – click HERE.

For cleaning painted floors coated with Annie's Lacquer, you can use just about any household cleaner. A current fav of our Annie Sloan technical instructor is Fabuloso … they shared that they love the smell.
WHEN YOU START PAINTING YOUR FLOOR (if going for a solid coverage effect) ….. after your first coat has dried…..if you get bleed through (and this is different then a lack of brush strokes that has a void and that is showing the floor beneath) ….apply two thin coats of Zinsser Bullseye Clear Shellac and lightly sand. Then paint your second coat of Chalk Paint®.
It is important that you use the Lacquer to finish the floor if you do not want to see natural scuff marks.
I feel it is important to paint the whole floor and seal with Lacquer all at once OR….. versus dividing it in half and sliding furniture to one side and doing the floor in sections on different days because you will potentially see that break once all is done. Sort of like painting a wall red. If you do not do it all at once….you will see the "seam."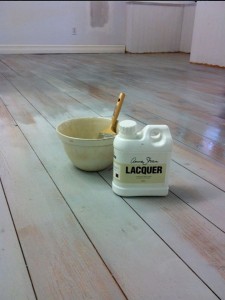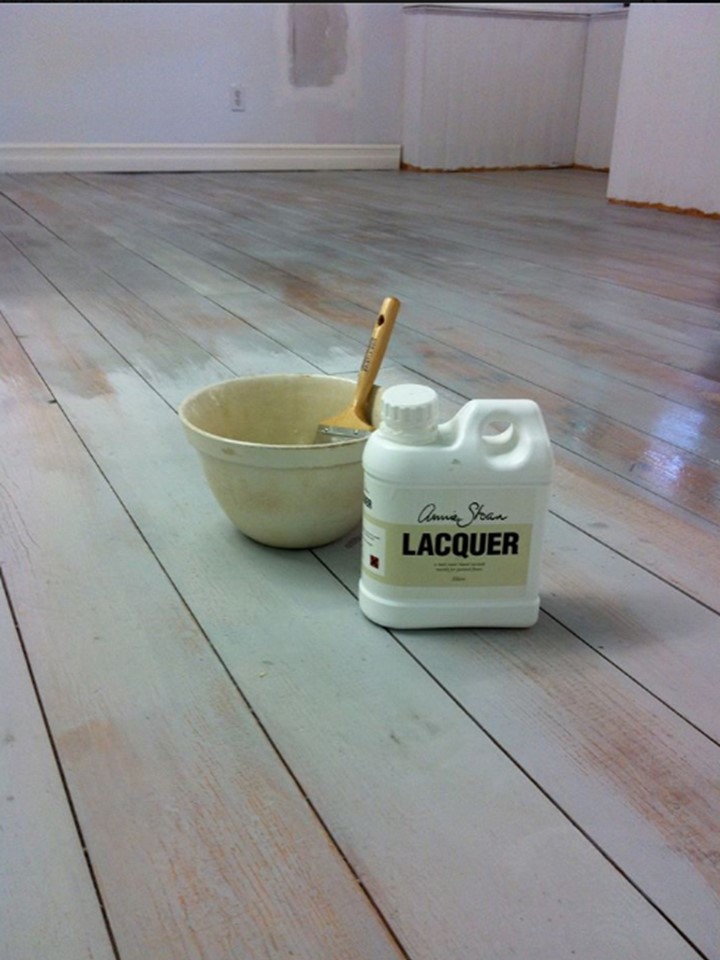 If interested in purchasing Annie Sloan products, please visit our website if interested in ordering Chalk Paint®. We have Chalk Paint® available for $34.95 per quart every day, we offer low/flat rate shipping and it always ships same day (as long as Pete, our UPS guy has not come already!)

In fact- there are many reasons we think buying through us is the best. Read THIS little post about what sets The Purple Painted Lady apart from the rest.
To visit our on-line store- click HERE.
Lastly, we share a lot more information to help you get the most functionality out of your Chalk Paint® on our Facebook page. Consider checking it out by clicking HERE. While there- kindly consider LIKING us.
Thanks again,
Tricia Migliore Kuntz ~The Purple Painted Lady ~
Design/Consulting, Kitchen Cabinet Refurbishing, Custom Painted Furniture, Chalk Paint® & Miss Mustard Seed Milk Paint Retailer & herRochester Blogger
PHONE: 585-750-6056
Come visit us:
At our MAIN STORE at 77 West Main Street in Macedon, NY 14502 OR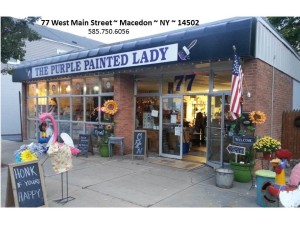 3200 West Ridge Road in Rochester, NY 14626 (The Shops On West Ridge) OR
Our Syracuse, NY location as of July 1, 2014 at 1 West Genesee Street, Baldwinsville, NY 13027
Click HERE for Store hours and information.