A Chalk Paint® question I am often asked is……..

Can I paint over Chalk Paint® later if I change my mind about the color?
YES! …..But the steps to do so may vary depending on two things:
1. Have you waxed your piece?
AND
2. What product you are using to paint over your piece?
1.) Did you apply WAX?
IF NO wax has been applied over the Chalk Paint®- then this is super easy! Go ahead and paint over the Chalk Paint® with EITHER Chalk Paint® OR any other product you choose. It will be just fine! Chalk Paint® makes an excellent base for all products.
If YES- you have applied wax to your piece- and you plan on using Chalk Paint® to repaint your piece, then:
A. PAINTING WITH CHALK PAINT AGAIN? If the wax feels dry- no matter if it is has only been 15 minutes since the last wax application or a day or two- GO ahead and paint right over it with Chalk Paint®. If the wax feels really thick and tacky- then I would consider removing some based on directions below. Annie's products were created to work perfectly with each other.
B. If the wax is fresh – then you will want to use a little mineral spirits on a rag. Your rag should be slightly damp- NOT dripping wet. Be careful if doing this inside your home because you do not want Mineral Spirits dripping on your brand new wood floor. (well, you might not have a brand new floor, but you understand what I mean, right?)
C. PAINTING WITH LATEX? You will need to remove the wax since neither latex paint or primer will stick permanetely to the wax.
So- place a drop cloth down if necessary. Using your rag that is moist with mineral spirits- wipe your piece in the same direction you painted it from edge to edge. Move across the cabinet, dresser, etc and do not aggressively focus on one spot. This process will take about 5 or 10 minutes to do your whole piece. You will need to have a few rags for this. The result you will be left with …..is that your Chalk Paint® will feel like it did prior to waxing. Sort of a flat, matte surface. Use your hand and glide it over the surface. By the feel of it- you should have a good idea- if you removed it all or at least most of it (which is ok too!)
Once done with removing the wax …….¸¸.•*¨¨*• …go ahead and paint with EITHER Chalk Paint® or any other paint product you choose.
Please visit our website if interested in ordering Chalk Paint®. We have it available for $34.95 per quart, we offer low/flat rate shipping and it always ships same day!

In fact- there are many reasons we think buying through us is the best. Read THIS little post about what sets The Purple Painted Lady apart from the rest.
To visit our on-line store- click HERE.
Lastly, we share a lot more information to help you get the most functionality out of your Chalk Paint® on our Facebook page. Consider checking it out by clicking HERE. While there- kindly consider LIKING us.
Thanks again,
Tricia Migliore Kuntz ~The Purple Painted Lady ~
Design/Consulting, Kitchen Cabinet Refurbishing, Custom Painted Furniture, Chalk Paint® & Miss Mustard Seed Milk Paint Retailer & herRochester Blogger
PHONE: 585-750-6056
Come visit us:
At our MAIN STORE at 77 West Main Street in Macedon, NY 14502 OR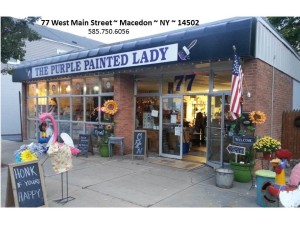 3200 West Ridge Road in Rochester, NY 14626 (The Shops On West Ridge) OR
Our Syracuse, NY location at 2017 Milton Avenue in Solvay, NY 13209
Click HERE for Store hours and information.