Some of you may be able to relate to this scenario ~ you learn about Chalk Paint decorative paint by Annie Sloan and decide to buy some. You get it, paint something in your home and everyone loves it.
Then all of a sudden…BAM! People are asking you to paint pieces for them.
If you start doing projects for others and don't write up a contract- you are setting yourself up for an eventual problem.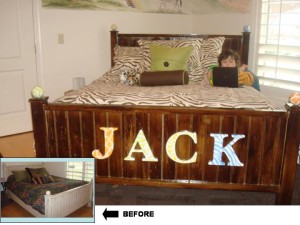 I always write up a contract using Microsoft Word. Here are some things I account for when creating one.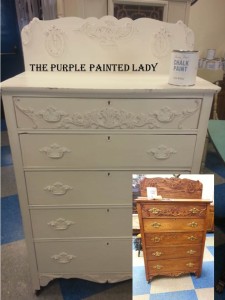 Always list out the following in a contract:
Note the customer's contact information such as address, cell phone, email.
Specify the dimensions of the piece. This is especially important if you quoted the piece via email. Sometimes people make mistakes in estimating the size of their furniture. If it arrives bigger than what was quoted- increase your price since you will use more materials and spend more time on it.
Note down the required preparation you will have to do, such as cleaning, sanding out scratches, applying wood filler, applying shellac, etc?
Specify the paint color(s) that are to be used.
How many coats of each color will be applied- (sometimes I note a minimum of 2 coats of paint.)
What is the type of finish your client desires? (smooth, are visible brushstrokes ok?)
If you will need to sand to reduce brushstrokes (charge more!)
Does your client want distressing? If yes, how much? Do they want it just on the corners and edges- or more aggressive distressing on even some of the flat surfaces?
Specify the top coat you will use. I prefer wax! So, specify color of wax, number of applications of wax.
Will there be gilding applied? If yes, specify how heavy it will appear and approximate locations.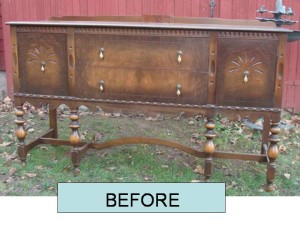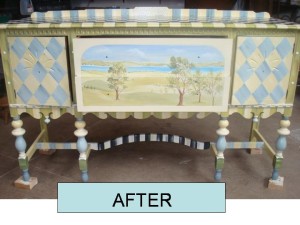 Will existing hardware be used? Or will new hardware be used? If new- do new holes need to be drilled and old holes filled? (requiring wood fill & shellac)
If current hardware will be used, will it be painted or left as is?
Are you painting the hinges or not?
What about the inside of the piece? Will it be painted & waxed? (charge more!)
I like to suggest a fun color for inside drawers.
Note if there are requests to change the contract after it has been signed – the customer will potentially incur an additional expense.
Do you offer pick up and delivery to and from the customer's home? Account for this time and expense.)
Make sure that the piece is properly stretched wrapped for delivery to ensure safety. Include the cost of all materials in your quote estimate.
I always note that the piece is to be paid in full upon delivery. If payment is not made within 30 days of completion, piece becomes the property of "your business."
Include an image of the piece you are painting "as is" before painting.
Always ask customers if there is an example on-line of a piece they want theirs to look like once done (include that "inspiration" image and url to find it again on line in the contract.) This will be very helpful for you when you go back to the contract later in time since it will remind you all that you need to do!
Add a notation that all hand painted pieces will have unique characteristics.
And lastly- the more detailed architecture on a piece of furniture equates to more time you will spend painting and waxing. Always make sure to account for that in your quote calculation.
I personally like to paint the back of all pieces I do and the bottom (but do not wax.) The "bottom" meaning if you were laying on the ground looking up – it is all painted!
Protect yourself after delivering the furniture by including a care tag for the customer so they know how to properly maintain their painted piece! I wrote a post with some suggestions on what to include in your care tag. Click HERE to read that post.
And lastly, I add a note that the "delivery date" is a target date and based on being a small business- adjustments may happen. (I do this cover to myself in case of delays) Have the customer sign off and date your contract and give them a copy. This was especially helpful last month when my husband and I experienced quite a few deaths in our families. For four weeks in a row, we lost someone. Between calling hours and funerals and emotional stress- it impacted me and my work schedule.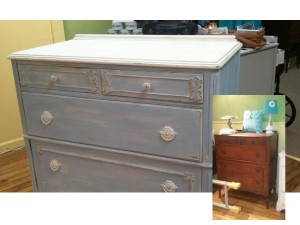 Well, I hope that this information helps you in regards to some of the things I account for in a custom painting contract. It is so important that you not only deliver an incredible, high quality piece to your customers that knocks their socks off, but also- protect yourself from a business perspective. Now- if you can help me in return….. : )
If you ever need to purchase Annie Sloan Products –I would hope you would consider doing so through me! (The Purple Painted Lady) I ship out every week day all over the US. I included a link below to my on-line shop below. We offer the lowest flat rate UPS shipping cost so if you are one town away or 10 states away- the shipping cost is the same. Also- it is my paint sales that keep me in business and allow me to be here to help you. (my shameless but honest plug) And I will be here to help you as you progress through your future project! And if I do say so myself- we offer the BEST customer service that you will ever experience!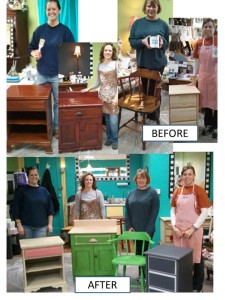 And lastly- if I was helpful to you- ….please consider leaving a comment on my Facebook business page sharing your positive experience or thoughts about The Purple Painted Lady. Click HERE to access my Facebook page.
Stay warm everyone!
Trish ~ The Purple Painted Lady
If you are interested in the child's bed I did above- it was an additional project from the mural job I completed at a home. After I was done with the walls- I just felt the bed needed to weight the room better- so I stained it and added simple store bought letters that I painted in animal prints. I used Velcro to attach the letters. Super easy and cute! Here are some images of the mural I did.