I had to write this little blog in honor of my new Rustic Chic Wine Cabinet for sale…read on and you will understand!
When you live in an old house out in the country it is easy to be "Rustic Chic." I will be driving along – and right there on the side of the road is a rusty gear part that came from some old tractor. Yes- it is a rusty old gear, but to me- it is the funkiest candle holder I have ever seen that will look perfect on top of my outside dining table! It is already chippy and rusty and I didn't have to make it look that way! SCORE! Rustic Chic is huge when it comes to design.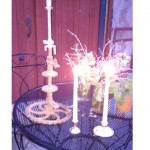 I almost wrote "interior design" but it is MUCH more than that- especially with so many of us having outdoor spaces! Elle Decor wrote about this a long time ago! Check out the article and their original table scape. I am loving the contrast of the rich "library" space with the rustic farmhouse table – with the elite – white chairs!
www.elledecor.com/decorating/articles/peak-rustic-chic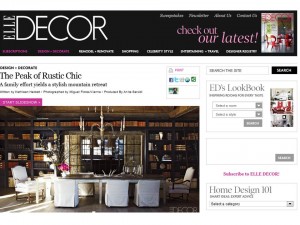 Some of you who may have been able to make it to my Purple Painted Lady Barn Sale last September (2011) will remember one of the artists I brought to the venue ….Antler Art. They had wine racks all made with shed antlers, lamps (floor and table), and chandeliers and candle holders. Linda and her husband are the amazing artists behind their creations! If you check out the Elle article I linked above – note the deer sheds on the table- and very important- understand how the deer sheds are "design" balanced with the modern white slip covered dining chairs.
In line with Rustic Chic….for sale at The Purple Painted Lady is this Wine Cabinet. Totally UPCYCLED and reconstructed from reclaimed wood from a NY Barn. This piece is the perfect size in that it is not too big!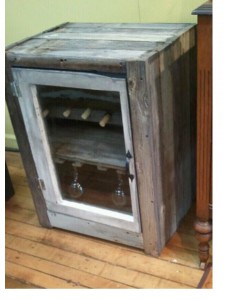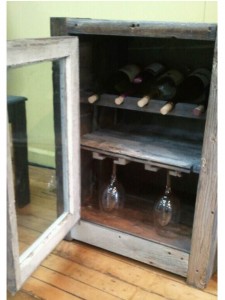 Imagine this on top of your wet bar- or for a mounting fee- it can be hung on your wall (within Monroe County). Mixing different extreme design styles is HOT and this beauty is perfect for even your bedroom or think covered patio! Having the gang over…..add a large galvanized tub filled with ice next to it and add some old style CoCo Cola or Root Beer bottles in it. We can add a fun bottle opener to the side…maybe something like this?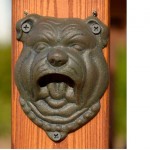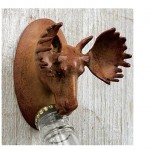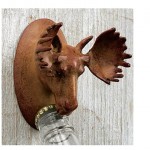 Add a thick wood cutting board with different cheeses,grapes and some PANE RUSTICO- otherwise known as Italian "Peasant" Bread crusty – (and if you have been blessed by the angels above and have a Wegman's Grocery Store near you- save time and go there purchase all of this! And if you do not have a Wegman's- my deepest condolences!) So, as I was saying- go to Wegman's and buy some- they have tons of Fresh Crusty bread to choose from! All are to die for and blow your Atkin's Diet over. Add some tangy olive's and bruschetta- and your guests will never leave! Don't forget to balance the rustic with chic…so perhaps add some white linen napkins and your finest wine or champagne glasses for fun! Write your menu on a Silver Tray Chalk Board that you created at one of The Purple Painted Lady's workshops!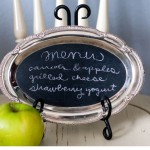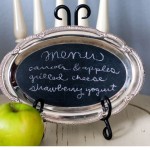 Never hesitate to add anything vintage! Think of vintage as a neutral color- it goes with everything!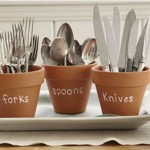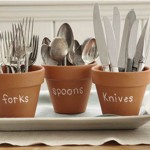 Personally- my fav thing to do would be to add a crystal chandelier hanging above so again- you have the opposite end of the design spectrum – totally cool! (and where do you get a reasonable priced "plug in" chandelier you ask? Well- if you are in Upstate NY…check Hobby Lobby (but only purchase it when lighting is 50% off- which is at least once per month!) OR, visit Target or T.J.Maxx (Homegoods) If you are spending more than $60- you spent too much! If not a hanging chandelier, get your hands on a candelabra- that would be fun too! Or-one last idea – that I think you should do anyways! Is add an old chandelier outside and use candles instead of electric. These look great hanging from a tree in the back corner of your yard. Add a chair and side table and you have a fun retreat! Look on the Rochester Craigslist to find old brass kitchen lights for minimal cost and spray paint…add some crystals and voila! You are all set!
After you have this entertaining set up complete…you are ready for one heck of a party!
But back to this Rustic Cabinet though. Here are it's dimensions…..it is 30″ tall x 18″ deep x 22.5″ wide. It holds 5 plus bottles perfectly angled so corks stay moist and 8 plus LARGE & TALL glasses. Set your corkscrew on the little shelf inside and you are all set for a wonderful evening! Hope you enjoyed this little article! Price of the Rustic Chic Cabinet is $225 and found at The Purple Painted Lady!
Hope you enjoyed this little article! Please write to me, "Dear Purple Painted Lady" with questions and you may be featured right here on-line!