Painting a Fireplace:
The littlest change can make such a big impact! Check out what Anne, who is part of The Purple Painted Lady® team did to her fireplace. Note that this same application can be applied to the outside of your house if you have brick that you would like to paint since Chalk Paint is both an interior and exterior paint. And, no, you do not need to seal it!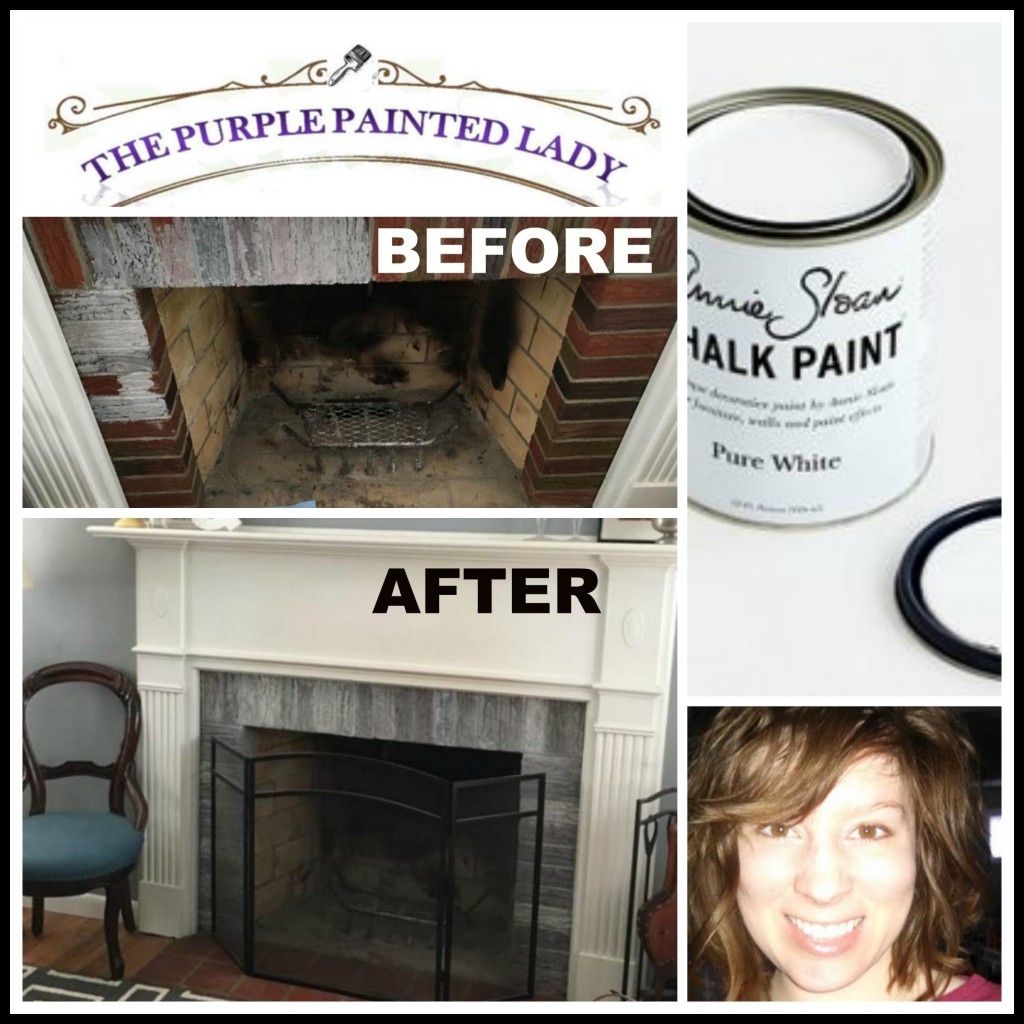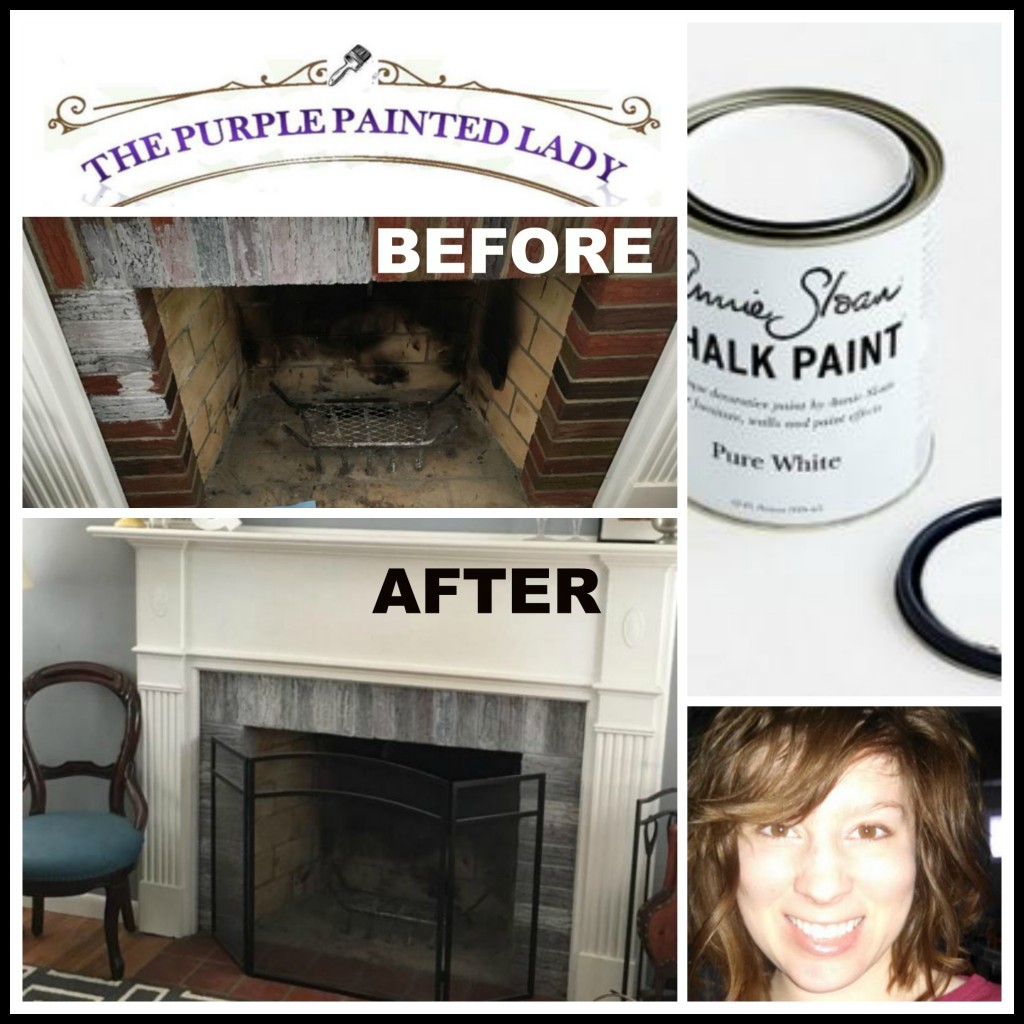 A little watered down Chalk Paint® in Pure White got rid of that orangey-red brick and now plays well with Anne's decorating style!
IMPORTANT INFORMATION: Before painting your fireplace surround, check with your Fire Marshall or Code Enforcement Officer regarding code in your area…it can vary by city/state.
Have you painted your fireplace? If yes- please send examples to Trish at takuntz@rochester.rr.com and you could win free stuff!
DIRECTIONS:
How you approach painting brick may vary based on the desired end result you are going for.
Some things to consider when doing this project:
PREP: If you have a shopvac or vacumm and that "broom" attachment…go over the brick facade to remove any little spider webs or dust. This is not super critical, but if you are OCD like me….do this.
Use a drop cloth. If painting over a porous surface, like wood, or concrete – it is better to safe than sorry.
I would suggest not painting your fireplace brick if you literally – just lit a fire. : ) Do it when it is at room temperature.
KNOW what the end outcome you want is. Do you want a subtle wash effect? (then you will be adding water to your Chalk Paint®) Do you want solid color over the brick? (then maybe you will NOT be adding any water) Your answer will determine how to approach your project.
If going for a translucent appearance- pour a small portion of paint in to a separate container and add about 25% water to it. So…if you have 1 cup of paint…that would be a 1/4 cup of water. : ) Don't thin all your paint from the get go!!! You do not know yet how much water is needed for the effect you are trying to achieve. So, start by mixing a little amount and ONLY paint one brick initially so if you don't like it- you are not as committed then if you start right in the middle of the brick facade. And be careful NOT to add too much water.
Remember – you can always apply another coat of the "wash" to make the white pigment heavier.
If you used a "white" to do a wash, experiment with painting some random bricks in more of a solid topaque coverage to give dimension. Or consider painting some random bricks using a different color, like Paris Grey Chalk Paint®. You could even use the Paris Grey to cut in the mortar joints …if you have the patience.
We have never top coated the paint over the brick. It is not necessary at all!
With that said….goodbye dated red/orange brick…..Hello fresh and Current! Look what Linda Crawford did with a little Old White Chalk Paint®️ by Annie Sloan that was thinned with a little water. No top coat needed at all!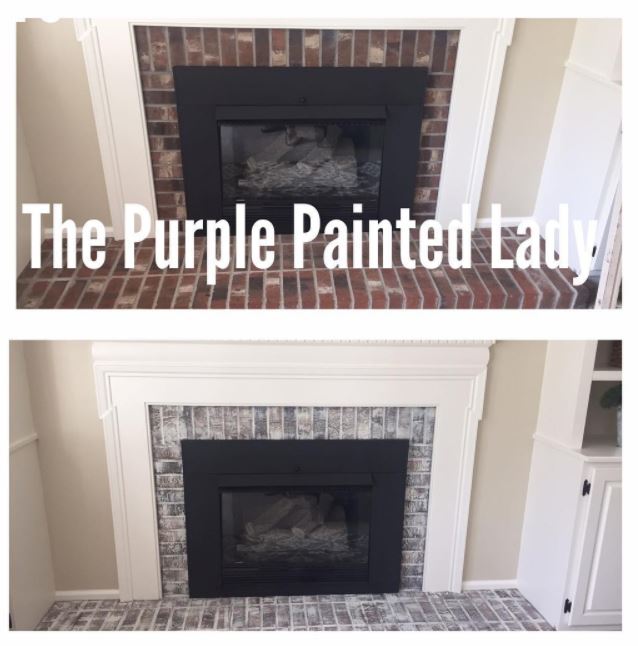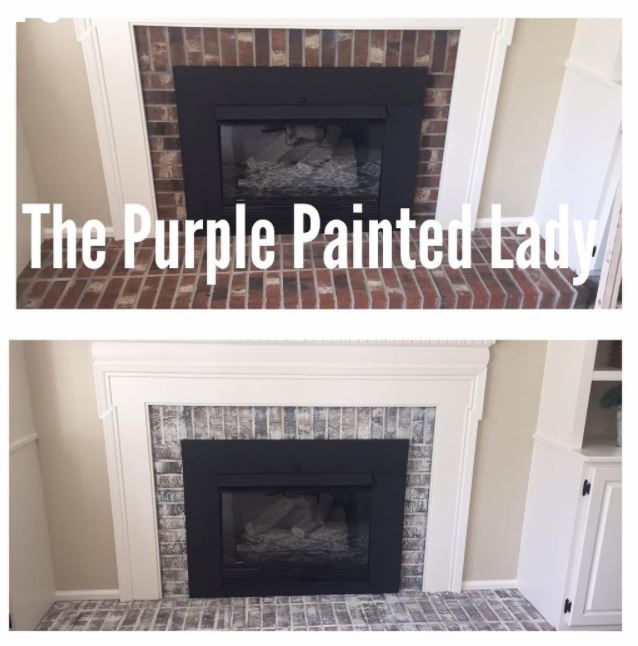 Debbie Ballo totally transformed this baby! Primer Red Chalk Paint® by Annie Sloan and Java Gel by General Finishes. Debbie Ballo used both and transformed her fireplace surround. We love it! Debbie used Annie Sloan's Clear Wax over the Primer Red and the General Finishes High Performance Top Coat in Satin over the Java Gel. We love it!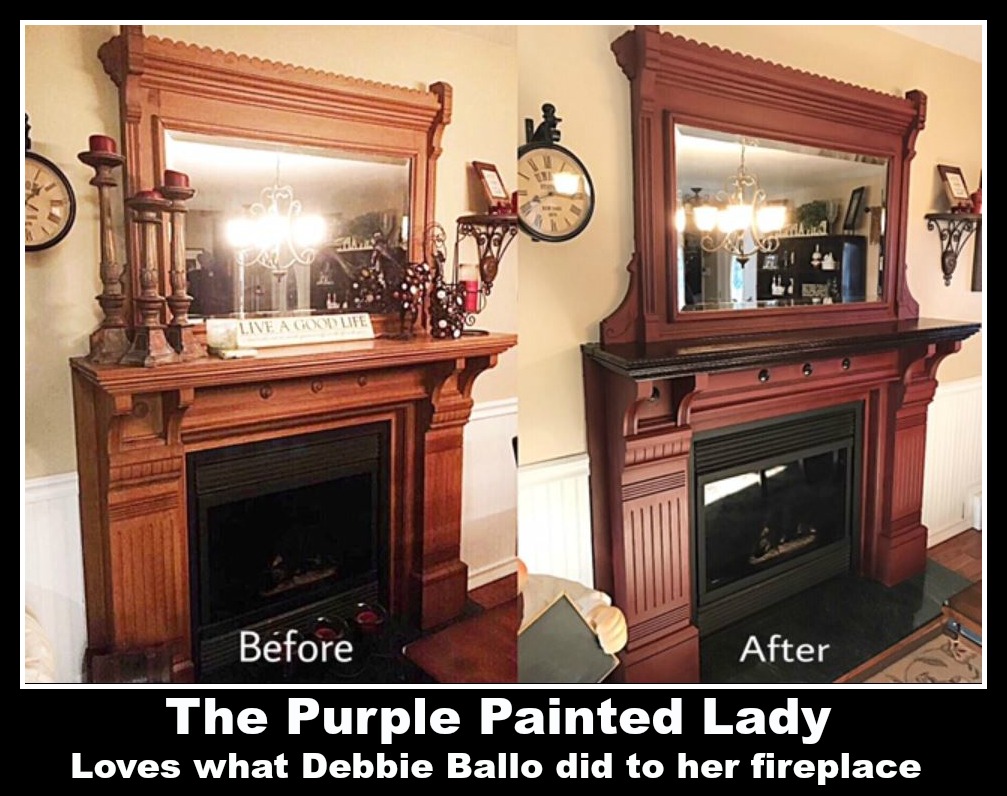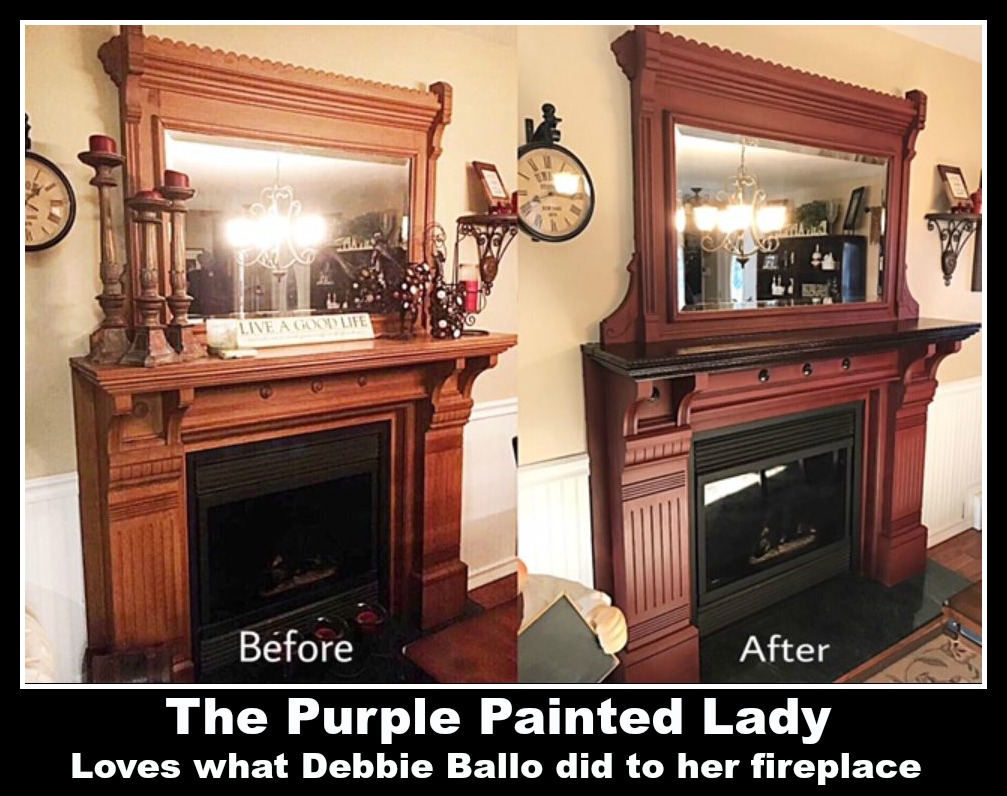 Jasmine Hagan did an amazing job with her fireplace surround. She stained over the pink brick with a dark walnut stain, then used watered down Old White Chalk Paint® to dab a white wash over the stain. I then painted the mantle in Duck Egg Blue Chalk Paint® and sealed with Clear Wax. Jasmine wrote us, "No regrets!!!"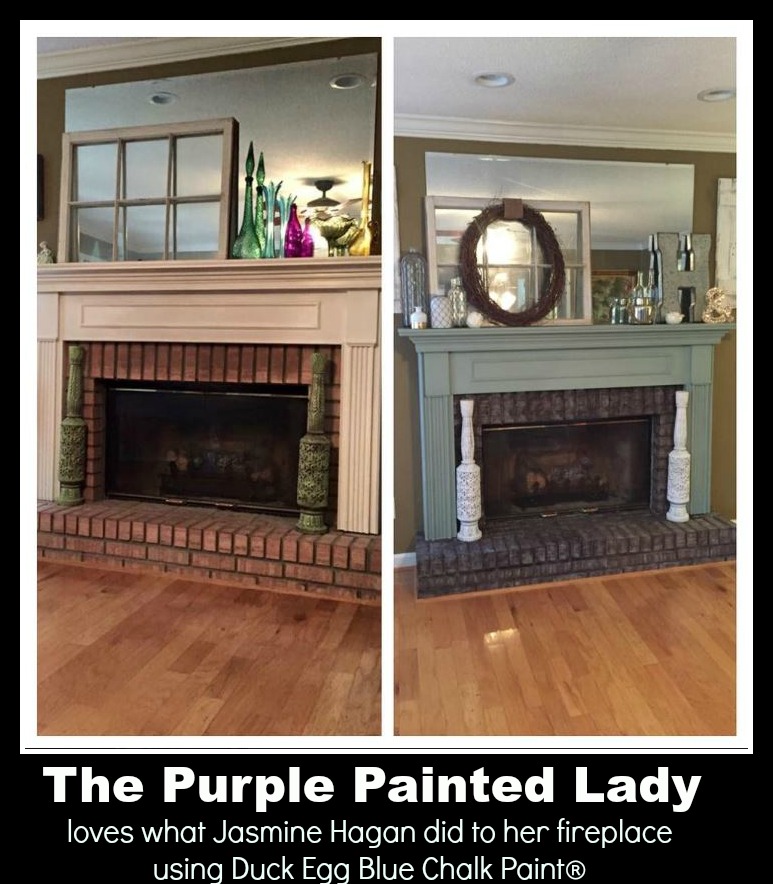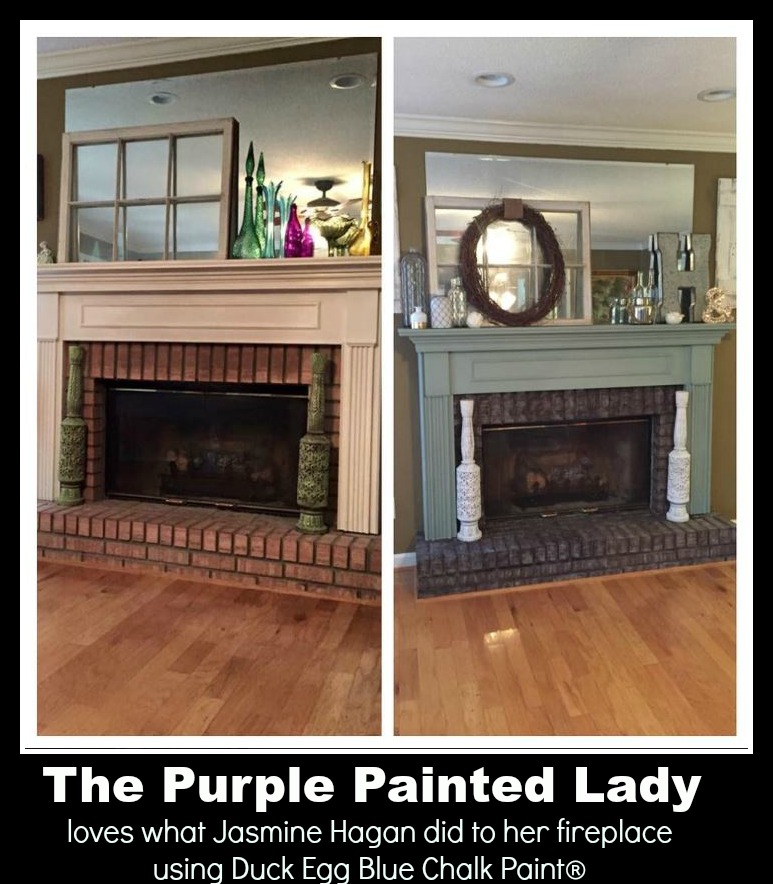 Lisa Sells
Painted her brick around her fireplace using the color Original from Annie Sloan's suite of Chalk Paint®. She thinned the paint with water to get more of a "wash" technique. She said, they purchased a house with heavy, dark, dated fireplace that did nothing for our family room. After a bit of playing around with chalk paint in "original", we are very happy with the result! We will be adding a gas fireplace insert and spiffing up the mantle with a fresh coat of shinier earner white paint after the holidays.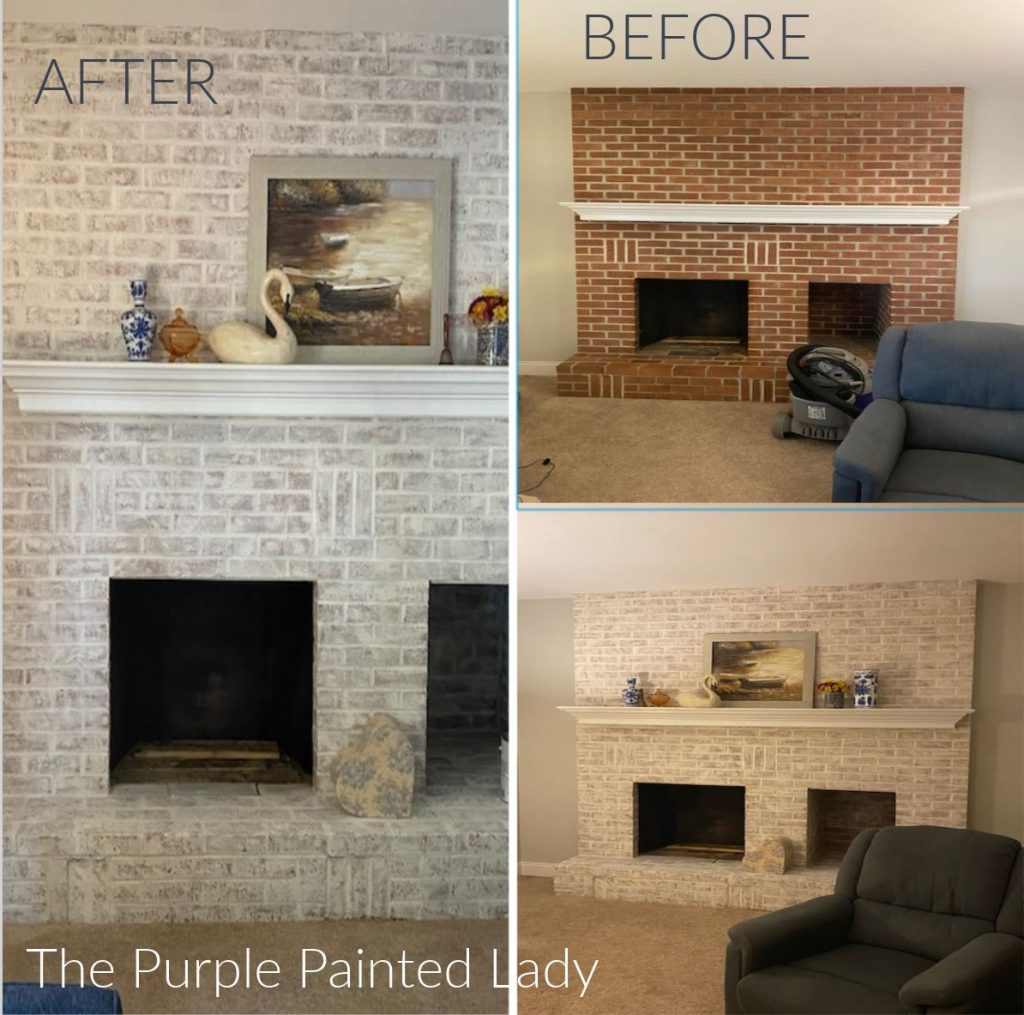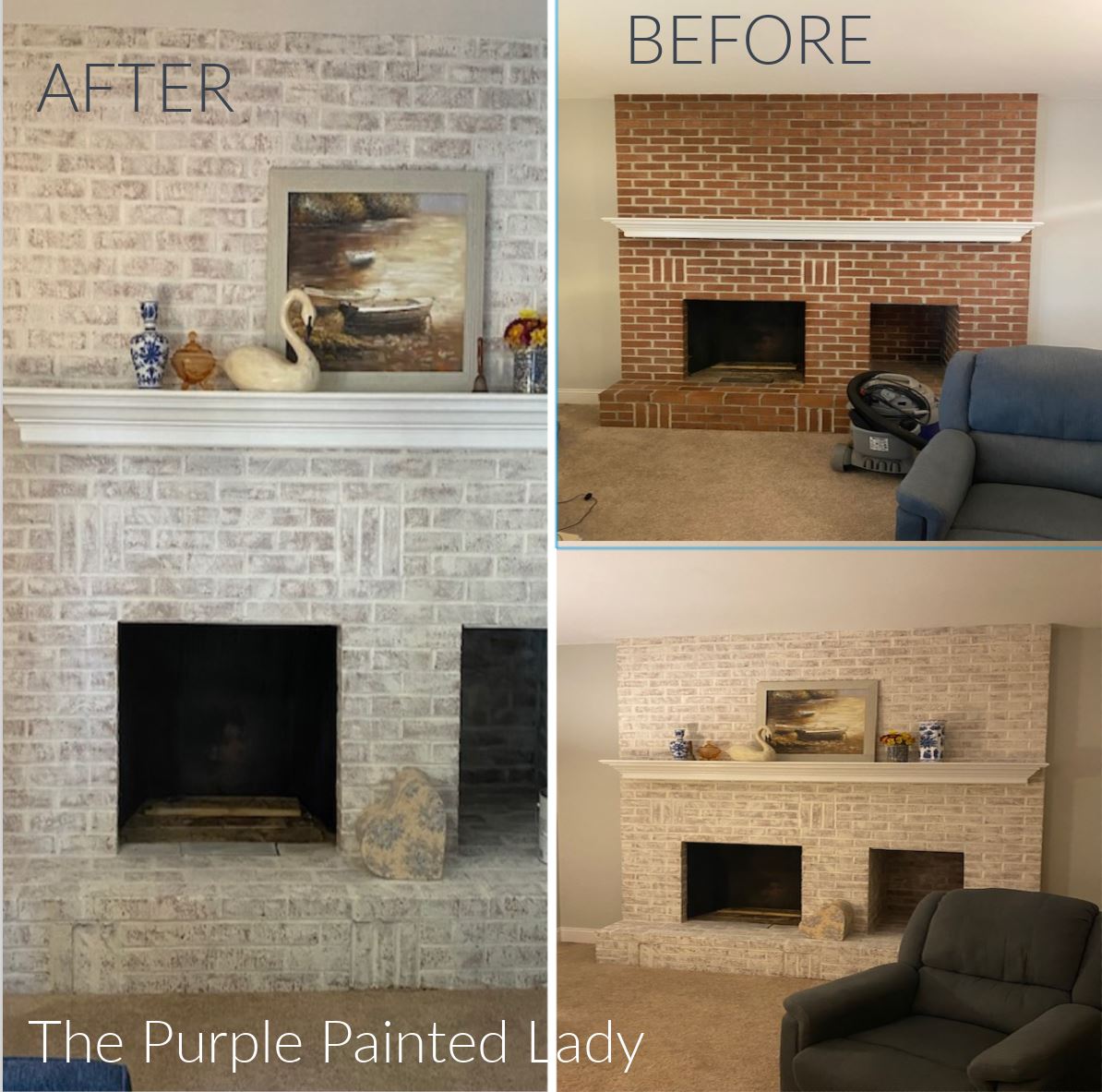 Roxanne Serritos
Roxanne and her dog used Paris Grey Chalk Paint® – straight out of the can! Then they made a wash of Pure White with some water and another wash of Graphite thinned with water. After she painted the Paris Grey all over the fireplace and it had dried, she took the Graphite wash and applied it over the ridges in the rock to show off the texture. Then, she used the Pure White wash to tone it down where needed. Roxanne wrote, "When you start it, your inner Annie Sloan kicks in and you just kinda work it…If you hesitate you will never do it…Tag me if ya need help…Or awesome Trish"
And isn't her dog cute too?!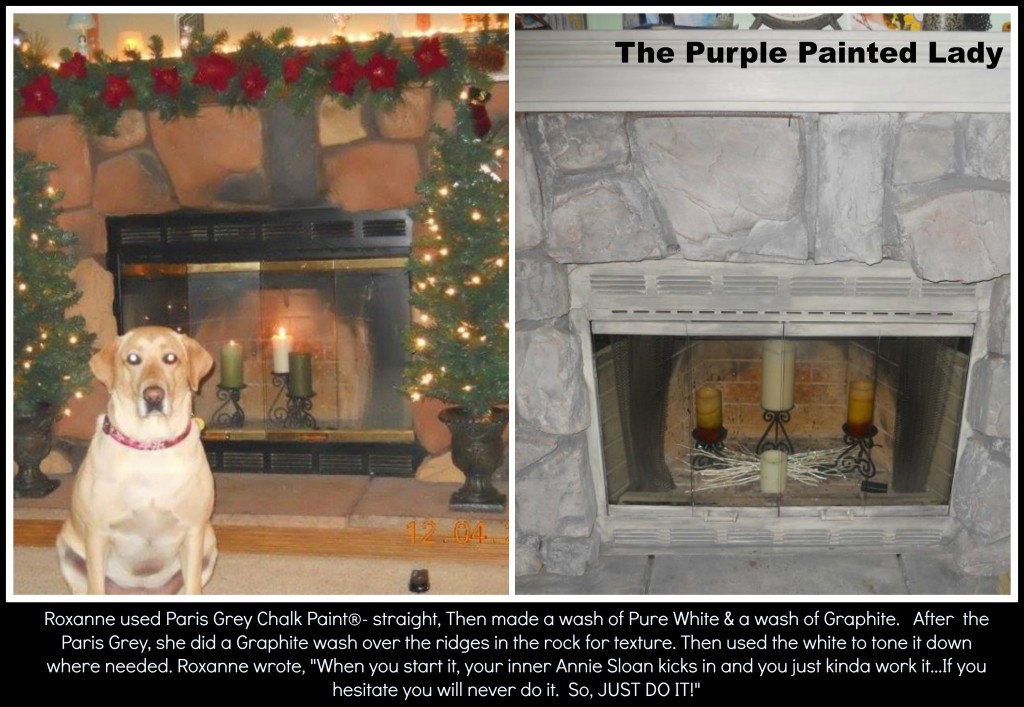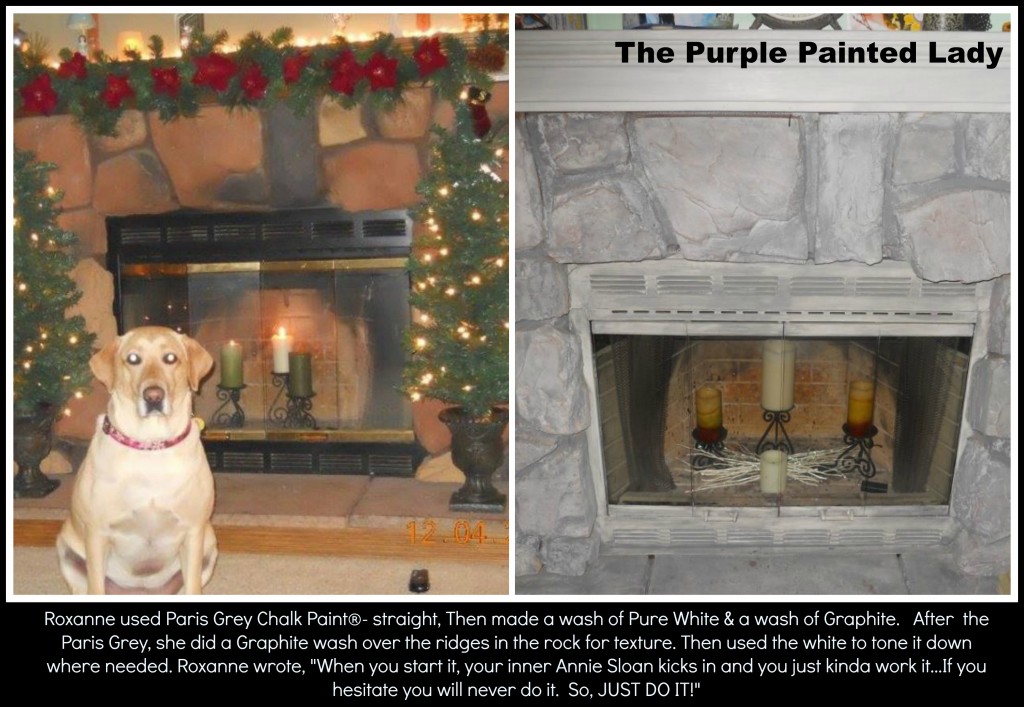 Kristin Belsito Sherman
A little Coco Chalk Paint® and voila!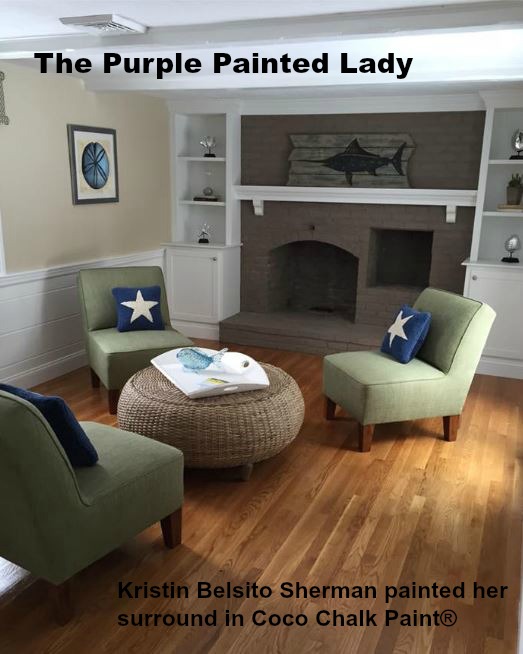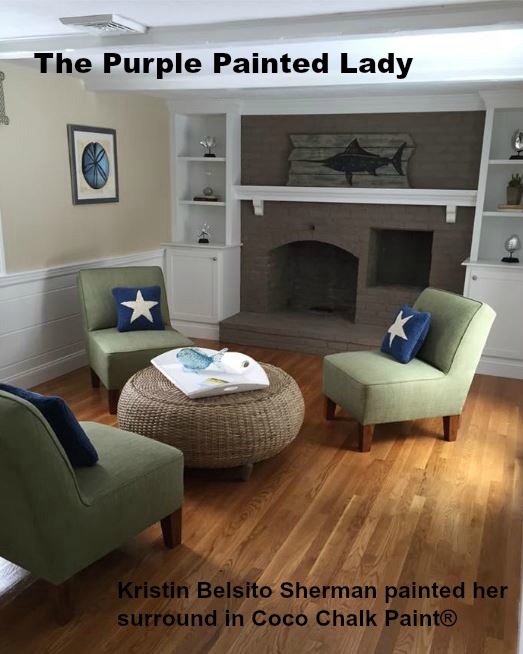 Suzanne Bagheri from at The Painted Drawer
Suzanne did a whitewash using Old White Chalk Paint® by Annie Sloan mixed with water. About a 1 part paint to 3 parts water ratio. She stippled the paint on in sections and then used paper towels to lift and remove excess strategically. Check out Suzanne's blog HERE!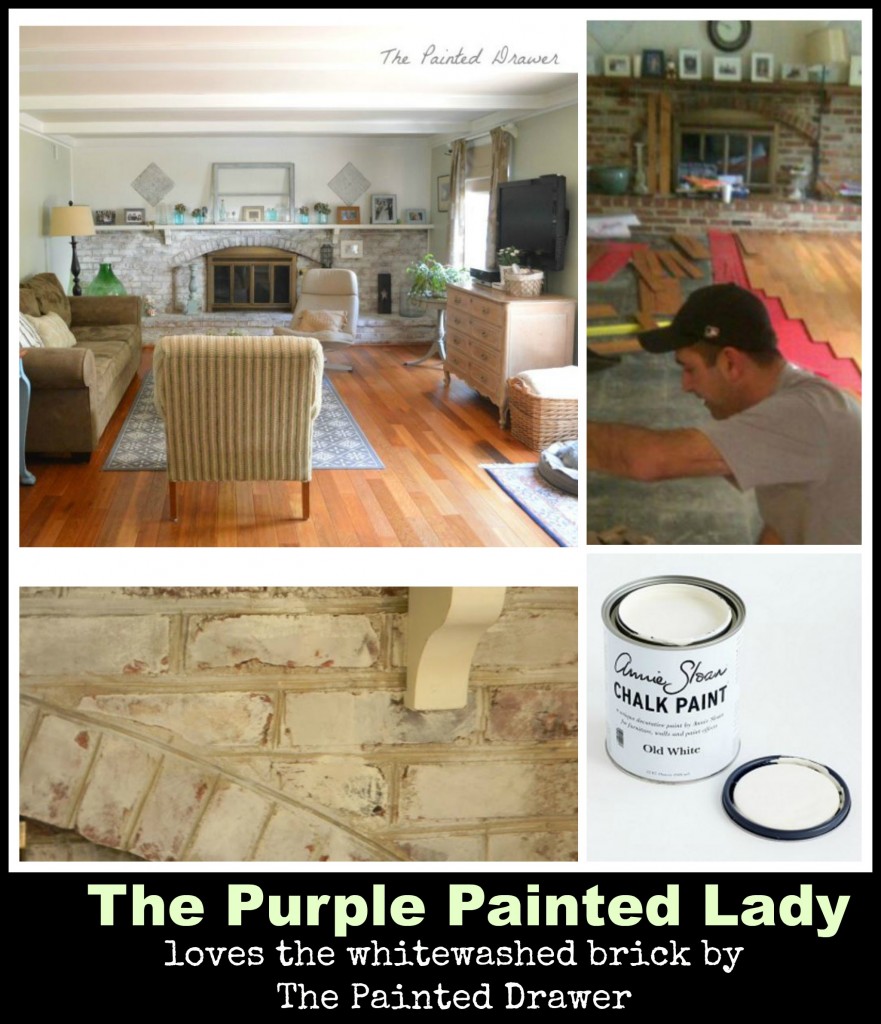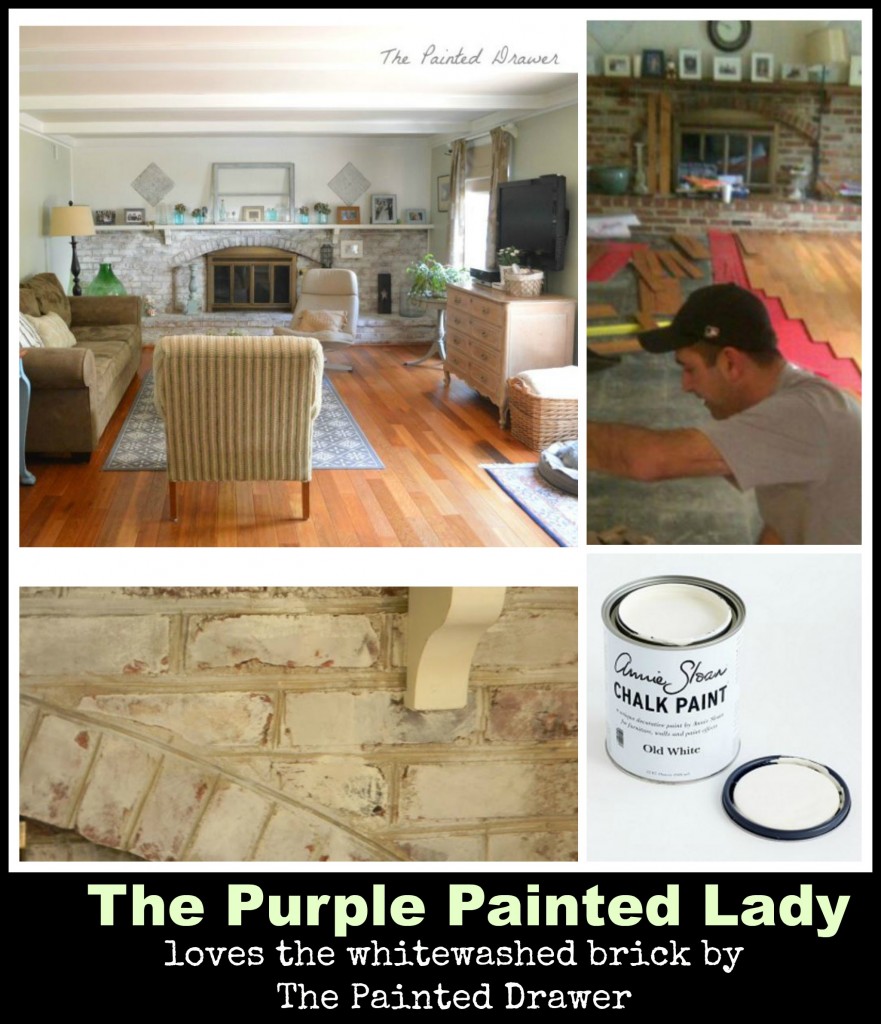 Susan Chamberlin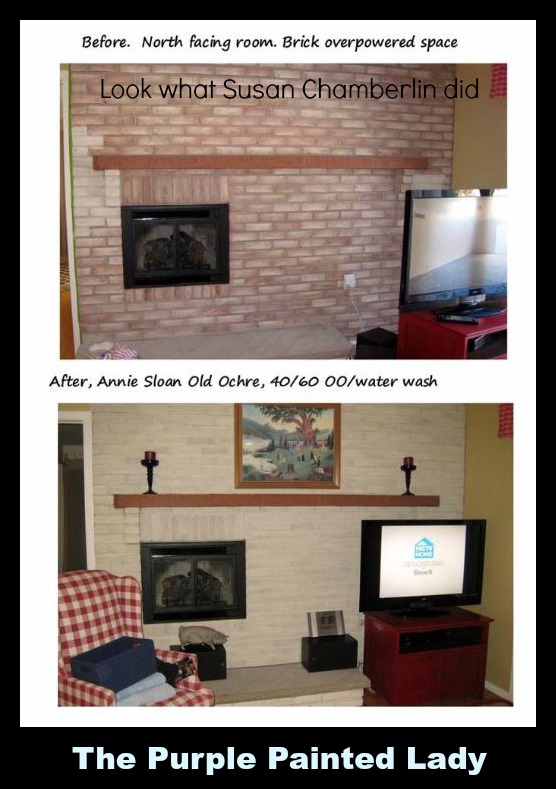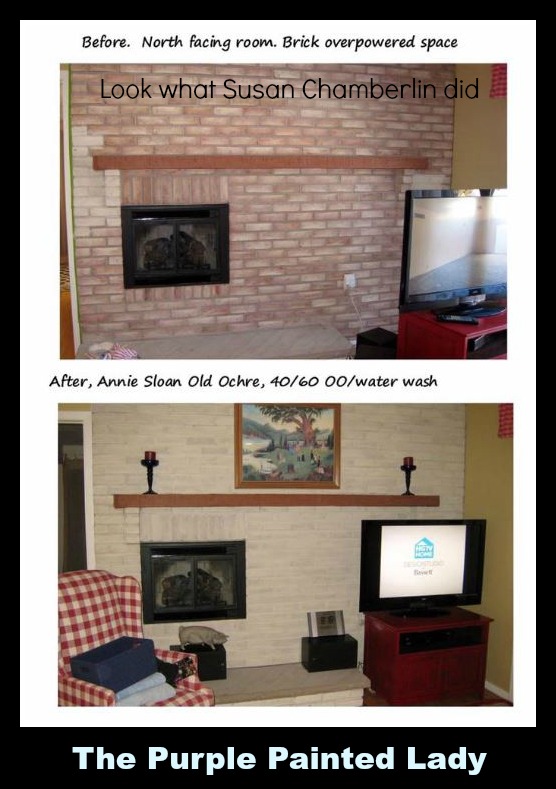 Eileen Carney:
Eileen used a watered down version of Chalk Paint by Annie Sloan in Pure White, followed with Old White to soften the brightness. Then, randomly rubbing to show texture and color of brick. She loves it now!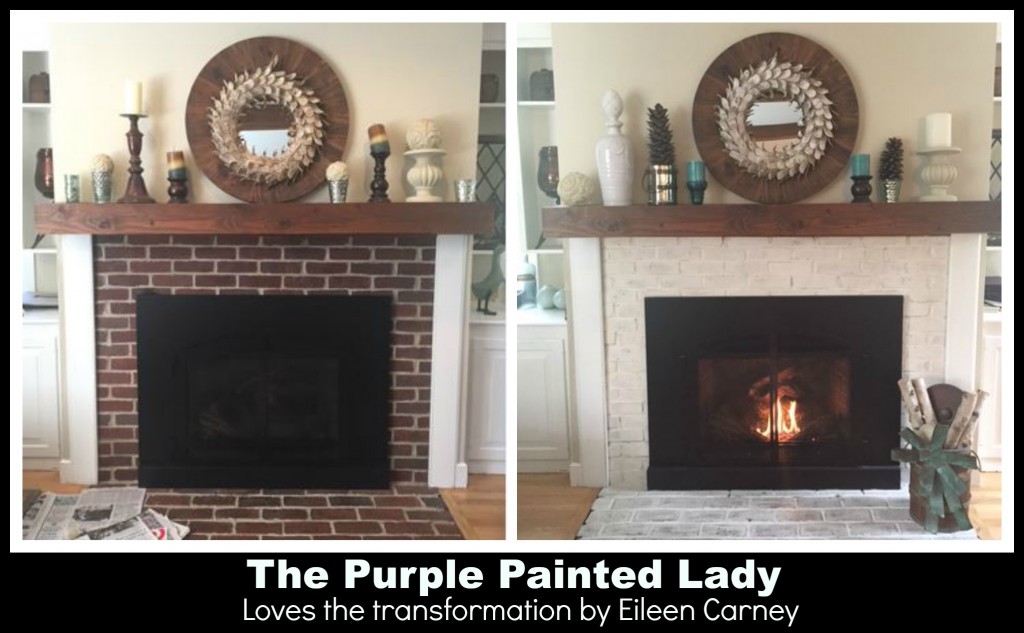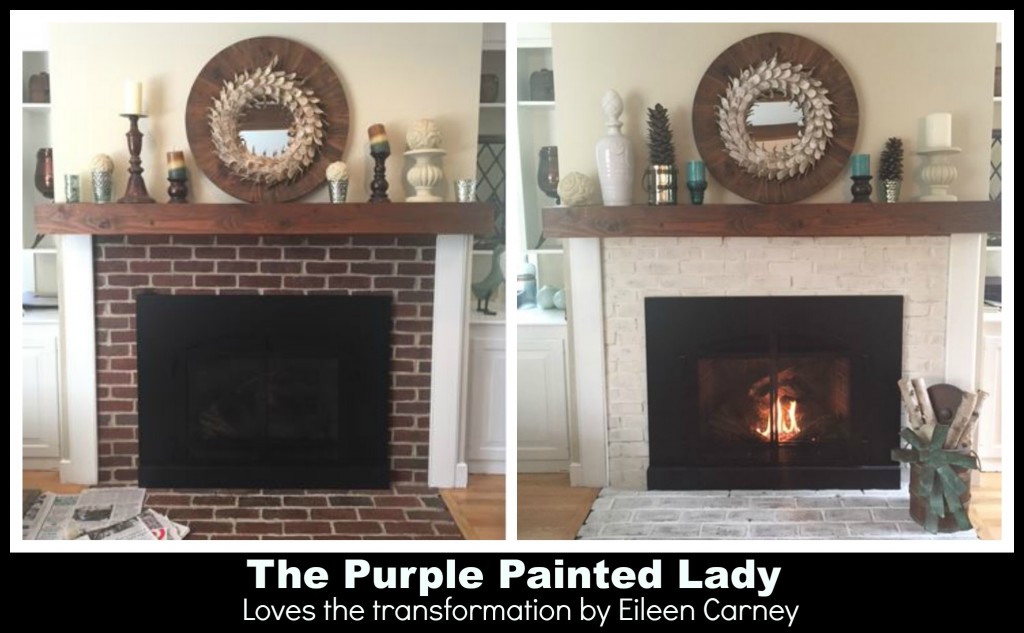 Mary Roach Kleps
Mary did a great job! She used French Linen Chalk Paint® on the floor tiles and then ran a wash of Pure White and water (1 part each) over the dried French Linen and immediately wiped off the excess. I used the same wash on the brick fireplace.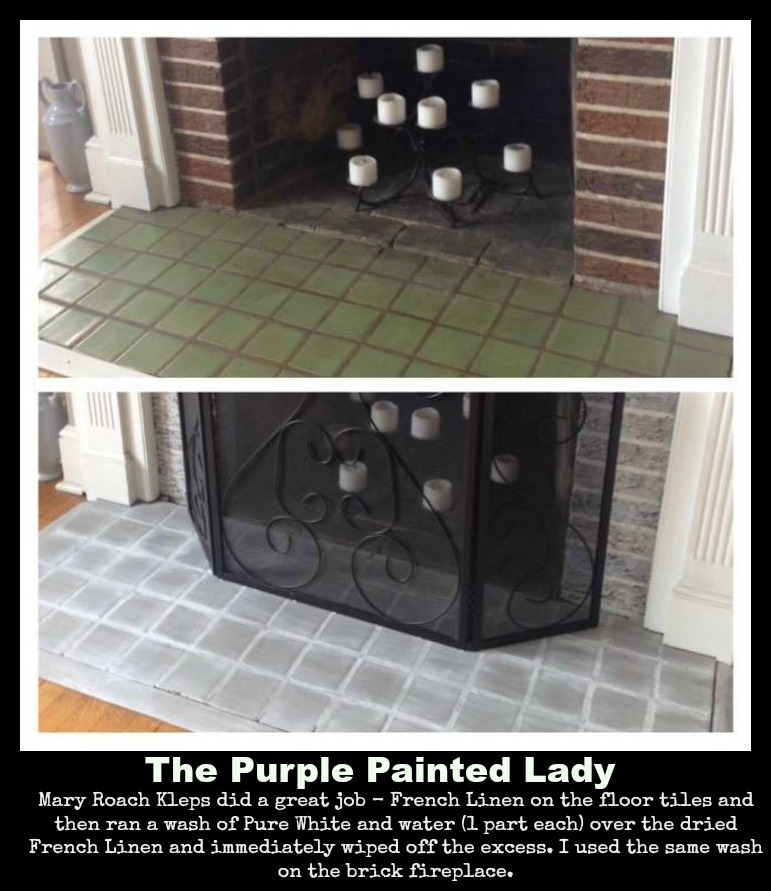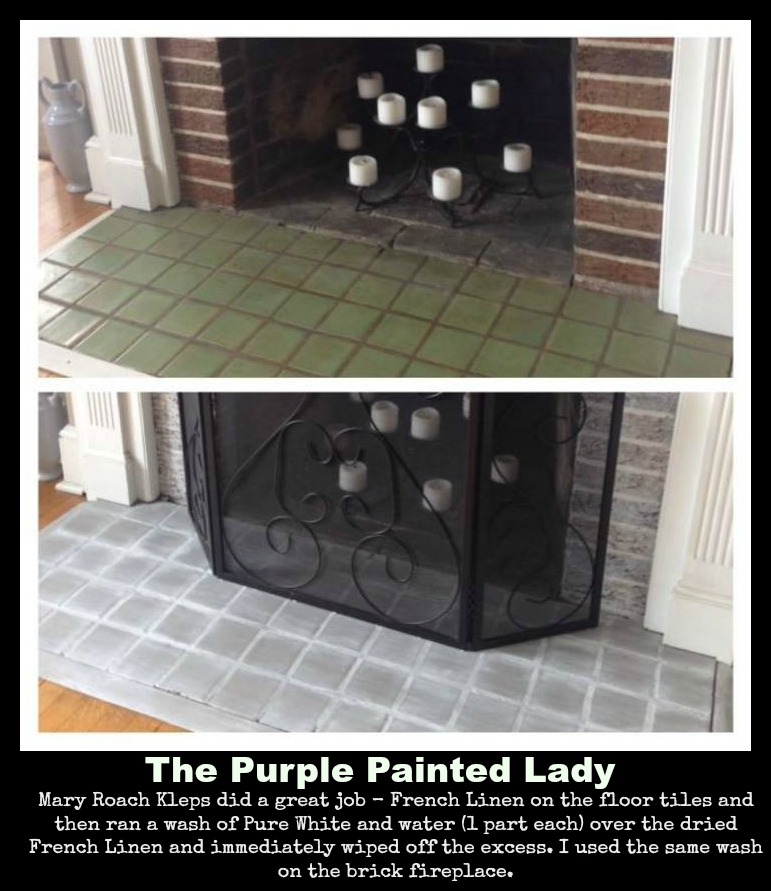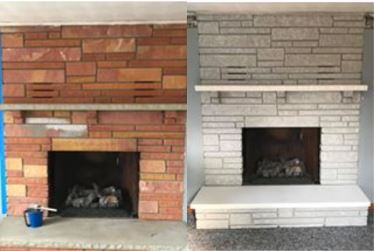 Kristin Young totally transformed her fireplace surround using Old White Chalk Paint® by Annie Sloan!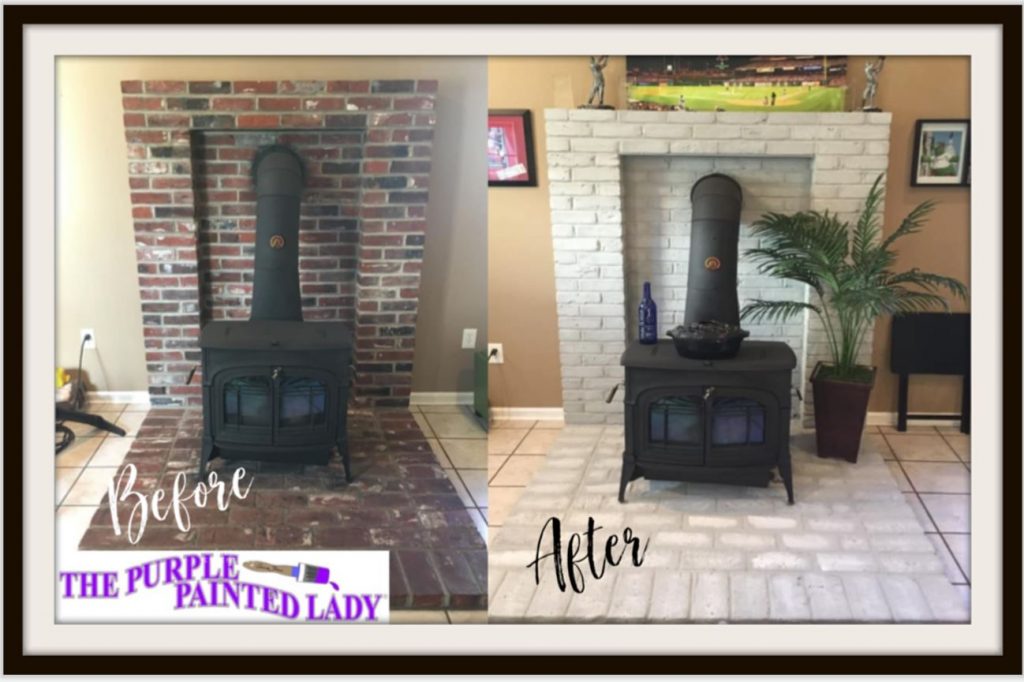 Chalk Paint®️ by Annie Sloan helped Andrew transform an area of his home that he did not like. He was over the traditional red brick shown above and wanted to lighten up the space so he used Paris Grey Chalk Paint® by Annie Sloan all over and then the color called Pure (white) on random bricks to break up the solid color of Paris Grey. Take a peek at this before and after of the brick surrounding his wood burning stove.
STEP 1. CLEAN THE BRICK:
Andrew used swept and vacuumed his brick surround to remove any dust and debris first. Depending on how dirty your brick surround is – will dictate to what degree you will need to clean it. Also, depending on how shiny your bricks are – which means, if they had been sealed prior or if they are a flat, and unsealed….. On shiny bricks, soot will not stain as easily and usually comes off sealed brick with just soap and water. Use caution with using stronger cleaners on sealed brick to avoid stripping off the oil sealer. Brick that has a dull, flat appearance is unsealed brick and that is harder to clean because soot, dirt and grime can penetrate easily into cracks and crevasses.
One suggestion for cleaning bricks, is:
Put 4 cups of hot water in a spray bottle.
Add 1/2 cup of Ammonia and 1/4 cup dishwashing liquid and swirl to mix.
Spray a section of bricks with the cleaning solution.
Scrub each brick with the nylon bristle brush. …
If the bricks are especially dirty, you may need to apply more pressure.
MAKE SURE TO ALLOW FOR A COUPLE DAYS FOR THE WET BRICKS to thoroughly dry if using a cleaning agent.
STEP 2. PAINT:
Andrew used Paris Grey Chalk Paint®️ by Annie Sloan and an Annie Sloan Small Dome Top Paint Brush – and painted all over the brick surround. This paint brush is wonderful for this type of application because the large head of the bristles, are able to work like a mop and really get into the nooks and crannies of the brick and grout lines.
Keep in mind, some brick may be thirstier than others and will really suck up the paint. Depending on how opaque of a look you are going for, you may need more than once coat.
Then, Andrew took his Pure Chalk Paint® and thinned some of it by adding a little water to small amount to thin it and then selectively chose specific bricks to lighten to get more subtle effect. This allowed for the look to be more interesting versus being all Paris Grey.
NO TOP COAT is needed, but if you want to apply a top coat, we strongly suggest that you check with your local fire marshall because every city and state have different restrictions and requirements.