Painting the hinges or hardware on your cabinets or furniture? YES!
Sometimes- on a piece I do not want to remove the hinges or the hardware. I am either being lazy OR…the hardware is not super special and I want it to blend in with the piece versus stand out.
When it comes to painting hinges. I have done that many times- and more often- I am only painting the hinges BUT NOT the hardware.
The advantage of removing hardware versus painting it in place- is that it leaves the door open to easily change it out in the future! Once you paint over in place- it creates a paint seam that will be void of paint beneath. Also- it will be difficult to remove the hardware later if you change your mind about it.
As for painting the hinges though (and hardware) …. it holds up perfectly. Often- on kitchen cabinets- we will paint the hinges- as so to make them visually disappear. That way they are not screaming out, "hey, look at me – I am a hinge." Who cares about hinges. It is the handles and knobs that we want to have fun with. This is is similar to choosing jewelry for your self- but in this case- it is going on the drawer or cabinet.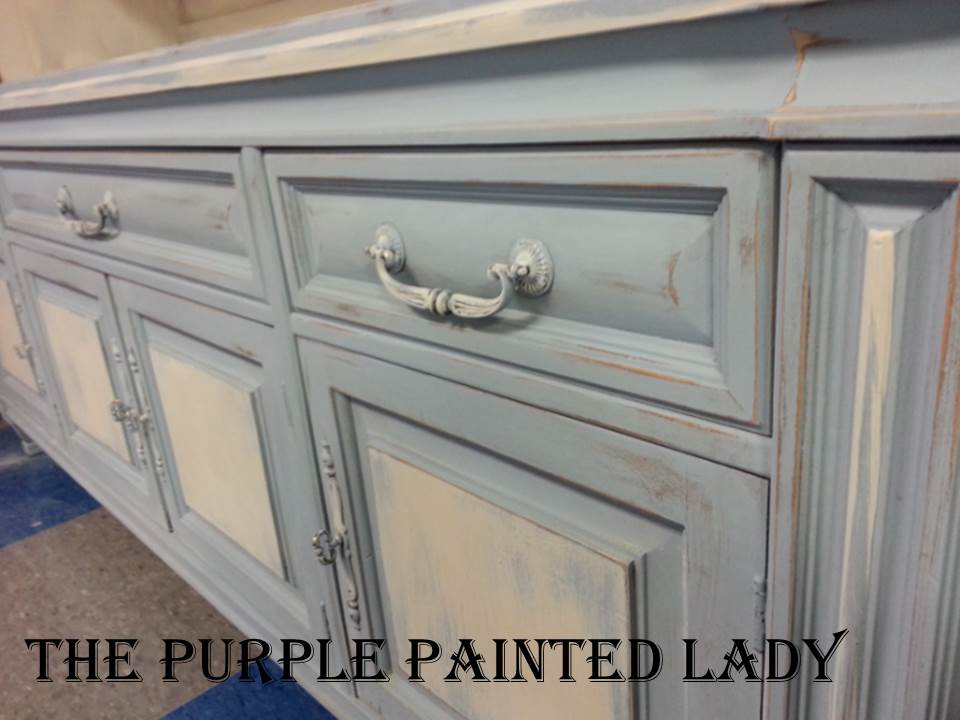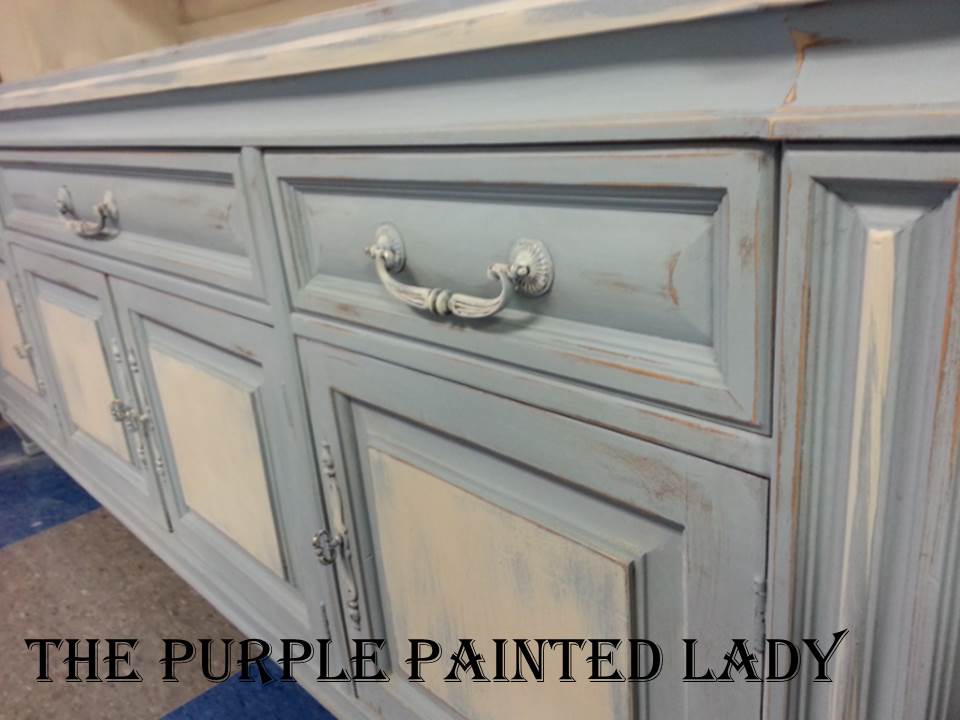 The piece shown above is painted with Louis Blue & Old White Chalk Paint®.
The most important thing to understand when painting hinges- is to apply Chalk Paint® lightly. Basically – like you were "dry brushing" the paint on- and build up the paint slightly in a couple layers after the previous has dried.
When painting hinges, I open the doors too to expose the hinge in different angles- so I get complete coverage.
You do NOT want the paint to be applied thick or have it "caking" in the crevices of the hinge- because that is when it will chip off once dry.
Make sure to wax the hinges also using a rag that already has some residual wax on it from when the cabinet or furniture piece was waxed.
Not sure what it means to "dry brush?" Check out this link HERE.
And remember- we sell Chalk Paint at $34.95 per quart. I ship out every week day all over the US. We offer the lowest flat rate UPS shipping cost so if you are one town away or 10 states away- the shipping cost is the same. We ship same day if your order is placed before our daily UPS pick up. Also- it is my paint sales that keep me in business and allow me to be here to help you. (my shameless, but honest plug) To access our On-Line Store click HERE.
: ) And I will be here to help you as you progress through your future project! And if I do say so myself- we offer the BEST customer service that you will ever experience!
Here is a little post about what I mean when it comes to what you should expect from us- click HERE to read that.
Thanks so much!
Trish —