Free Workshop? Why yes in deed at The Purple Painted Lady!
Wednesday, February 12, 2014 starting at 7:00pm – ending around 9:00pm.
Come and meet Annette – who is an up and coming children's author! She will be hosting this event at The Purple Painted Lady.
Come and make a funky – fun scarf that you up-cycle from your husband's shirt (or for that matter….any one's shirt.)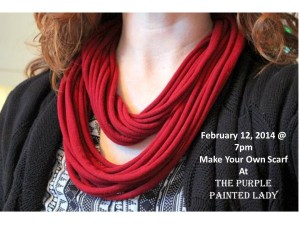 Please bring a cotton t-shirt that is similar in size to a men's size XL. Other than that- all other supplies provided.
Registration is required by emailing Trish at takuntz@rochester.rr.com.
We are capping this off at 10 guests- so please do not register if you are thinking you "might" make it. : )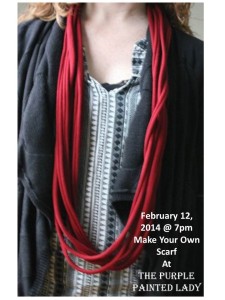 Minimum age – 12 years old and up
Plenty of parking is behind the shop.
** The top image shows the scarf wrapped twice around the neck.