It has been a great week. We hosted a Chalk Paint™ Decorative Paint by Annie Sloan BASICS Workshop on October 18, 2012.
The ladies in the class had a great time!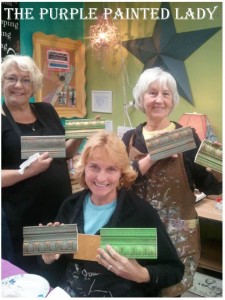 Have you ever thought about taking a workshop? You should! Get a bunch of friends together and sign up and have your own painting party. The BASICS workshop is all hands on and so much fun to do! You learn so much – I guarantee you will be impressed or I will give you your money back!
In our BASICS workshop we created some gorgeous sample boards- like this one!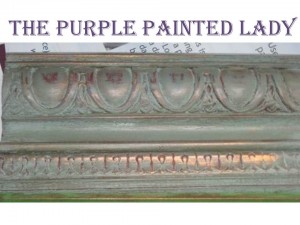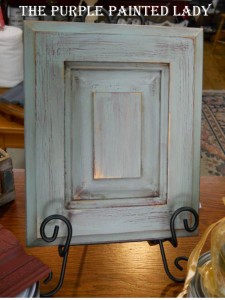 The week ended with me painting the top of my workshop table with Provence. The whole week was great!
Seriously- some days I just am excited and happy to be "here"…to be alive and I am very grateful to do what I love! I feel very blessed to meet wonderful people who share the same painting passion as me!
And I am super grateful for my hubby and cute daughter who on Thursday nights, hang out with me at my shop since I close at 7pm.
Last night I stayed a little late at the shop even though I had been there since 7am. I love the feeling of my store at night with the chandeliers lights twinkling. I tell my daughter Danni that I believe fairies live there and come out after we leave. I know if I was a fairy I would live there! It is such a happy space where people come to create!
So, as I said, I repainted my workshop table top in Provence Chalk Paint™. I sincerely love how EASY Chalk Paint™ Decorative Paint by Annie Sloan is to use. Pop the quart open and paint! It had previously been painted with Duck Egg Blue and had Clear Wax over it, but since there is no prep- when I decided to paint it Provence, all I did was paint right over the old wax! Super easy!!!!
And…..on a total random additional thought, I am also loving my red boots being debut in the photo of my shop table below! It was fitting that I wore these boots on the day that I was emailing back & forth with none other…..the JUNK GYPSY's!!!! Oh yes I DID!!!! Too cool, right?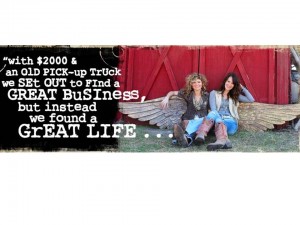 Visit their website by clicking HERE! You will not be disappointed!!!!
And everyone knows how much I love the Junk Gypsy's!!!! And in how my next life I plan on being born SOUTH of the Mason Dixon line! Anyway, get a load of this…. I got those red boots at Kmart. YES Kmart…and I love them. $34.99 and they are super cute!!! Get yourself a pair- they will make you smile when you look down at your toes…I promise! CLICK HERE TO SEE THEM IN THE KMART SITE.
Well, for now, me, my new red sassy boots and painted workshop table wish y'all a good night!!!