Miss Mustard Seed is coming to Rochester, New York! Miss Mustard Seed Milk Paint, that is!
For those of you who love the look of Milk Paint or even the chippy look & enjoy making your own paint….get ready!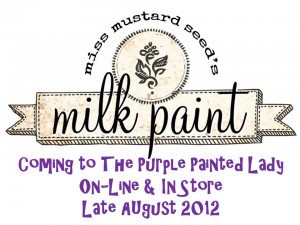 And in case you would like to understand better the beautiful qualities and the differences between Milk Paint & Chalk Paint™….here is a great read by Miss Mustard Seed herself. Click here to launch her page.
ps. Just would like to reiterate that The Purple Painted Lady adores Chalk Paint™ by Annie Sloan…in fact – she is crazy over it!!!! And I will always paint and sell Chalk Paint™ by Annie Sloan!!!!!!!!!!!! (and if you have ever used Chalk Paint™ by Annie Sloan you would understand why I feel this way!)