Hurray for Paula- who took my "Get Your French On" Workshop! Wonderful job! What a transformation you did with this toy box! I think I would decoupage toile paper inside of it now!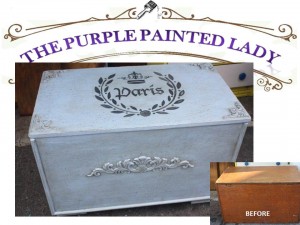 Thinking about taking my workshop called "Diamonds are a Girl's Best Friend?" Here is a gorgeous piece completed by Colleen Lang after taking our workshop. I love how fun and whimsical her piece turned out and the color combination she chose. Arles is a haute color this year!!!!! Great job Colleen!!!!!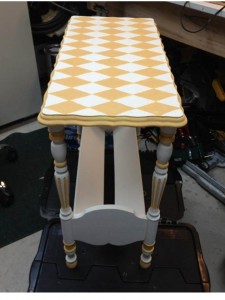 low is a gorgeous transformation of a side table that was "ok" before Rachel Bianco Monile painted it. Look at it now! The paint with some slight distressing makes the piece sing and really softens the lines making it so feminine. Great job Rachel!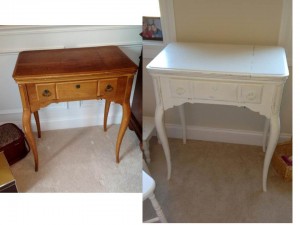 Below are some fun chairs and a buffet paint by Gloria Sampson in May 2012 after taking the "Diamonds Are A Girl's Best Friend" Workshop offered at The Purple Painted Lady. Pretty darn good if you ask me!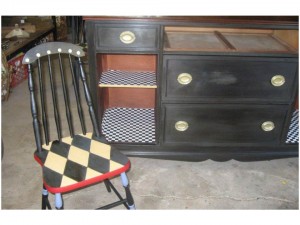 Below is a gorgeous chair completed by Lilia Shemesh, May 12, 2012 Lilia had an inspiration photo she was trying to reproduce and she did it – brilliantly! Love the new look! GREAT JOB!!!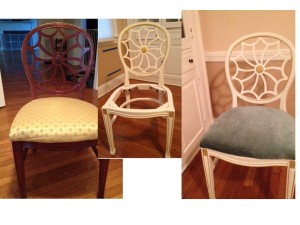 Below is a lovely piece completed by Jean Kotmel, April 26, 2012 Jean just finished her first Annie Sloan Chalk Paint piece. Which dresser would you prefer? Hmm…..GREAT JOB!!!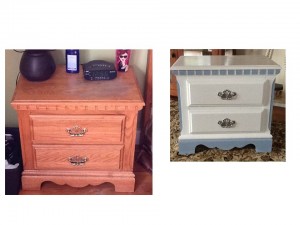 Below is a lovely piece completed by Marvleen Hollenbeck, March 28, 2012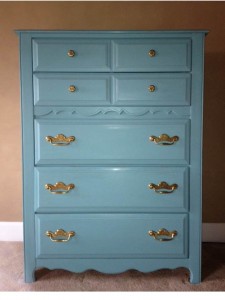 Below is a kitchen island painted by Judy Burke, February 2012
Below are some chairs painted in Annie Sloan Chalk Paint Graphite by Jeanne Mogauro, Feb 2012