The Purple Painted Lady sells CHALK PAINT™ by Annie Sloan
Please go to the HOME PAGE AND CLICK ON THE LINK
All furniture listed below is for sale at my shop located at
208 East Main Street, Palmyra NY 14522
*** $680 Royal Tall Boy
*** $680 Royal Tall Boy with Wings Combo!
If you love whimsy- you will love this tall boy. Find him at The Shops On West Ridge starting Thursday, August 9th. Hand painted in Louis Blue, Graphite & Coco Chalk Paint™ Decorative Paint by Annie Sloan and embellished a bit with some pale metallic gold…clear & dark wax. Embellished with an innocent Cherub who is waiting patiently for his wings while sitting on a soft set of heavenly scrolls in the upper left corner. Add some beautiful delicate French script about springtime in Paris. And of course- the symbol that represents the head of state & monarchy – a regal crown.. So can I dare say….Bow to the King- or should I say …Queen!?
Tall Boy Dimensions are 53.5″ Tall X 38 " Wide X 18 " Deep. Solid wood, 5 dove tailed drawers and priced at $680
Wings are made of barn wood with a tin overlay! 40″ Wide X 12″ Tall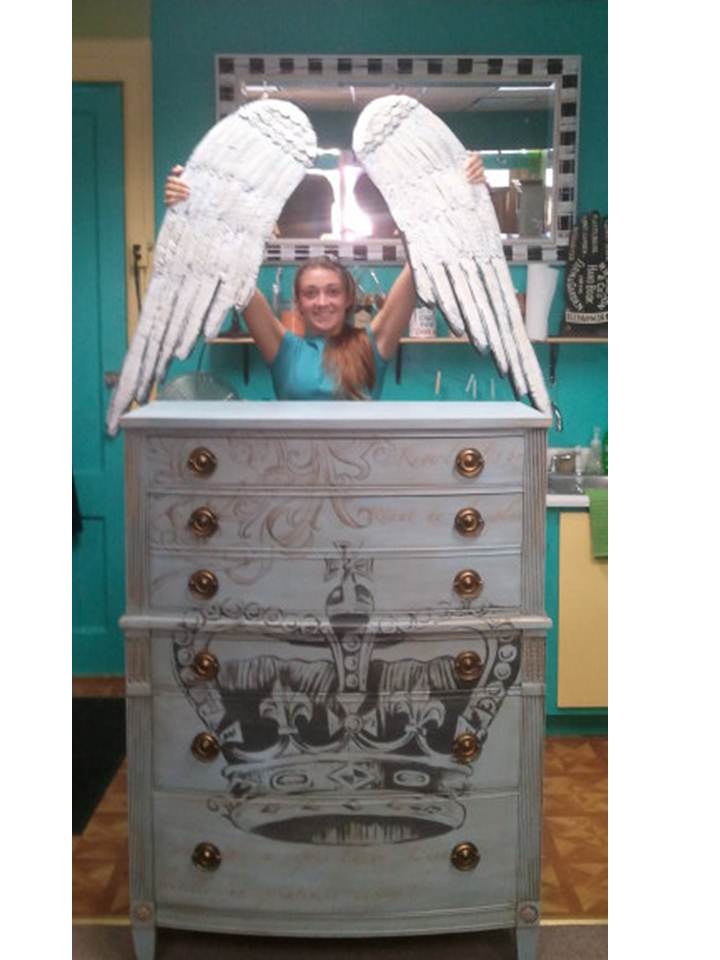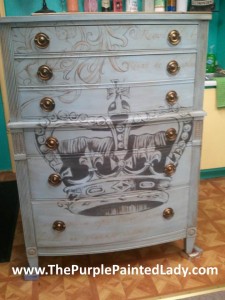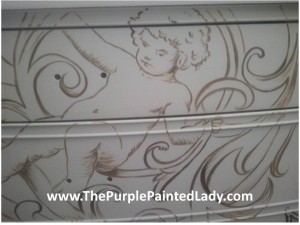 *** $325 Old Violet Provincial Dresser with Vintage Typography
Picture this gorgeous dresser painted in Old Violet in your daughter's room- hang a crystal chandelier over it and voila! You have the beginnings of a gorgeous room!!!! Add a pretty cream bed cover that has some ruffles around the perimeter- and you have a knock out. This fantastic French influenced piece has been detailed out with French typography on the front and slightly distressed around the edges revealing a bit of gilded gold beneath. Very haute!
DIMENSIONS are 33″ tall X 39″ wide X 19″ deep
This piece is listed for $325.

*** $375 All Hail to the Union Jack, Baby!
I LOVE THIS PIECE… and I guarantee this will be a showstopper for lots of ooh's and ah's in your home!!!!! This FUNKD'ified piece is painted in Annie Sloan's Chalk Paint- colors Napoleonic Blue, Emperor's Silk and Pure White. Then dusted in a little metallic gold as royalty should be and for a twist….a little roughed up (I am dedicating this one to Prince Harry….just for fun.) Finished in Annie Sloan's Clear Wax for durability and slightly polished.
Dimensions of the piece are 34 tall x 31 wide x 18 deep.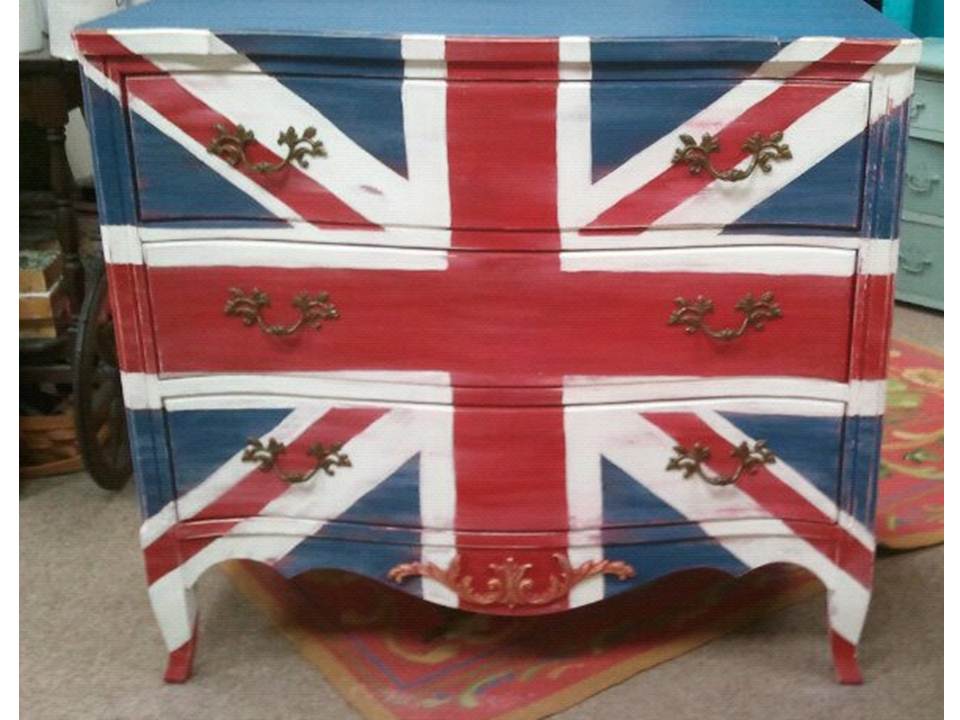 *** $625 French Country- Whimsical – Cottage Chic Dresser/Buffet
I LOVE THIS PIECE… and it is not even done yet…still! (But I did move it into my workshop area the week of 4/16…so there is hope!) Are you into French Country or Shabby Chic? If yes- you are going to love this piece too……when it is totally done! I guarantee it will be a showstopper!!!!! For now you will have to improvise a bit- but only for another few days. Now don't wait…..there is still time to have me customize this piece "just for you" since it is still in the works. This beautiful piece is painted in Annie Sloan's Chalk Paint- colors Duck Egg which is a beautiful muted blueish-grey, and then also Old White and Graphite. The buffet still needs a bit of whimsy painted on top and then a rooster will be painted on one cabinet door, and a hen & chick will be on the other. But to strategically do the lay out of them with out the handle ruining the view will be the "fun" part! Wish me luck! (Oh- and I still need to apply a second coat of Graphite) But I think you can get the picture of the direction this will be going. I know I am already going to love it! Stop in next week to see the finished piece that will be for sale!!
Dimensions to be posted soon! It is fairly large
*** $325 French Country Trestle Table
Are you into French Country or Shabby Chic? If yes- you are going to love this piece too! Painted in Annie Sloan's Chalk Paint Old White and then distressed perfectly to achieve the perfect balance of vintage & French Country without being overdone. Center drawer and fascia have a crocodile like pattern which are accentuated with some mild distressing. Gorgeous curves and detailing ….and did you notice the base and all the beautiful woodwork? Arhaus & Pottery Barn eat your heart out!
For a minimal amount more- I can customize the top for you! Want it checkerboard style? I can do it! Want a french poem scripted across? I can do it! Want it a different color- no problem!
Dimensions of this piece are 63″ long x 20″ deep x 29.5″ tall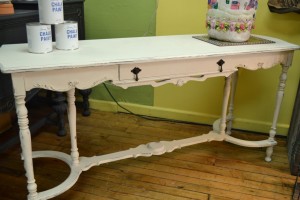 *** $99 Vintage Gold Gilded Mirror with Antique Glass
Mirror Mirror on the wall- whose the fairest of them all? Doesn't your princess deserve this amazing gold gilded vintage mirror to see herself in? The detailing on this piece is truly amazing and is loaded! Like icing on a cake!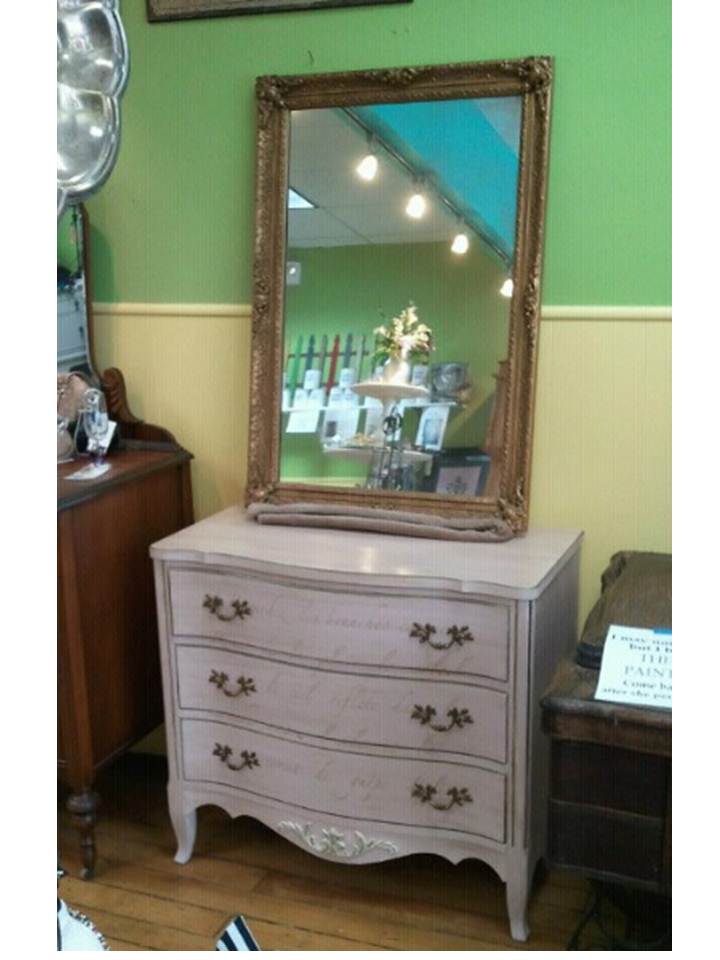 *** $325 Harlequin Jester
Isn't she pretty??? On the top are soft and muted pastel harlequin diamonds in colors of pale pink, washed out lavender, creams, & sage greys! The body of this adorable piece is painted in the perfect shade of purple by Annie Sloan Chalk Paint called Emile. The color has to be seen to take in how perfect it is! Combine the whimsy of the decorative diamonds on top with the funky NY Finger Lake inspired landscape on the front, striped detailing with polka dots……..and you get the quintessential piece for a bedroom, foyer, laundry room or heck- even a mud room! In fact. . .this whole dresser was painted with Annie Sloan Chalk Paint…….yep- all of it! If you love her but are thinking, "nothing else in the room will match her." No problem! Bring in The Purple Painted Lady in another piece that you already own and it can be painted to match this design! Totally easy-peasy! So, come and visit her (meaning this sweet dresser) at The Purple Painted Lady.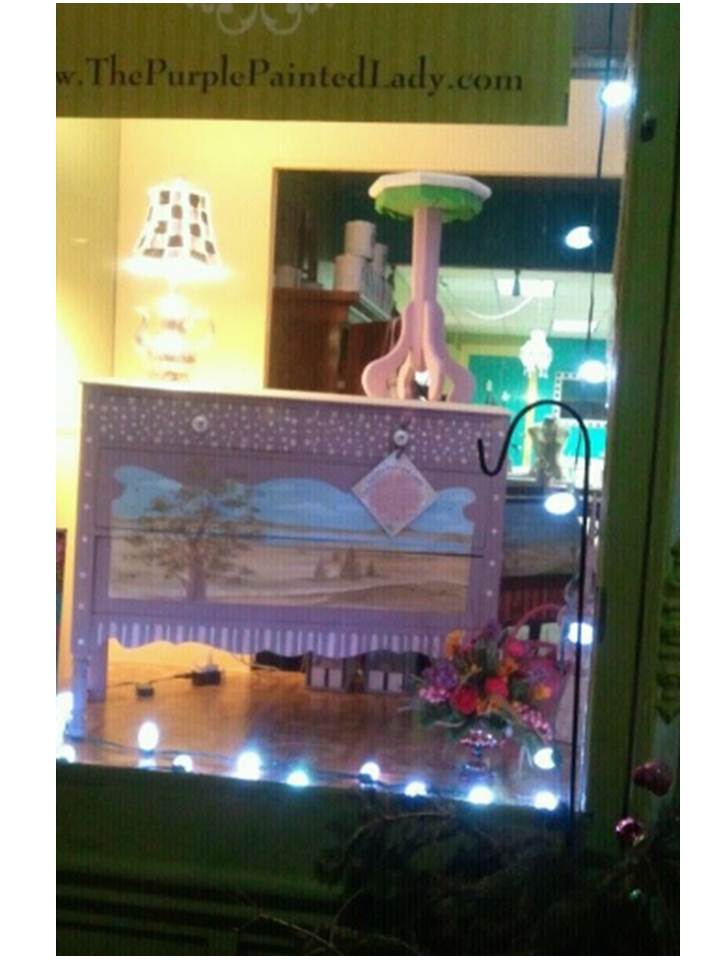 *** $525 Funky Buffet/Dresser
This vintage buffet has some unique architecture – raised side counter tops, 2 side cabinets, 2 center drawers and LOTS of detail. This magnificent piece was painted in Annie Sloan's Graphite Chalk Paint and then to highlight the detailing – kissed (dry brushed) with some pale Metallic gold which really showcases all of the unique lines. The piece was finished with a clear wax and some slight distressing- which REALLY enhances all of the architectural style not found on pieces sold today! This is a classy piece that would certainly dress up any space- but how about using this in your home. Think dining room, hallway, foyer, master bath (have a vessel sink added!) or add this to your laundry room! Hang a chandelier over one side of it- and voila- INSTANT SOPHISTICATION for a room that is typically neglected and lacks personality. Of course- this buffet would be gorgeous in any room- but I am trying to help you THINK OUT OF THE NORM when it comes to decorating your home!
DIMENSIONS: 65.5 inches long, 22 inches deep and the sides are 37.25 inches tall.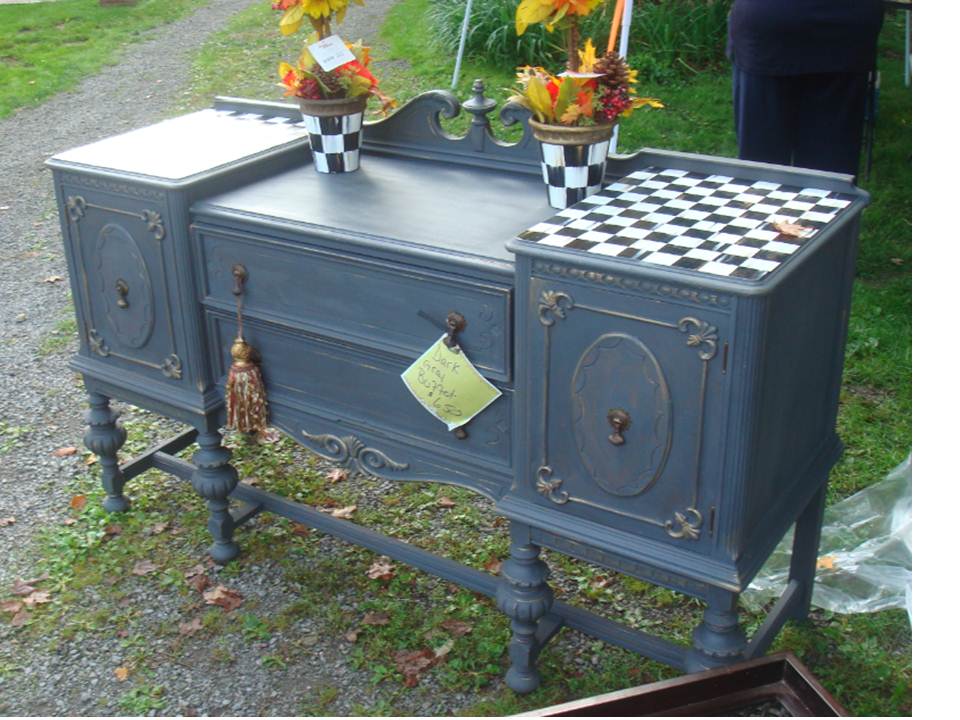 *** $80 Child Size Rocking Chair
Have a baby shower coming up and the theme is PINK? This child size rocker would make an excellent present. Painted in Annie Sloan's Antoinette Chalk Paint and then detailed out with a fun whimsical pattern – it is just waiting for more detailing! Come on in and have me add the name of your princess across the back. Hurry before I take a paintbrush to it again and start adding polka dots or a fairy to it!!!
Buy IT Before I Paint It
Believe it or not, before anything makes it into the store, this is what it looks like! Not too pretty, huh?! Before I moved to my store at 208 East Main Street in Palmyra- I worked out of my finished barn. There is always a supply of pieces waiting patiently there for me. So, if you are looking for something specific and can't find it in the right color or style, choose from my selection of unfinished opportunities and we can create the perfect look for your home!
* $250 The dresser below is named Winston! He really is a handsome piece all on his own…solid wood front and back- no press board or luan on this guy ….and he is in excellent condition. Dovetail drawers. I will post dimensions tomorrow, but he is on the larger side. I would challenge anyone to go to Stickley and find a comparable solid wood dresser at that price.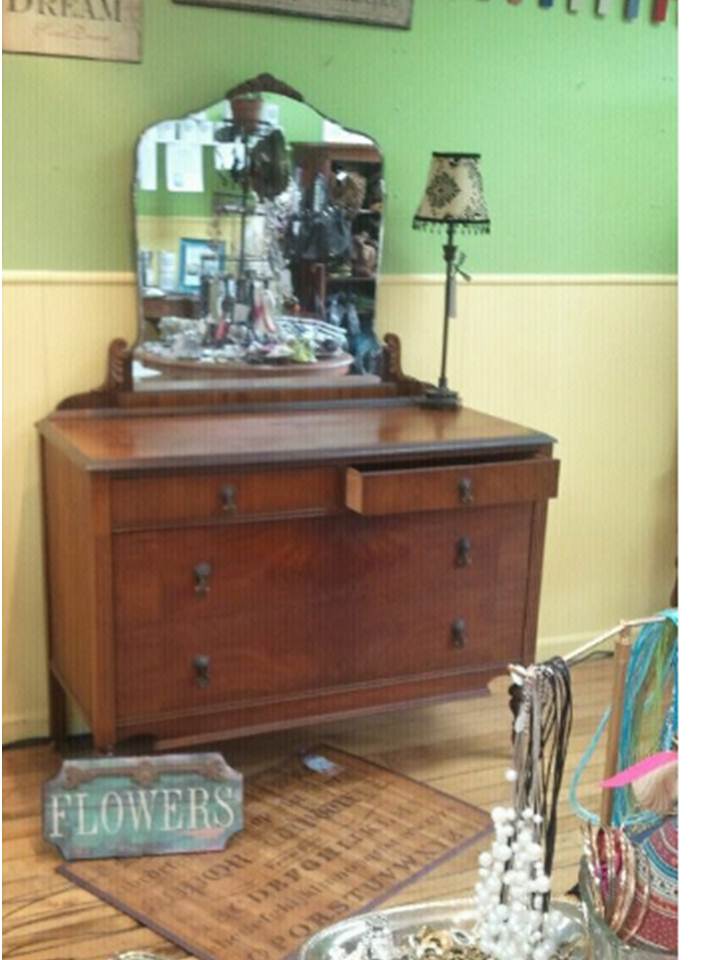 * I am loving this little table below. I am naming her Isabella! It is the perfect size to use as end table- or to have as a coffee table in your 3 season porch to place your tray of lemonade on.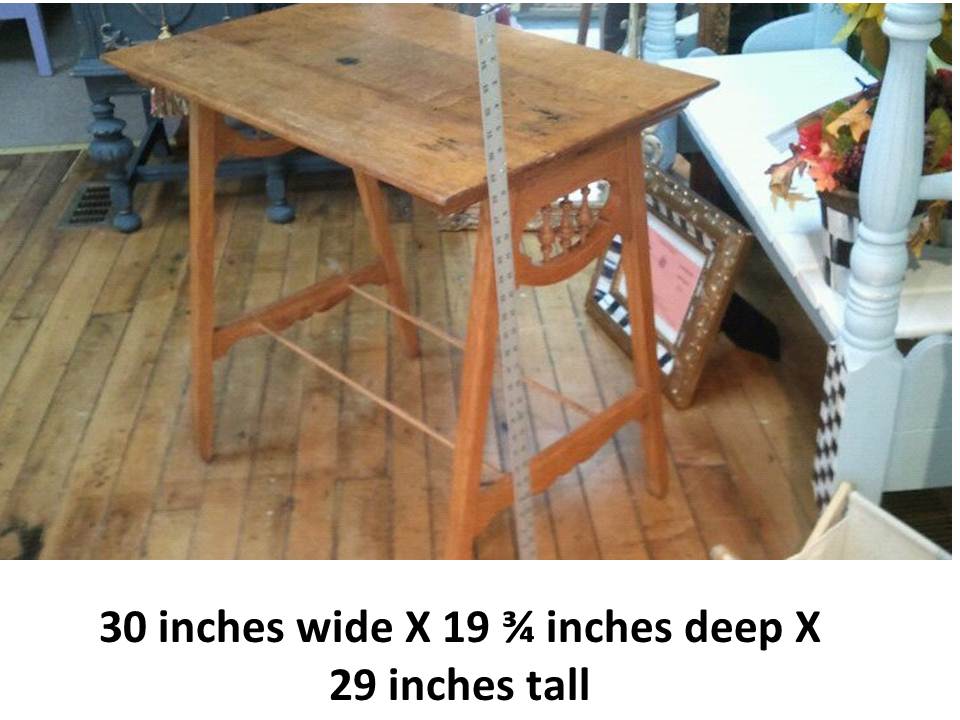 ITEM BELOW IS SOLD!
*** SOLD!!!!! $125 Fun Little Side Table
Perhaps Tea for Two on the porch? Just big enough for your silver teapot, 2 tea cups, and a small cookie tray! This perfect little "any where – any occasion" table would be the ideal addition to your bathroom. It has a second lower shelf – add a fun basket or a vintage tin box to help hold and organize items. Painted with Annie Sloan's Olive Chalk Paint and then some Dark Wax with a bit of Mineral Spirits added to make it "streaky" and then – some subtle- yet generous "chip" action….this piece is ready for its debut!
Dimensions of the piece are 27 tall X 18 wide x 18 deep.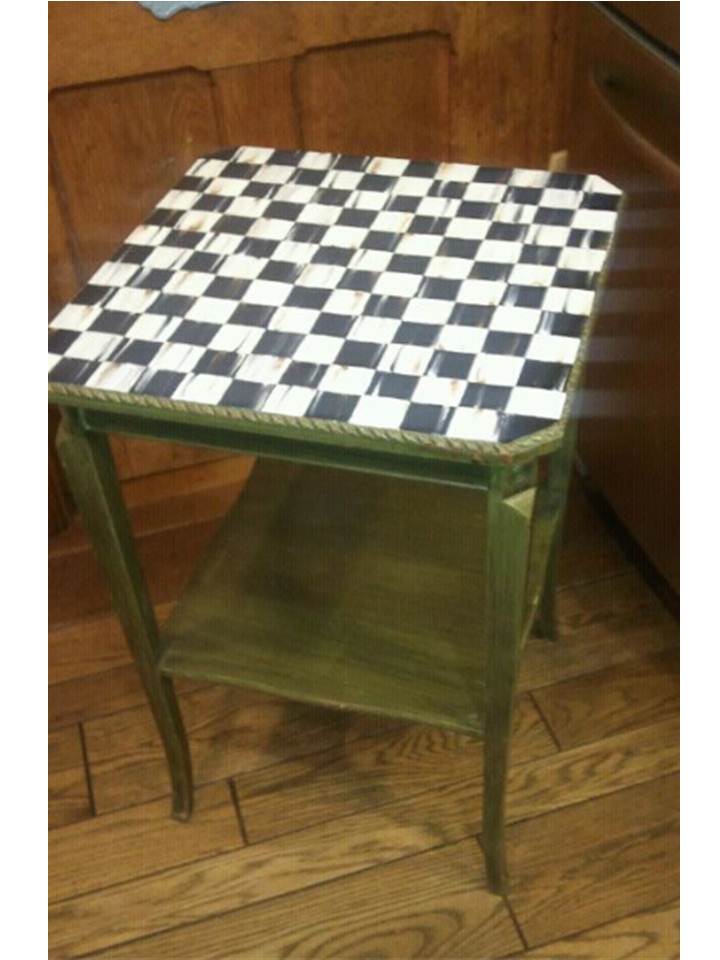 p style="text-align: center;">ITEMS BELOW ARE SOLD!
*** $275 Antoinette Bombay Dresser with Metallic Pale Gold Script of the Spring Time In Paris Poem across Front- then kissed with a CoCo Wash
This petite Bombay dresser is painted in the sweetest shade of Annie Sloan Chalk Paint PINK- the color called Antoinette to be exact. (as in Marie Antoinette- who was the queen right before the French revolution & who was famous for her "let them eat cake"….. and then sadly – for losing her head – but we digress) And then – to vamp up on the couture……what is more romantic than France? So- this pretty piece was kissed with a matted pale metallic gold script of a poem across the front- written in French of course about Spring Time In Paris. And lastly- to make this empress even more richer- a CoCo wash over it all. The vintage distressed gold hardware is like the cherry on top! Add this sweet piece with a vintage Gold Leaf Gilded Mirror for sale below and a crystal chandelier hanging above- and voila! ~ you have heaven! Well, maybe more like Paris. Either way- definitely "Purple Painted Lady Perfection!"
This piece has the lines of shabby chic and French Country Romance and is painted with a line of paint that originated in Europe- no "wanna be's" here- it is truly authentic!
Dimensions of the piece are 34 tall x 31 wide x 18 deep.
Only part of the poem is visible- but this lovely French Poem as translated into English:
Look at the boughs,
How white they are,
It's snowing flowers!
Scoffing at the rain,
The sun dries
The weepy willow.
And the sky reflects
In the violets
It's pure colors,
The fly opens its wings
And the dragonfly
With the golden pupils,
And the wasp-like corset,
Unfolding its silky wings,
Has resumed its flight.
The water happily babbles,
The tiny fish wriggles
It's Springtime again!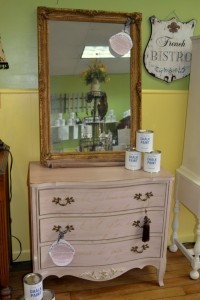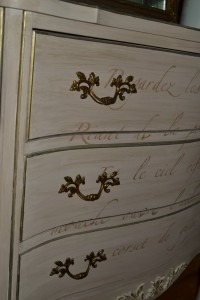 *** $35 Funky Footstool
This cute little piece would be perfect to help your little one get extra height near their bed…or perhaps when they go to brush their teeth! Painted in Anne Sloan's Provence Chalk Paint and Barcelona Orange. Detailed with a whimsical pattern and some little white birds to freshen the piece up.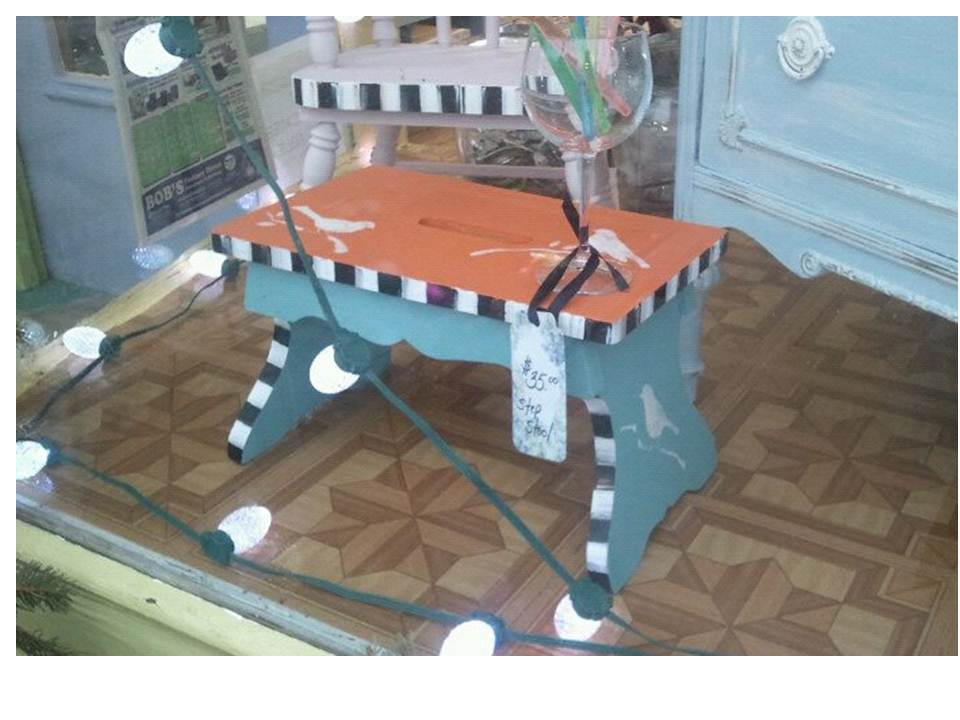 *** $275 Shabby Chic Louis Blue and Old White Tall Boy
Shown below is a beautiful VINTAGE dresser that is ALL WOOD. No press board!!!!…dove tail drawers! Beautiful wood detailing embossed and emphasized with distressing that has been done. This dresser was first painted in Annie Sloan Chalk Paint OLD WHITE and then the most beautiful sky blue called- LOUIS BLUE….clear waxed which provides a serious top coat – better than polyurethane! It is distressed ever so lightly to showcase the great detailing ONLY FOUND ON VINTAGE PIECES that have been upcycled! When I say French Country- I am sincere in that the Annie Sloan Paint was originally created in Europe inspired by pieces you would see in traditional chateaus. I haven't painted the drawers inside yet – BUT WILL!!!! YOU can choose what color if you purchase! 29 GREAT COLORS TO CHOOSE FROM! Annie Sloan Chalk Paint is the MOST amazing furniture for so many reasons, just one reason why……the finish is velvety and smooth- UNLIKE any finish you will experience if using latex or oil! This is a fairly tall piece- plenty of storage for whichever room you choose to grace with it! I would love to also use Annie Sloan's Dark Wax on this piece- but am holding off for the customer to decide! Either way- this is stunning and compared to furniture store selections and pricing- AMAZING ALL THE WAY AROUND!
Now in case you are thinking- "but my other pieces don't match." ……… NO WORRIES!!! I paint furniture for a living and encourage clients to bring me pieces they already own! I can coordinate a whole suite of pieces if desired!!!!! Come and visit me at my store/workshop- again at 208 East Main Street Palmyra and I BET- the time it takes you go to Eastview Mall…I am probably the same time away or LESS!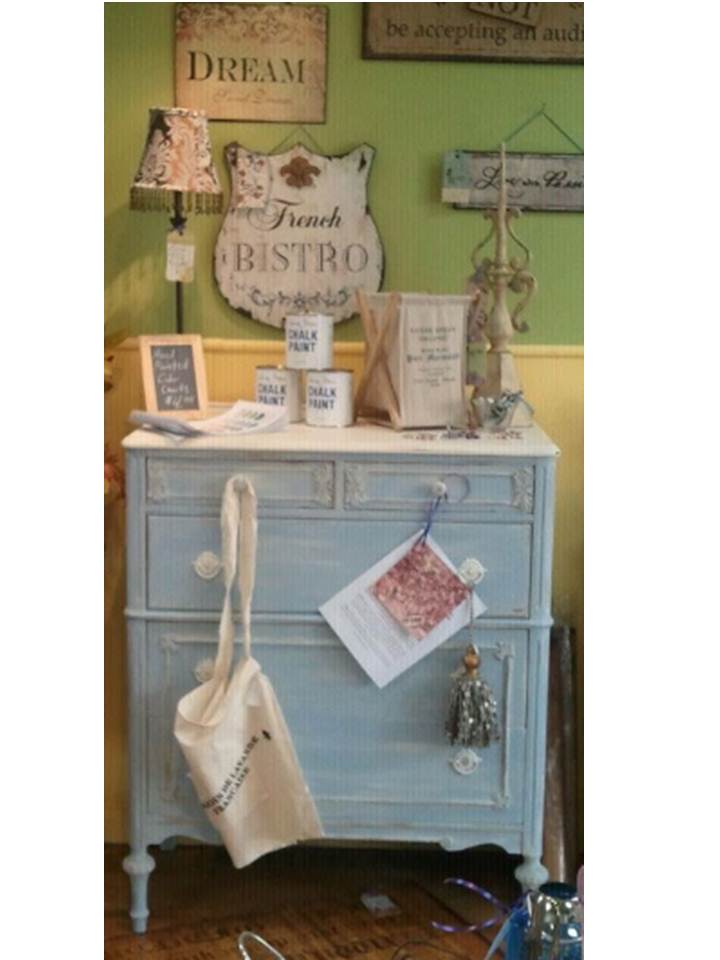 p style="text-align: center;">ITEMS BELOW ARE SOLD!
*** $395 Funky Hand Painted Dresser- do you love Chocolate? This dresser is a tank! SOLID WOOD
For sale is this gorgeous hand painted dresser. This dresser is solid wood. fairly massive and HEAVY! Dove tailed drawers. Over all- a very nice piece. I hand painted it in a perfect shade of CoCo which lends itself to being both masculine and feminine. Then I hand painted the front of it with vintage French typography which is about eating Chocolate for breakfast…or is it lunch? Hmm, not sure because I do not speak French. LOL! Lettering is not a stencil- it was all hand painted in a color called Graphite. Then I antiqued it with a dark wax. Drawers are lined in a funky coordinated print! And it was painted using Annie Sloan Chalk Paint" Decorative Paint Products.