To use the Milk Paint Mixer:
Select a Miss Mustard Seed color from the drop down, and then specify a number for how much of each color to use. (If the number is zero, that color won't be used.)
You can mix up to three colors at one time.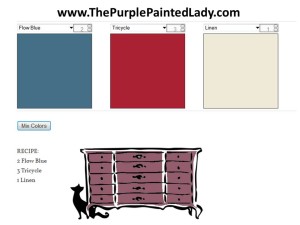 Then, press the "Mix Colors" button and have fun seeing the resulting custom color and your recipe will be displayed next to it.
The number you select to mix represents any unit of measure…such as a teaspoon, a cup, or a whole quart. All of Miss Mustard Seed's Milk Paint colors are available from our online store. Please remember that colors may display slightly differently based on your monitor or computer settings. Have fun mixing and we invite you to email us your new colors, the recipe and a photo of the piece you painted if you think it is awesome custom color! If we blog about you and your custom painted piece- you will receive a $25 gift certificate to The Purple Painted Lady.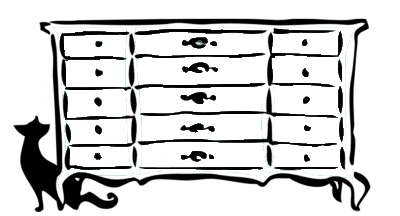 Click on a link below to learn more about Miss Mustard Seed Milk Paint: