The Purple Painted Lady is looking for unique artisans and vendors to join in on our
Barn Sale & Junk Jubilee 2013 madness!
Interested?
Please read the following, then email Trish if interested- providing answers to the questions noted below
The Purple Painted Lady Barn Sale & Junk Jubilee will be hosted again in September 2013!
We had OVER 1700 guests attend our 2012 event!
And if you were a vendor in 2012- here is some awesome news…
Ralph will be BACK for our 2013 Barn Sale & Junk Jubilee!

This is a ONE day event, from 10am till 5pm.
Scroll further down this page to see details and a list of the 2012 artisans/vendors as they were showcased on our website.
* Our focus for the 2013 event will be to increase the variety and offerings and fine tune what we did – We are not looking so much to make it bigger- but rather BETTER! Searching for Artisan/Vendors that have either have unique hand crafted items, upcycled pieces, antiques, flashy gotta-have-it stuff, flea market finds or even junk. Yes, that is right…GLORIOUS JUNK! Also- farmers, wineries, cheese makers, bee keepers are all welcome!!!! We commit to kick butt PR that will attract even more people than the 1500 we had attend the 2012 event! Also- having a rockin' band, we will promote you, assist you in set up, manage traffic, carry umbrella insurance, guarantee a variety of art and vendors, have a great selection of food vendors, and provide clean funky pot-a potties (if there is such a thing.) And in 2013 a hot air balloon and a special surprise that we will announce as we get close to the event (too much Barn Sale espionage out there and we don't want this idea taken~ so you will have to be patient.)
* There is a minimal $40 vendor fee, paid in advance and we request a donated item worth $50 to be provided for the raffle (benefiting a local hard working non-profit that is not at the level of the BIG fish charities – like at the United Way level) The artisan / vendor fee is low on purpose! Why? We want to support you, your art and want you to make a profit! The fee will help us however with paying the band, PR, and securing the parking area across the street.
* There is always a rain date promoted with the event in case the original day of the event has a forecast of 50% or greater for thunderstorms. By paying your vendor fee and signing the vendor contract – you are acknowledging that date. If after signing the contract- your plans change on attending the sale or if the difficult decision is made to move the event to our rain date and you cannot attend for whatever reason — you forfeit your deposit. (why do we do this?)
1st I have spent your money! The band is about $800. Port-a-potties $250, advertising ~ $750) The money we collect from you does not cover all of our overhead costs- but that is okay. We are only asking for help with the costs, not total coverage.
2nd It is a commitment! There are many artists out there- Once I have signed on a couple different knitters- than no more are accepted. If you sign up and don't show- I let down my customers in not providing them with enough variety, there was a missed opportunity for another artist to show their work and sell their items.
* Tent/tables/merchandise display pieces are provided by (insert YOUR name here.) And just to clarify, that means you are responsible for your tent/tables- both set up and tear down. Although we will have plenty of staff to help with tent set up and miscellaneous tasks if needed.
* Vendors must promote the sale on their Facebook and website on 3 specific dates.
* Set up for sale to be the day before! The expectation is that vendors will be ready to rock & roll at 9am for a quick vendor team meeting.
* Lots of flexibility regarding size of space available for you – vendor fee is the same if you need 10X10 OR 20X20!!!! Do you have a lettered truck or car? We will add that to your space to help in advertising!
* And- this is no smoking at the venue. So, I apologize if that is difficult for you. And I do understand vices- I would very much like to lose weight- so again- if this is not something you can sign up for – I apologize.
What will The Purple Painted Lady do in return?
* Promote you on both her Facebook page and her website
* Get people to the event! We had OVER 1500 guests in 2012! We will provide PR such as The Rochester Woman Magazine, the Rochester Woman Magazine Facebook Page and other social media opportunities.
* Provide AWESOME entertainment for the event and food vendor(s)
* Provide security night prior
Still interested?
Then, please email Trish noting in the subject, "I WANT TO BE A 2013 BARN SALE VENDOR"
Also- Please provide answers to all of these questions:

1. Your business name that you would like me to advertise you as. (if you don't have a name- call yourself/business whatever you would like) Business Name:

2. Your website, blog and/or Facebook link?
3. A brief description of the items you will have available for sale.
4. A couple photos of pieces that represent items that you would have available at the Barn Sale for me to include in my advertising. Think MERCHANDISING when taking photos…. make sure to place your piece outside on a chair or on something fancy. (This does help with selling!!!!)

5. Your personal contact information for my reference only.
Once I receive your information and see your work, I will respond on if you "fit in" with us. If you do, you will then mail your vendor fee with a note or business card to me.

MAKE CHECK PAYABLE TO:

Tricia Kuntz
845 Yellow Mills Road
Palmyra, NY 14522

QUESTIONS? Note them in your email when you write me.
Thanks so much and I am looking forward to hearing from you!
Information from our 2012 Barn Sale & Junk Jubilee
Barn Sale & Junk Jubilee Sept. 29, 2012
Content
With 50 artists/vendors and growing, a psychic village attending, an awesome band ..Rock With Vintage – this will be a show you do not want to miss. And it is all happening at our home on 17 acres. Plenty of parking across the street at the horse stables- enough to accommodate 100's and 100's of cars! Please RSVP via The Purple Painted Lady Facebook Event Page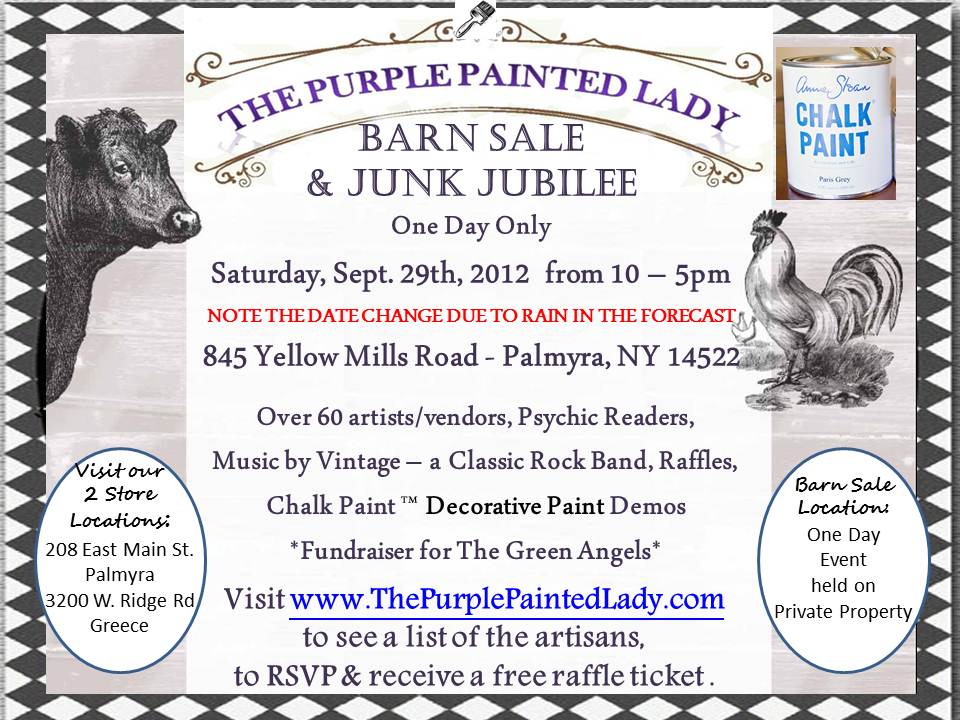 Come on over on Saturday, September 29th! Check website or Facebook page on day of event in case of bad weather!
Click on the name of the artist noted in blue below to launch a link to their website or Facebook page.
Schedule for demos and seminars at The Purple Painted Lady Barn Sale & Junk Jubilee will be published on Monday! Besides a demo on "Pie Crust 101" and how to "Dye Fondant" we will also have Jami from freckled laundry showcasing Chalk Paint™ Decorative Paint by Annie Sloan to create a faux zinc top at NOON. All demos and seminars will take place in the "Barn." Hope to see you there!
Aren't these the cutest Barn Port-a-Potties? Had to promote – even though it is not a vendor or an artist- but in an emergency- soooo….. VERY IMPORTANT! Find these in the back LEFT corner of the Barn Sale & Junk Jubilee.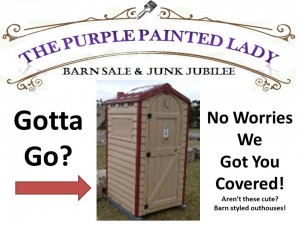 Creekside Entertainment specializes in Photo Booths (and crazy party hats) & DJ'ing, Please visit their website here to see all of their services for your next Birthday or celebration party!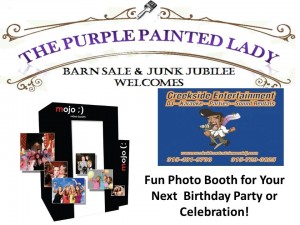 Tumble Bumble Tots specialize in children's clothing, bibs, blankets, accessories & custom designs! You are going to love their fun colors, and awesome fabrics!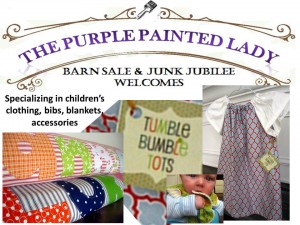 Jami is an Upstate NY, laundry lovin', small town girl trying to live simply and appreciate life's blessings like a country girl, while chasing design dreams like a big city girl…and she writes about it all on her blog here.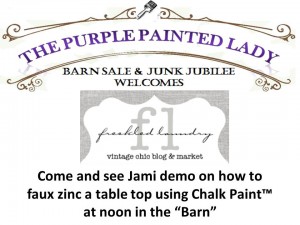 ZumbAtomic
ZumbAtomic!!!! What a great active event for the kids!(and adults) to join in on! So, Come & Get Your Zumba on!
Happening at Noon, 2pm and 4pm.

Crafting4K9s
Crafting4K9s create dog themed knits such as scarves, headbands and water bottle slings featuring various breeds of dogs. Polymer clay jewelry, pens, vessels and other giftable items. And most importantly….100% of the purchase price goes to three rescue groups. Crafting4K9s supply the yarn, equipment and time. Please…please show them some LOVE by visiting their booth the day of the event! And click here to see their website!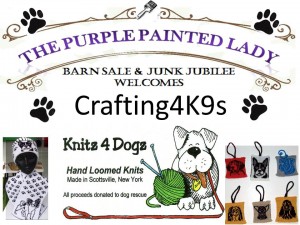 The Sunflower Bake Shop
The Sunflower Bake Shop caters to your sweet tooth & also to your pets desire! Delectable pies, cookies and cakes will be found at their bakery ~ But only their goodies for your 4 legged friends will be at the Barn Sale! Please stop over to their Facebook page and show them some LOVE! (meaning LIKE their Facebook page) or check out their website.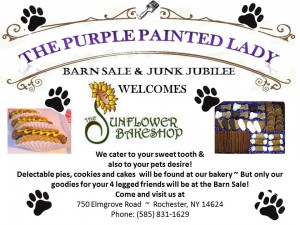 Out Of The Box

Out of the Box creates whimsical painted boxes and tables to brighten any room or office. Vibrant colors and patterns- together a tapestry of happiness. Life is so short- why not have some fun and show your lighter side with any of these pieces. Please stop over to their Facebook page and show them some LOVE! (meaning LIKE their Facebook page)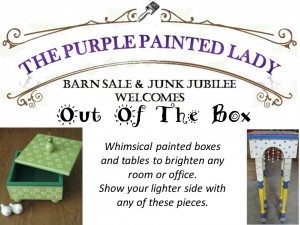 Stella & Dot
Stacey loves the fashion, the flexibility, the fun and being a part of this amazing community of women. Stella & Dot, an Inc 500 Fastest-Growing Company, is a social selling company that creates flexible opportunities for women to be work from home entrepreneurs. We believe everyone deserves great style, fun and opportunity in their everyday lives, and we're dedicated to providing it in a personal way. That's why we sell our line exclusively through friendly Stella & Dot Stylists online, in home trunk shows and at The Purple Painted Lady Barn Sale.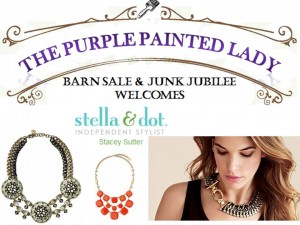 HuePhoria
HuePhoria started by two Syracuse, NY artists, Jen and Lisa who met at a "Mom's Coffee" in 1998. While staying home to raise their children, they both had found outlets to feed their creative souls… and to keep their sanity. They create Hand Blown Hand Painted Wine and Martini Glasses, Christmas Ornaments, Salt and Peppa Shakers, Step Stools and lots more! Please stop over to their Facebook page and show them some LOVE! (meaning LIKE their Facebook page) or check out their website.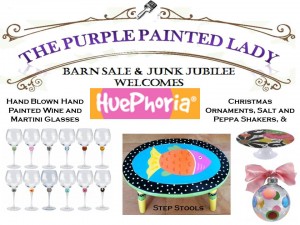 GG's Shoppe
GG's Shoppe has a variety of painted pieces from whimsical to shabby. Stop over to her space the day of the Barn Sale & Junk Jubilee and welcome her!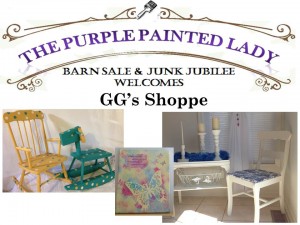 Thirty One
Every Thirty-One style was designed with you in mind. They're all solutions that make your life a little easier. Whether it's style, organization, the perfect giftable item — or a little bit of everything — you've come to the right place! Please stop over to Michelle's website here.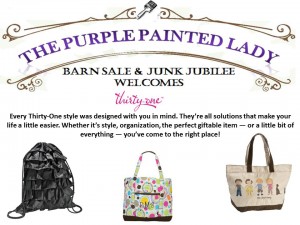 Rochester Woman Magazine
The Purple Painted Lady is ecstatic & honored that the Rochester Woman Magazine will be joining us at the Barn Sale & Junk Jubilee! Come and meet the incredible artistic editors behind this "must have" magazine!!!! Please visit their Facebook page & show them some love (Meaning LIKE their page) and also stop over to their website!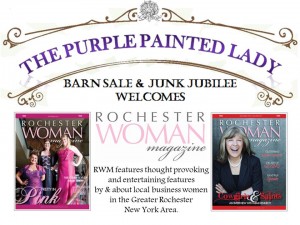 Papersaurus Creative
Papersaurus Creative is a greeting card company that aims to fill in the gaps in the greeting card industry. We sell cards for every occasion and are always looking for new occasions to showcase. We're just getting up and running, so check back often for more cards. Please stop over to their Facebook page and show them some LOVE! (meaning LIKE their Facebook page) or check out their etsy shop here.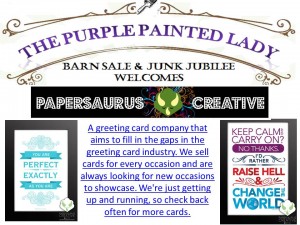 Hill Breeze Farm
Hill Breeze Farm are third generations of farmers and will be selling gorgeous potted mums- perfect for your fall landscape!!! They will also share information so your mums grow back again next for you!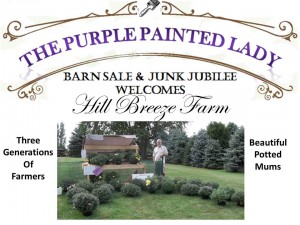 JAnn Designs
JAnn Designs will have a selection of beautiful, whimsical necklaces, rings, bangles and rings – with a variety of handmade pieces.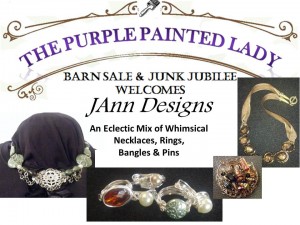 Lugia's Ice Cream
Lugia's Ice Cream ~ They are your ice cream shop on wheels- and bring the party to you! (and yes- making ice cream is an art!!!) Please stop over to their
Facebook
page and show them some LOVE! (meaning LIKE their Facebook page) or check out their
website
.
The Fournier Collection
Carleina of The Fournier Collection will have a variety of stunning handmade earrings, necklaces and bracelets. Including debuting wire crochet necklaces – which are extremely haute. Her favorite materials to work with are pearls, sterling silver and semi precious stones. Please visit her Facebook page & show her some love (Meaning LIKE her page) and also stop over to her website!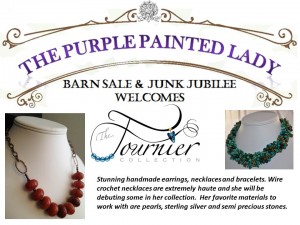 Rachel Cordaro
Rachel's art demonstrates a deep love for flowers. Vibrant Wildflowers and Poppies dance across the canvas evoking a whimsical and cheerful feel. Please stop over to her website to see more of her incredible work! www.rachelcordaro.com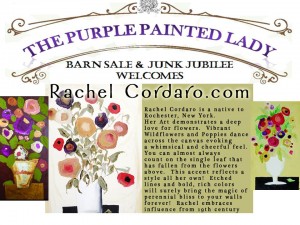 Paparazzi by Nicole
Nicole Myhill is very outgoing and is located in Clifton Springs. She sells necklaces, bracelets, earrings, rings, headbands, and hair clips for only $5.00. Please stop over to her Facebook page and show her some LOVE! (meaning LIKE her Facebook page) www.facebook.com/paparazzi.nicole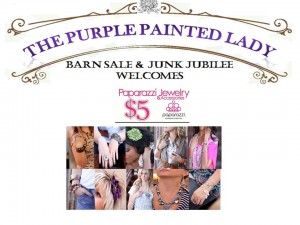 Betty Shamblen Folk Art Watercolor Artist
Betty, a resident of Fairport, NY has published a number of reproductions from her original works. Her ideas, which are derived from life's experiences, and unique style of painting primarily focus on "Country", evoking charm, warmth and peace. Each painting is executed with detail and discipline reflecting bits of nostalgia, jogging memories of days gone by. All paintings and reproductions are complimented with double matting and custom frames. Her paintings have been available at the Rochester Memorial Art Gallery Gift Shop, Rochester, NY – in galleries in the Finger Lakes Region – Currently at GALLERY & FRAME in Canandaigua, NY., and Primitive Country Gifts, Mumford, NY. She has held one woman exhibits and was a featured artist in the "I Love NY " television promotion of Wayne County in Upstate New York and had previously supplied all Country Curtains stores with her framed reproductions. Please stop over to her Facebook page and show her some LOVE!
(meaning LIKE her Facebook page)
OR visit her website here: www.frontiernet.net/~pvillecreations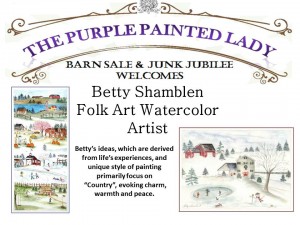 Beautiful Bowtique
Welcome to Nicole who is the artisan behind Beautiful Bowtique. Nicole is a stay at home mom to two beautiful little girls. She loves to make hair accessories that are reasonable priced. Nicole strongly feels that ALL little girls love "pretties" in their hair …… so they all should be able to have some 🙂 Please stop over to her website ~ www.beautifulbowtique.weebly.com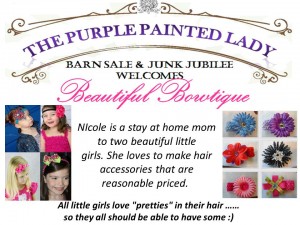 This is an ARTIST SPOTLIGHT for The Purple Painted Lady Barn Sale & Junk Jubilee happening on Sept. 22nd …WELCOME TO ~ Indigo Moon Fibers! Indigo Moon Fibers offers a wide variety of handmade knits, ranging from scarves and hats to quirky stuffed animals. They love the creative process and are constantly dreaming up new items and new combinations of shape, color, and texture. Most of all, their passion is custom knitting! Tell them what you want and they'll make it for you, simple as that. Use existing items as inspiration, or let them guide you. Please stop over to their Facebook page and show them some LOVE!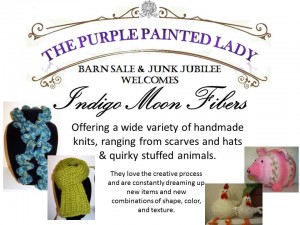 This is an unusual ARTIST SPOTLIGHT for The Purple Painted Lady Barn Sale & Junk Jubilee happening on Sept. 22nd …WELCOME TO ~ Psychic Thyme. Please stop over to their psychic village during the Barn Sale & Junk Jubilee for a spiritual reading- guaranteed to be a passport to the unusual. There will be four readers present and there is no need for guests to sign up before hand. Cost will be $10 for 10 minutes. If they want to go longer it is a $1/minute. There will be signs once you enter the Barn Sale & Junk Jubilee that will direct you to the psychic village. The event will be spread out about on 7 acres primarily that surround our home. There is only one way in the property. Parking is across the street…there will be signage and balloons directing everyone.
Sarah at Catch My Drift believes that we have finally entered into a world of appreciating and seeking out handmade art! She is so excited to be able to provide original, affordable pieces that would serve as great gifts that children can identify with. For Sarah, gone are the days of gifting a onesie to be stained and a toy that will be thrown to the side shortly after being played with. Why not give a handmade, timeless piece that can be enjoyed forever? If you are looking for something in particular that you would like to see made in the whimsical world of pastels, please convo her! She is always open to new ideas. If you are wondering if something is for sale in a frame or as the original, just ask! Please stop over to her Facebook page and show her some LOVE! (meaning LIKE their Facebook page) https://www.facebook.com/pages/Catch-My-Drift/154525677902371 OR visit her etsy shop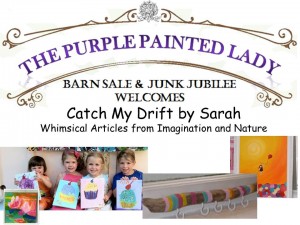 The Griffen Bakery is a local bakery that specializes in delicious, gourmet treats which are made in small batches to maximize flavors. They only use the best ingredients and never compromise quality for quantity. They are a weekly vendor at the Mendon Farmer's Market, and many other events throughout the year. Please stop over to their Facebook page and show them some LOVE! (meaning LIKE their Facebook page)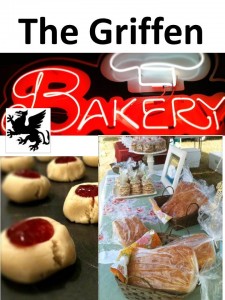 Finding Vintage Treasures is a gift & vintage remix is a must! Re-living designs through the past creates endless value! As a counselor & Create-tess this is most exciting to allow others to bring their Vintage Beauty out to PLAY! So Welcome to ZiLLA's QuEeN & Flirting with Vintage! All of the QuEeN's pieces come together to create this classic, ONE-OF-A-KIND Vintage Masterpiece! Necklaces, notebooks & bags galore; a complete Vintage Remix of brooches, pearls, chandelier pieces, bangles & beads with stories to be told! Your neck, hand & pen deserve to be so happy! Bring the internal beauty out to play!!! Please visit her etsy shop!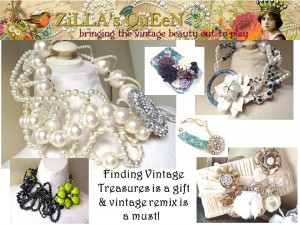 Come and rock with VINTAGE – the premier classic rock band in Rochester, New York! They play a full spectrum of the best music from the 60's, 70's & 80's. Bring a lawn chair, a cooler and enjoy the day! Show these guys some LOVE by LIKING their Facebook page and visit their website to see a list of their songs.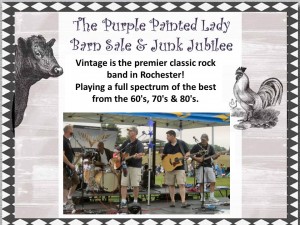 Sweet William Vintage is a "use-what-you-have" design approach. We love to incorporate things you already own, reinvent pieces that need updating and add chic and modern touches to give your space a fresh and pulled-together look. Please stop over to their Facebook page and show them some LOVE! (meaning LIKE their Facebook page) and check out their website too.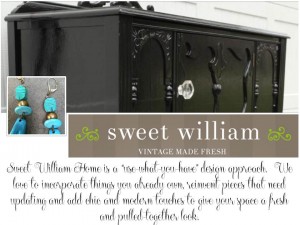 For The Love of Junk has vintage items, repurposed vintage frames, mason jar soap dispensers, stone and vintage inspired jewelry, etc…. Please stop over to Sheryn's Facebook page and show her some LOVE! (meaning LIKE her Facebook page)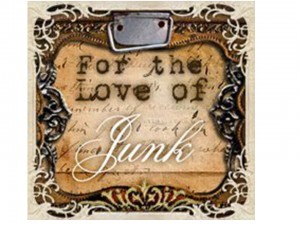 Pretty In Petals has a potpourri of beautiful items accessorized with …."handmade petals." From upcycled lampshades, unique hats and headbands, picture frames, wreaths, and…well, lots more- all priced at beyond reasonable prices! Please visit her Facebook page and show her some LOVE! (meaning LIKE her Facebook page) ps I painted that buffet in the right corner of her photo below. : )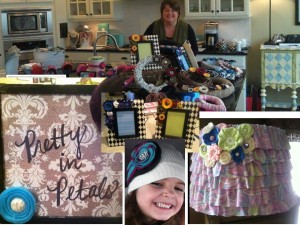 Sally's Pure Honey. Sally's Pure Honey is your source for pure, all natural, quality honey from quality bees. Located in Wayne County, New York, our bees search the local countryside and make delicious honey from the nectar of local trees, bushes, wildflowers, & crops. Since different nectar can make different tasting honey, each batch is unique & special! From My Hive will have a selection of honey offered ranging in the tiniest, cutest containers that are perfect for wedding or shower favors, to family size! Please visit their website for contact information.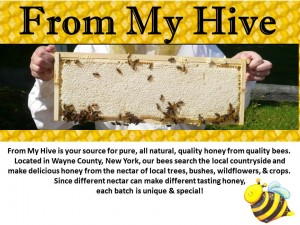 Work By Brian Petty. Brian is an amazing watercolor artist who creates home portraits. He also does these incredible fun caricatures! (Contact Brian if interested in booking him for a party – think how fun that would be for wedding, Birthday party or bar mitzvah)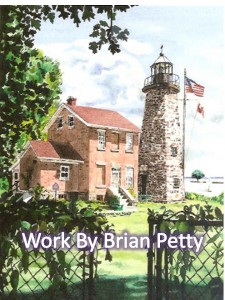 Sweet Pea Felts Sweet Pea Felts make wonderful toys, soft sculptures & whimsical items using natural materials! All are beautiful, but if you know a child with special needs- then these are even more important. Please visit her Facebook page and show her some love (meaning LIKE her page.)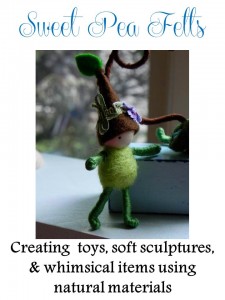 Shades of Ooh and Ah! Rachel Clark is an Interior Designer and more importantly, she is an artist! She effortlessly knows how to add special touches, vintage elements and punctuates spaces with Ooh and Ah! Rachel also creates amazing custom designer lamps and shades… Please drop by her page and show her some LOVE (meaning LIKE her page.)
Rachel's Garden Amy named her business after her daughter. Amy's inspiration comes from God's Word and His beautiful creation, found treasures from nature and her garden, flea markets, junk sales, handmade papers, gifts from the seashore and whatever else she can get my hands on that looks interesting…Hand painted pottery, collages, mixed-media and other treasures for your home and garden are just part of the potpourri from Rachel's Garden. Please visit her Facebook page and show her some love (meaning LIKE her page.)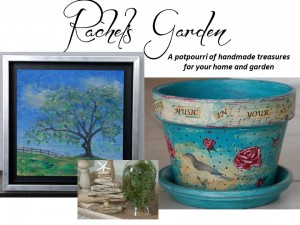 Kreationality Karen creates one of-a-kind pieces for you, whether it's a contemporary sweater, a tote, a rug or one of the many other pieces on the products page, you can imagine it has been custom designed just for you. You will love her color combinations and the stylish designs of the sweaters. All pieces are made from upcycled sweaters and fabrics to create something exclusive and unique. Please visit her Facebook page and show her some love (meaning LIKE her page.) OR…visit her website. http://kreationality.com/