WOW! What an amazing event we had in 2016! We raised close to $20,000 for local charities between parking, entrance fee, raffles and chicken dinners sold AND we are excited to see what we can do at our
VISIT OUR FESTIVAL WEBSITE BY CLICKING BELOW ON THE LINK
7th Annual ~ The Purple Painted Lady® Barn Sale FESTIVAL.
SAVE THE DATE!
September 23, 2017 from 9 – 5 pm with OVER 275 artists !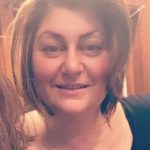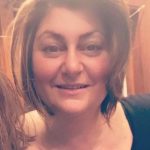 My name is Trish and I am the proprietress of The Purple Painted Lady. We have four retail locations between Rochester and Syracuse. As my business has grown- so has this venue. And my plans are to continue on this path. It is an amazing show and for vendors and guests…..I hope you join me on this journey! My second goal- is to always balance quantity with quality! With that said- you will not find anyone selling solar panels, or gas insert fireplaces at The Purple Painted Lady® Barn Sale FESTIVAL – (no disrespect meant to those things) but you will only find true artisans at the show…..with the majority of items being handmade or upcycled!
WHAT TO EXPECT IN 2017!
OVER 275 ARTISANS, antique dealers, junk sellers, bakers, food trucks, breweries, wineries and farmers.
Faster and more efficient access to parking! The Wayne County Sheriff's, Macedon Town Police and PalMac Rotary are all involve in re-routing roads to handle the traffic flow for that one day since the volume of people who come is so great.
Double the Parking Attendants
Tables & Chairs By Food Trucks
Lounge areas through out the show (why didn't I think of this sooner?)
Double the "Restrooms!" located in the front, sides and back of the show
On-Line Map to locate your favorite artist
This is a one day event (Sept 23, 2017) held on our 60 acres where we live on Yellow Mills Road in Macedon (Palmyra mailing address though.) We average around 6,000 people in an 8 hour period.
Here is a 2 minute video from our 6th annual ….The Purple Painted Lady® 9/24/16 Festival. We had close to 6,000 people attend. Take note of the TWO parking lots at the beginning of the video that show how full the 15 acres of parking got!!!!
WATCH 2016 BARN SALE VIDEO HERE
But before I go any further- can you LIKE my Facebook page, pretty please if you have not already? LIKE MY FACEBOOK PAGE HERE
We purchased the 40 acres directly across the street when it became for sale this past fall (2016)- so now there are no constraints that would prevent us from growing it more. : )
THIS SALE IS A BENEFIT:
PARKING FEE:
We charge $5 per car to park- and all of this money goes to the PalMac Rotary! I tell people to bring a bus since the $5 parking fee remains the same if you have a VW Bug or a school bus. LOL
$1 ENTRANCE FEE:
We charge $1 to enter. 100% of the entrance fee goes to the Festival's Charity Of Choice. In 2017, Camp ONSEYAWA is the beneficiary. Camp Onseyawa was formed to provide a true outdoor two week living experience to children with disabilities that cannot attend main stream camp. Camp ONSEYAWA is a place where they can be themselves, not worry or have anxiety and truly….just be a kid with no other titles! This is a special camp and your support is greatly appreciated!
CHICKEN DINNER:
Come out and support the Pal Mac Robotics Team at The Purple Painted Lady® Barn Sale this Saturday, 9/23 from 9 til 5 at 845 Yellow Mills Road. A portion of the chicken dinner profits directly helps them.
OLD INFORMATION FROM 2016 SHOW BELOW!
The Purple Painted Lady Barn Sale happening on Saturday, September 24, 2016 and it is booked to capacity with over 160 artisans!
LOCATION: 845 Yellow Mills Road Palmyra NY 14522 (see map at bottom of post)
At this point – we are NO longer accepting artisan applications.
Every artist has donated an item worth over $30. You can buy raffle tickets at the show- BUT everyone GETS ONE FREE.
Print this ticket, complete it legibly, and bring it to the show. Go to the Raffle Booth (back by The Purple Painted Lady's Barn…and choose which item you want your raffle ticket to go to.
~BIG BIG NEWS!
We are beyond excited to announce National Blogger, Miss Mustard Seed will be at our 9/24/16 Barn Sale!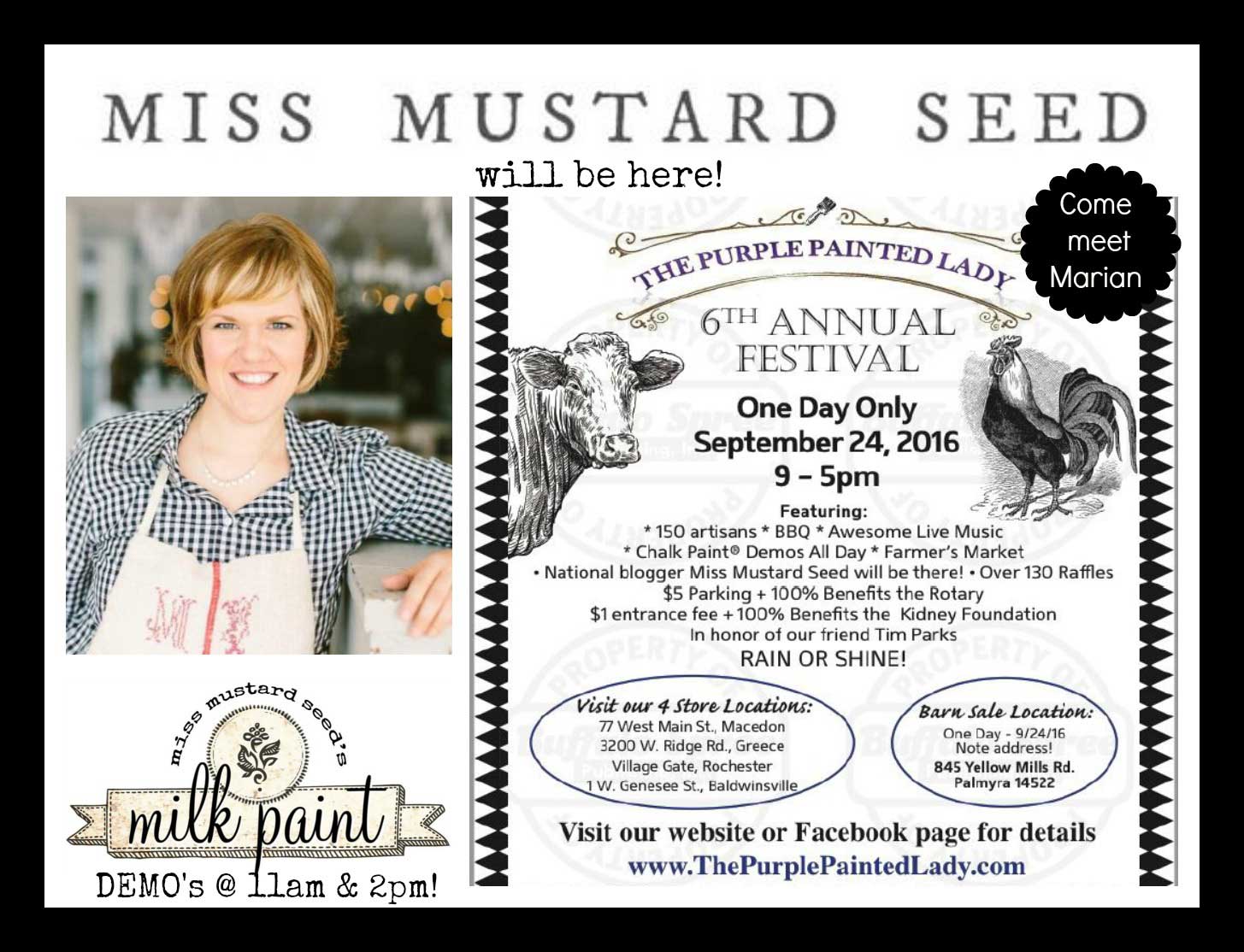 Come to the meet & greet and watch her demo Miss Mustard Seed's Milk Paint at 11am & 2pm under the big tent.
Visit Marian's website to learn more about her!http://missmustardseed.com/about/
Visit The Purple Painted Lady's 6th Annual FESTIVAL (Sept. 24, 2016) event page and let us know you are coming =>https://www.facebook.com/events/158186121199430/
THIS IS A BENEFIT:
Parking Fee:
We charge $5 per car to park- and all of this money goes to the PalMac Rotary! and 100% goes to the Pal Mac Rotary and they purchase dictionaries and a thesaurus for our 4th and 5th graders, among a lot of other things they do with the money raised. They man it with a 25 person team- so everyone is flagged into a space and it is quick in and out, no double parking issues. I tell people to bring a bus since the $5 fee remains the same. LOL
Chicken Dinner:
Come out and support the Pal Mac Robotics Team at The Purple Painted Lady® Barn Sale this Saturday, 9/24 from 9 til 5 at 845 Yellow Mills Road. A portion of the chicken dinner profits directly helps them.
Entrance Fee:
the $1 entrance fee goes to DonateLife and National Kidney Foundation Serving Upstate and Western NY this year.
Buy a pint!:
Purchase a pint from Twisted Rail and a $1 goes to the South Macedon Fire and Rescue, Inc.
Raffle:
All the money raised from the raffles will benefit Boy Scout Venture Crew 313. This is a no smoking event. No pets permitted either (even though we love animals!!!)
SCHEDULE OF EVENTS on 9/24:
We have a tremendous schedule for you!
We have the amazing band, VINTAGE playing all day on the front porch of "The Purple Painted Lady."
* 10am Megan Wachob, MW Murals will be painting a HUGE canvas of the white & purple home of The Purple Painted Lady (across from front porch where band is)
* 11am National Blogger ~ Miss Mustard Seed will be doing Milk Paint demos and Q&A on her experience creating her brand (back by The Purple Painted Lady Barn under the BIG tent)
* 11am Local bagpiper, Pete Campbell (starts at top of the driveway)
* 11:30am FIRST BLOCK OF RAFFLE WINNERS ANNOUNCED
* 12pm Hometown star, Baylee Morrison will be singing the National Anthem and a few songs (front porch)
* 1pm Chalk Paint® by Annie Sloan Demo (back by The Purple Painted Lady Barn)
* 1:30pm SECOND BLOCK OF RAFFLE WINNERS ANNOUNCED
* 2pm National Blogger ~ Miss Mustard Seed will be doing demos (back by The Purple Painted Lady Barn under the BIG tent)
*3pm Pal-Mac alum- Eli St. Thomas will be demoing metal forging (across from the Metal Garden on the side of the white & purple house.)
* 3:30am LAST BLOCK OF RAFFLE WINNERS ANNOUNCED
STREAMING LIVE FOOTAGE:
This happens once a year- where we gather over 160 hand-picked artists for our Barn Sale- otherwise known as The Purple Painted Lady® FESTIVAL! We will be streaming live footage of the show on our Facebook page through out the day….and this year we have a drone that can go up 400 ft to really capture the magnitude of this event.

LIVE MUSIC:
We have an awesome band called Vintage that sets up on our wrap around porch and plays from start to finish. They have been doing this the last 5 years.


TWISTED RAIL BREWERY WILL BE THERE!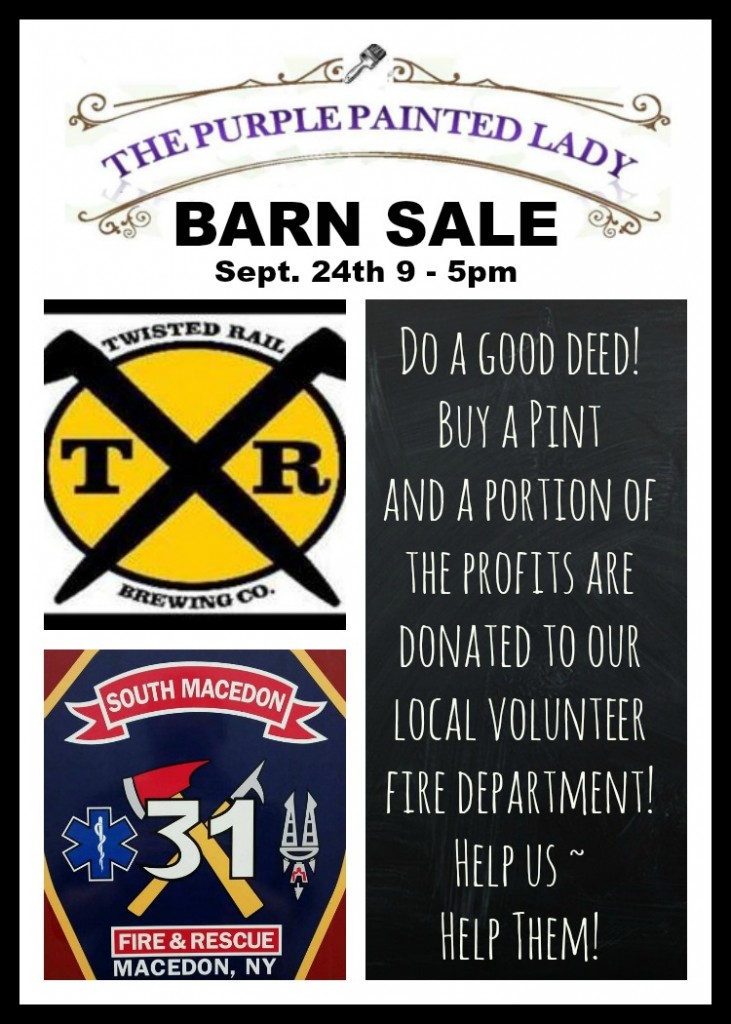 LIST OF 2016 VENDORS as of January 1st, 2016! (names in BLUE link to their Facebook, website OR etsy shop)
31:21 Covers/ Grace Grains
Adorn Beadworks
AHI Designs
Artful Creations
Bags By Joan

Beaches
Cabbages & Kings Stationary
Casual Elegance Custom Interiors
Cards By Alicia
Chapter 2
Checkered Past
Country Characters
Crank's Crates
Crimson Ramble Gifts
Creations By Jane
Custom Woodworking by Michael Hilimire
Creative Creations by Stan Macello
DCG Woodworking
Delightfully Delicious Dog Treats
Designs By Woo
DFG Handcrafts
DL Designs
Garden Art by The Zuck's
Garden Treasures by Kathleen DeVries
Hip Kid Apparel
JD Wine Cellar (Long Acre Farms)
Kathleen Kosel Steels
Katie Acres Alpacas & Country Gift Shop
Keep It Simple Quilts
Little Brick House
Lorraine's Concrete Leaves
Manda I Love To Paint
MCL Designs
Michael Keene Author
Miller Crossing Vintage Design
MWMurals & Lynn Ann Handpainted Furniture
Oh So Very
Out On A Whim
Peace & Joy
Picking Up The Pieces Mosaics & Garden Art
Pop's House of Country Collectables
Premier Designs Jewelry
Pretty Bird Jewelry
Primitive Hollow (primitive & rustic wares)
Red Poppy Purses ETC
Rough & Rustic
Sarah's Dream
Seamist Designs
Sergent Woodworking
Sew Surprised
Shabby to Chic Designs
Shadows On The Walls (themed shadow boxes)
Smoothies PLUS, LLC (food truck)
Solvey Studios
Swaddled In Style
Sweet Pickins
The Little Red Wagon Food Truck
The Meatball Truck (Food Truck)
The Rainy Forge
Things to Bling
Tim's Tie Dye
Time Worn For You
Time Tree Soaps
Tom Zackman Glass
Unique Chic
Vicki's Block Printed Clothing
Vintage Soul
SORRY- we are NO longer accepting artists for 2016!
WANT TO BE A VENDOR for 2017?:
We are accepting 2017 vendors NOW! Remember, we are a bit selective and we manage how many of any one niche participates since we like unique and diverse artisans!
ADVERTISING:
We are committed to serious advertising.

We will have billboards in Rochester and in Wayne County.

We advertise in 585 magazine, Rochester Woman magazine, Finger Lakes Magazine, GEVA and DesignNY.

We hand out 15,000 The Purple Painted Lady Festival Post Cards starting in January thru September.

I guarantee you – you have never attended a venue anything like this before.
Barn Sale Address is => 845 Yellow Mills Road Palmyra NY 14522
FROM ROCHESTER:
Take 490 EAST
Exit 26 Pittford/Palmyra Road
Make a RIGHT off of exit and head EAST
Drive 12 miles
Make RIGHT onto Yellow Mills Road
Drive 1.5 Miles (Look for the BIG red South Macedon Firetruck)
YOU MADE IT!



ARTISTS NEEDED FOR MONTHLY EVENT AT OUR VILLAGE GATE LOCATION
If you are an artists and missed out on being in this show- consider this! => ……we will begin hosting "Second Saturdays at Village Gate" in October and if you are an artists interested in participating in that- please email Trish at takuntz@rochester.rr.com and note
WHAT YOU NEED TO DO TO APPLY:
Email Trish at takuntz@rochester.rr.com
You must:
Label your email subject as, "2nd Saturdays at the Gate– (insert your business name)"
Provide all of your contact information (complete name, address, phone number)
List out all that you plan on making and bringing (we do not permit direct sales companies, sorry)
Include up to TWO photos representing your product
Trish will then respond back via email to you on if you are accepted via email and if you are- she will include the registration form for you to complete and mail back with your $25 vendor fee.
IF and once accepted- then you will be directed to send in your vendor fee.

Vendor Fee:
$25 in either Cash OR Check (Not Credit Card) Unless you do my Barn Sale- then the cost is $20.


HOW TO MAKE PAYMENT FOR VENDOR FEE
Check made out to Tricia Kuntz, dropped off at our Village Gate OR Macedon shop
OR mailed to:

Tricia Kuntz
845 Yellow Mills Road, Palmyra NY 14522- INCLUDE your business name in Subject!

WHAT DO YOU GET FOR YOUR $25 INVESTMENT?
An inside space where you can set up your own table or display to sell your wares. We will manage the promotion of the even and the layout.