The Purple Painted Lady Barn Sale & Junk Jubilee
is a special one day event.
It will be held on Saturday, September 21st from 10 to 5pm at our home on 17 acres with off road parking. Look for the great volunteers from the Palmyra Macedon Rotary who will be directing traffic. (see map below with directions- we are EASY to find!!!)

Raffle Ticket, Directions on how to get the show are down below. Keep reading…….


Again – this event is happening at my home on Saturday, September 21st from 10 to 5 at my HOME – located at 845 Yellow Mills Road, Palmyra NY 14522.

I personally – will be giving away TWO baskets filled with amazing Chalk Paint® decorative paint by Annie Sloan- each basket valued at $200!!!!

But, you need a raffle ticket though to win a basket! Everyone get's ONE FREE raffle ticket and since EVERY artist has donated something – you can inexpensively buy more raffle tickets there too!

For now though- go ahead and print and complete this one raffle ticket before coming to my party!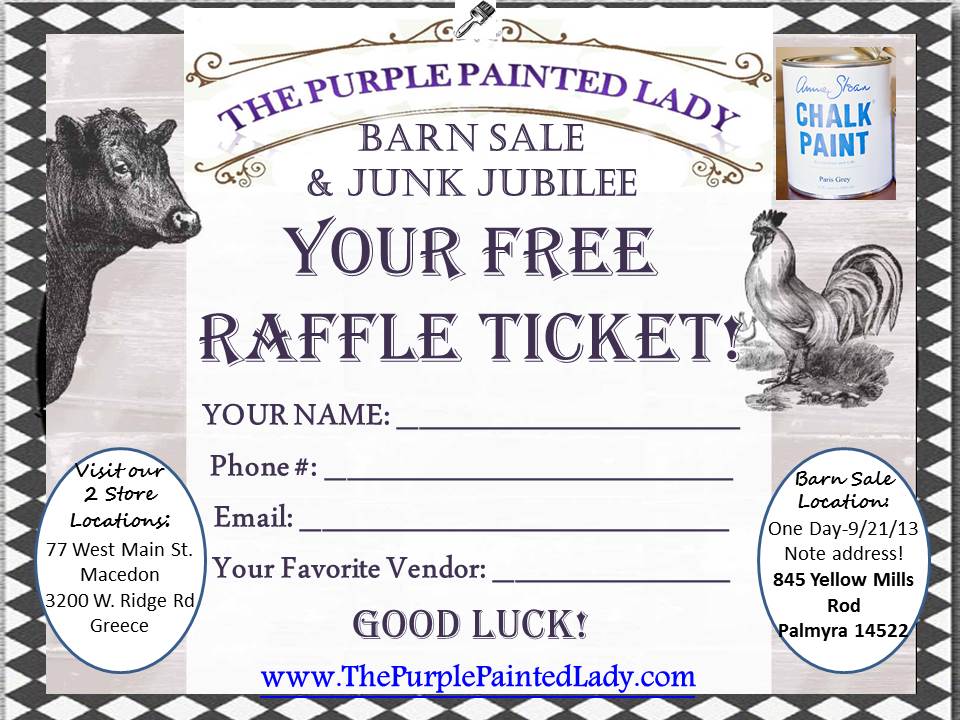 Everyone who comes can have a ticket- so print one for your friends too!This year we have added a Farmer's Market section – along with our other artists, vendors, wineries, bakers, cheese makers and farmers too – that attend as so to make the day unlike anything you will experience in Upstate NY!
Bring some lawn chairs and pack a basket lunch if you want to make this a whole day outing. (although we will have some fantastic vendors selling mouth watering food for you.) Feel free to relax on the front lawn and listen to the tunes of our classic rock band that plays from start to finish. I guarantee 100% – you will have a great time!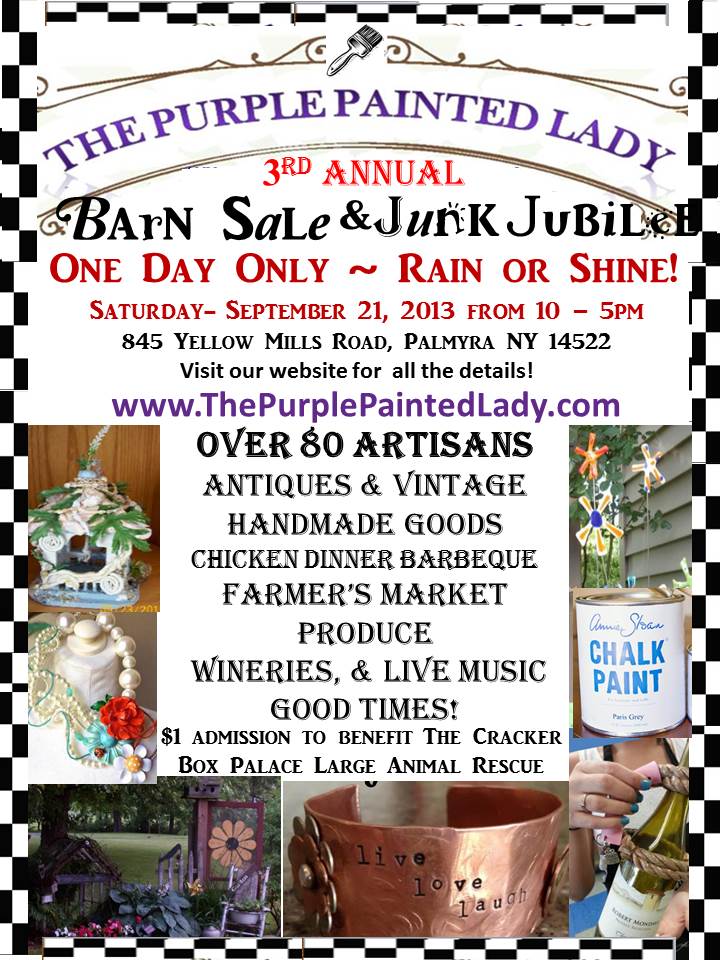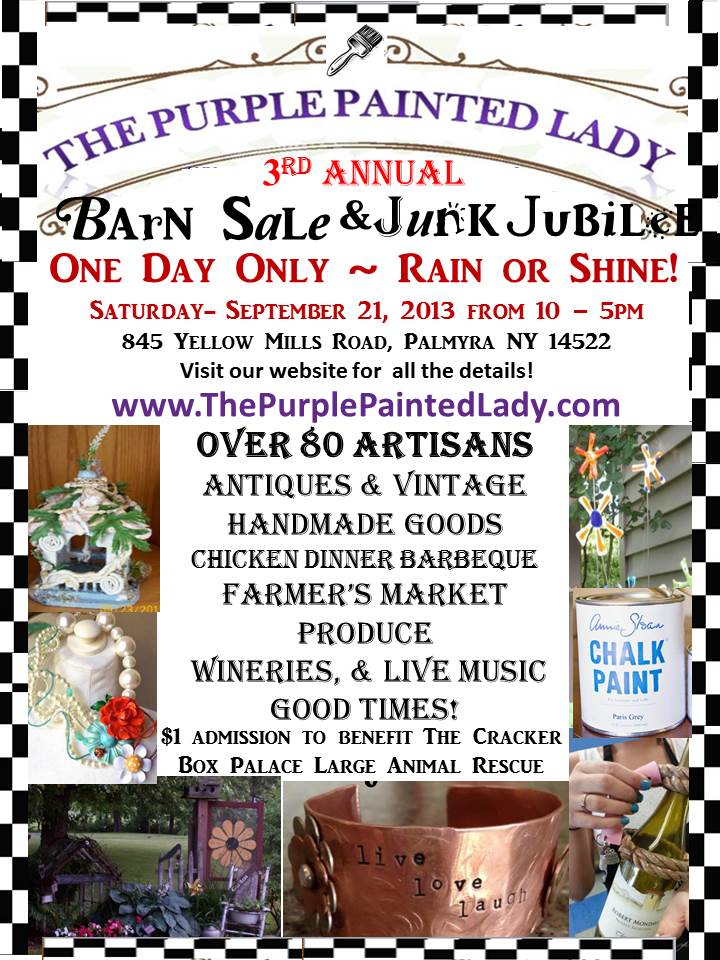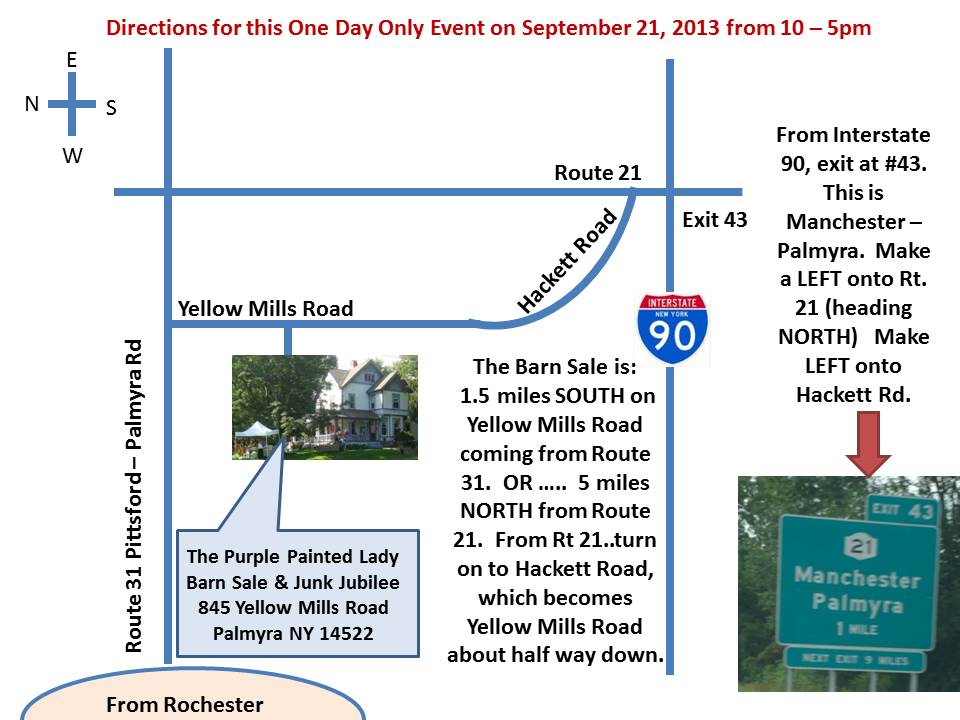 DIRECTIONS:
From Rochester– take 490 East to EXIT 26 (Route 31/ Pittsford/Palmyra Road) Make a RIGHT onto Rt. 31 and head EAST. Drive about 12 miles. Make a RIGHT onto Yellow Mills Road and drive 1.5 miles. The sale is on the RIGHT …look for the purple balloons and Parking Attendants. : )
FROM Syracuse – Take I90 (the thruway or interstate) towards Buffalo. (Heading WEST) Exit at #43 – The Manchester/ Palmyra Exit. Make a LEFT onto Rt 21. Drive about 1/2 mile. Make a LEFT onto Hackett Road. (Hackett Road and Yellow Mills are THE SAME ROAD) Drive 5 miles and we are on the LEFT. Look look for the purple balloons and Parking Attendants. : )

———————————————————————–
There is a $1 entrance fee- and that money will be contributed to the featured charity of our choice for this year's sale- which is Cracker Box Palace ~ a registered non-profit farm haven in Alton, NY. It is a unique place in Wayne County where farm animals of every kind come to recover from illness, neglect or abuse.
"We can judge the heart of a man by his treatment of animals." ~Immanuel
.
Some of our residents come here due to family deaths, or because their owners can no longer give them the care they need. All animals are taught that they still have friends and all people are not bad.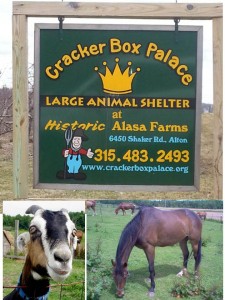 Please feel free to RSVP on our Facebook by visiting HERE. Everyone who does – will be sent a free raffle ticket the day prior to complete and bring with you.
Watch the list below grow and grow and grow!
Guaranteed to have over 80 amazing artists, bakers, wineries, cheese makers, fruit, vegetable & flower farmers, live music and ….
Click on a photo to visit the artists Facebook page or Website. And please check back on a regular basis since this list will continually be growing!