So many of you call, email, text, plead, and beg…"how can I make my Graphite Chalk Paint® decorative paint by Annie Sloan into a black?"

Quick Link to Graphite Chalk Paint® in our on-line store=> CLICK HERE FOR GRAPHITE
Quick Link to India Ink in our on-line store=> CLICK HERE FOR INDIA INK
Since I have gotten the impression that there will not be a black added to the beautiful suite of Chalk Paint® colors available- here is our response to you on how WE work around this issue easily!
First, let's show a piece of crown molding that we painted with TWO coats of Graphite. This board has one coat of clear wax over ALL of it, then dark wax on only half. This is a "sample board" in one of our shops: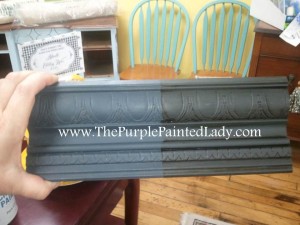 Next are a couple of photos showing the difference of Graphite Chalk Paint® compared to Graphite that has had India Ink added to it.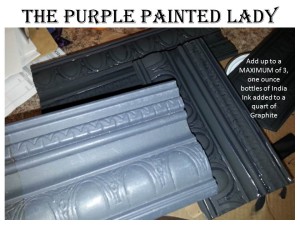 NOTE that the above photo was flooded with the flash from my cell phone's camera and it makes the "Graphite" sample board (lower board shown) seem very light and grey.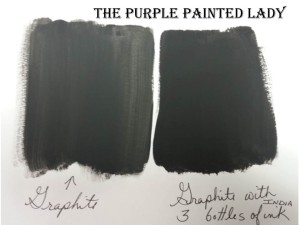 Annie Sloan's Graphite is a soft black/SLATE color. We compare it to a dark slate color because it has different hues of purplish blues, browns it it. Note it is not completely black. Thus- why many of you contact us!
When waxed with Annie's Dark Wax- the color becomes even more richer and warm- but sill have a brown/slate look to it. This is a very popular color, especially when I am detailing a piece with vintage typography. I receive a lot of emails about this color. First- I want to clearly state again – this is NOT black.
Again, Graphite is a rich color – close to being a slate, or think …dark pencil lead. Depending on the orientation of the surface painted- it can appear darker or lighter. It does have depth and interest- and clearly plays wonderfully with other pieces painted in a true black. When decorating a room- try to avoid the whole "Matchy-matchy" approach. Layer texture, patterns and hues of color….including various shades of "black." And if using Graphite in a room with a lot of blue- note that will impact how Graphite appears to you!
This may be a new concept for some of you – but please trust me – it will look fantastic! Just because you have a "black" piece- does not mean you need everything else black. In fact- next time you are in a showroom of furniture- look at a room set up with ALL of the same black pieces…it can become quite …plain …and gives minimal interest….it does not provide as much visual depth as a room with varied pieces. But – to clarify- Graphite is not black.

HOWEVER, for those of you who must just LOVE BLACK and are not satisfied with the hue of Graphite, purchase up to three (one ounce) bottles of Bombay BLACK India Ink and mix with a whole quart of Graphite.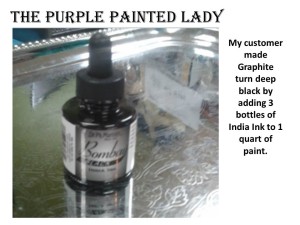 DIRECTIONS FOR MIXING INDIA INK WITH GRAPHITE:

QUART:
For a whole quart of paint- add 3 bottles of India Ink (1 fluid ounce each) to Graphite, then mix really well together.
Now- before you get all excited and start thinking, "why not add more ink to make it even blacker"….keep in mind- the more outside ingredients you add to Chalk Paint®, you run the risk of jeopardizing its integrity, quality and durability. With that said- I do not recommend adding more than three (one ounce) bottles of India Ink. We have done this many times over the last few years and it has always been very successful! So, stick with our suggestions, ok?!
I initially fold the ink into the Chalk Paint®, as so to not be sloppy. Once it is well incorporated- I start to mix it in.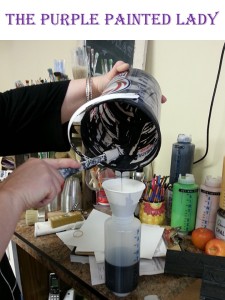 Since the recipe ratio is one ounce of India Ink to 10 ounces of Graphite Chalk Paint®- you can deduct down if mixing a lesser amount.
SAMPLE POT:
For example- if you have a sample pot of Graphite- which is only 4 ounces of paint. Add just a little LESS THAN HALF of one bottle of India Ink.
Carefully pour ink to your paint. It will be watery- so again- be careful.
First- when incorporating- FOLD the ink into paint. Once fairly well mixed- feel free to stir it. Just do not be sloppy. : )
Just a note of caution….the more outside ingredients you start to add to a product- it will start to play with the integrity…but this is an option to use and we love the outcome!
The buffet and hutch shown below are painted with Graphite that was mixed with India Ink: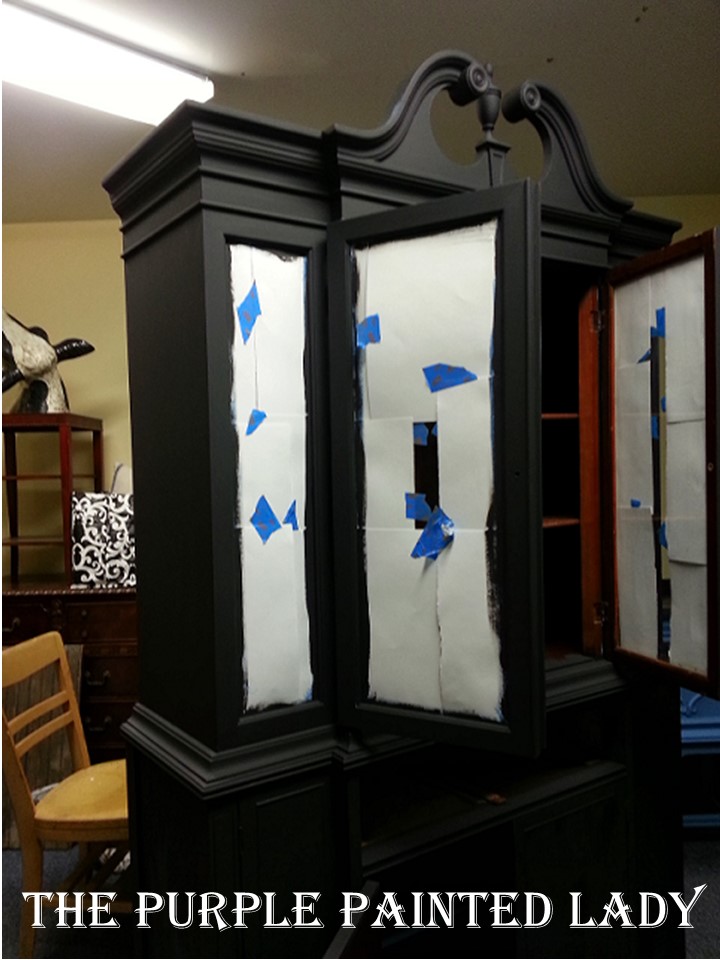 OTHER METHODS FOR CREATING A BLACK:
DARK WAX:
I understand that some may tell you that by applying Annie's dark wax over Graphite that you will get "black," BUT that is NOT true!
It will darken and warm up the graphite- but Annie's dark wax is a BROWN…not a black. I have sample boards made from crown molding in my shop for customers to hold and compare- and when you place another sample board painted with Graphite mixed with India Ink next to Graphite with Dark Wax……there is a major difference.
So, all who want that TRUE black- go the path of adding India Ink. Besides- not everyone wants to use both clear and dark wax in their process. Especially if painting seats on chairs or fabric!
AUBUSSON BLUE BASE:
Some have painted a base of Aubusson and then Graphite over to get a black. There are options to try- but if you paint a lot of pieces- I am quite confident- if you try the India Ink- this will be your preferred method.
OR
Add about 20% Aubusson Blue directly into your Graphite. Mix the colors totally. This will deepen the Graphite to a black.
Please visit our website if interested in ordering Chalk Paint®. We have it available for $34.95 per quart, we offer low/flat rate shipping and it always ships same day (as long as Pete, our UPS guy has not come already!)

In fact- there are many reasons we think buying through us is the best. Read THIS little post about what sets The Purple Painted Lady apart from the rest.
To visit our on-line store- click HERE.
Lastly, we share a lot more information to help you get the most functionality out of your Chalk Paint® on our Facebook page. Consider checking it out by clicking HERE. While there- kindly consider LIKING us.
Thanks again,
Tricia Migliore Kuntz ~The Purple Painted Lady ~
Design/Consulting, Kitchen Cabinet Refurbishing, Custom Painted Furniture, Chalk Paint® & Miss Mustard Seed Milk Paint Retailer & herRochester Blogger
PHONE: 585-750-6056
Come visit us:
At our MAIN STORE at 77 West Main Street in Macedon, NY 14502 OR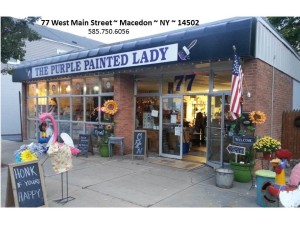 3200 West Ridge Road in Rochester, NY 14626 (The Shops On West Ridge) OR
Our Syracuse, NY location at 1 West Genesee Street, Baldwinsville, NY 13027
Click HERE for Store hours and information.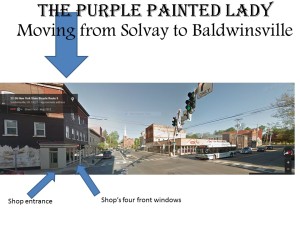 This post is dedicated to Michael Anezinis! LOL!