The littlest change can make such a big impact! Check out what Anne, who is part of The Purple Painted Lady® team did to her fireplace.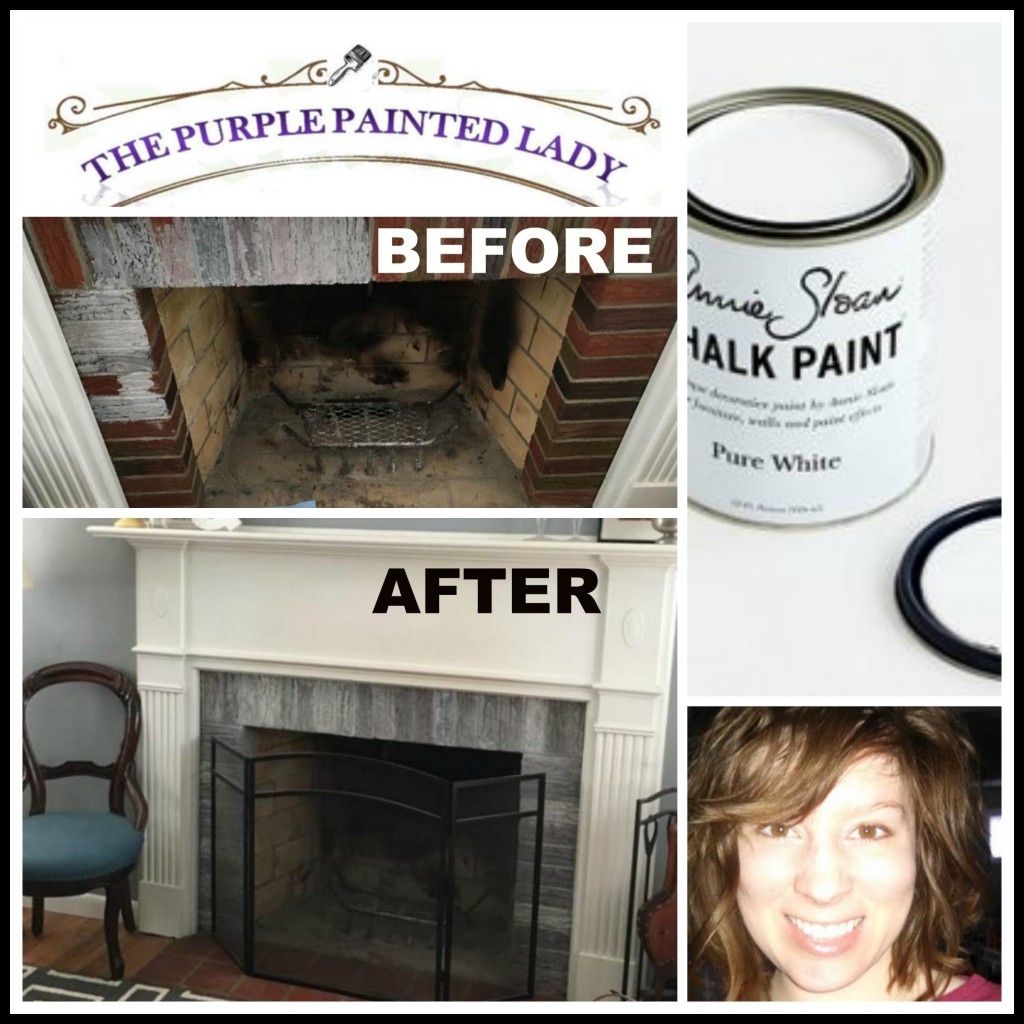 A little watered down Chalk Paint® in Pure White got rid of that orangey-red brick and now plays well with Anne's decorating style!
IMPORTANT INFORMATION: Before painting your fireplace surround, check with your Fire Marshall or Code Enforcement Officer regarding code in your area…it can vary by city/state.
Have you painted your fireplace? If yes- please send examples to Trish at takuntz@rochester.rr.com and you could win free stuff!
Goodbye dated red/orange brick…..Hello fresh and Current! Look what Linda Crawford did with a little Old White Chalk Paint®️ by Annie Sloan that was thinned with a little water. No top coat needed at all!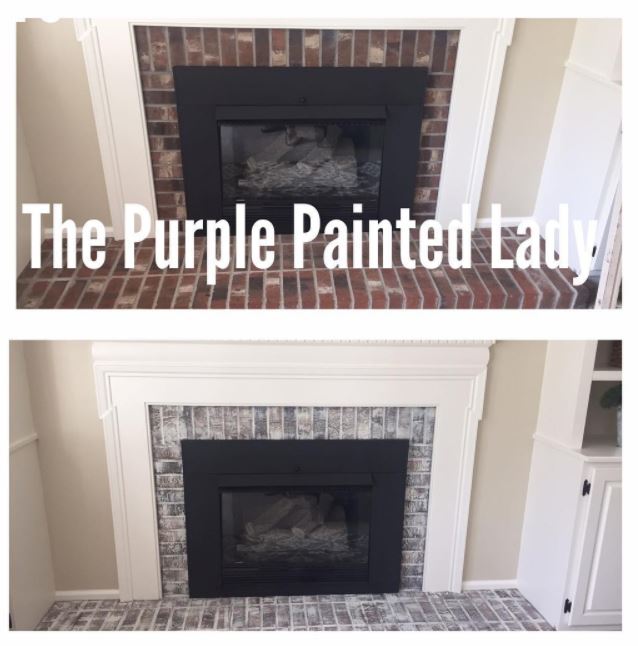 Debbie Ballo totaly transformed this baby! Primer Red Chalk Paint® by Annie Sloan and Java Gel by General Finishes. Debbie Ballo used both and transformed her fireplace surround. We love it! Debbie used Annie Sloan's Clear Wax over the Primer Red and the General Finishes High Performance Top Coat in Satin over the Java Gel. We love it!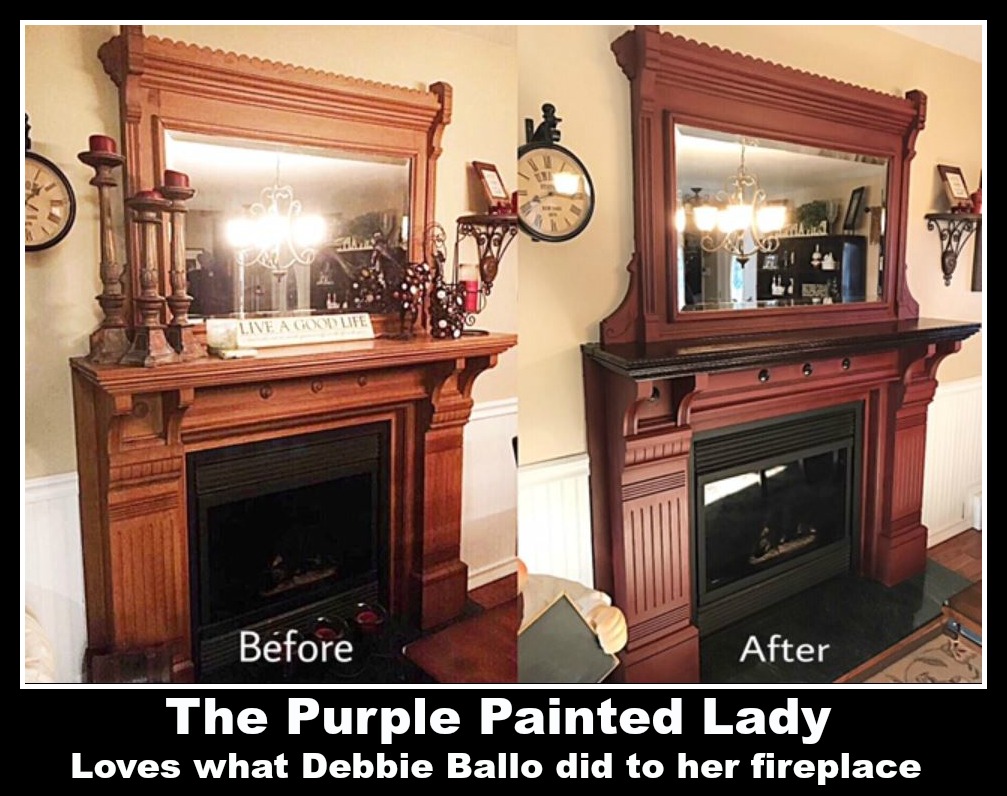 Jasmine Hagan did an amazing job with her fireplace surround. She stained over the pink brick with a dark walnut stain, then used watered down Old White Chalk Paint® to dab a white wash over the stain. I then painted the mantle in Duck Egg Blue Chalk Paint® and sealed with Clear Wax. Jasmine wrote us, "No regrets!!!"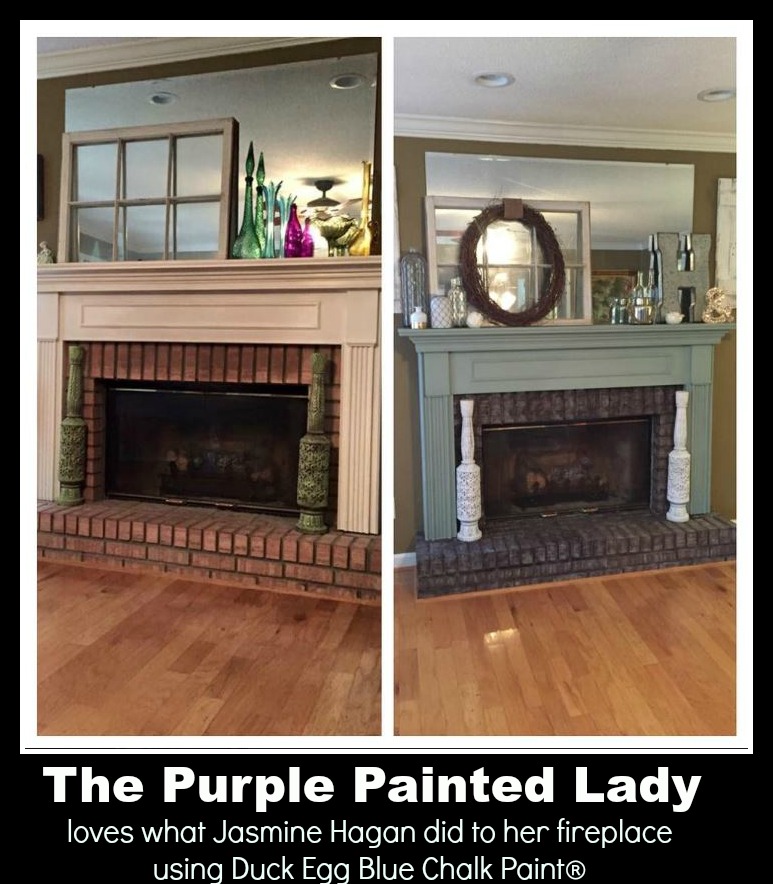 Roxanne Serritos
Roxanne and her dog used Paris Grey Chalk Paint® – straight out of the can! Then they made a wash of Pure White with some water and another wash of Graphite thinned with water. After she painted the Paris Grey all over the fireplace and it had dried, she took the Graphite wash and applied it over the ridges in the rock to show off the texture. Then, she used the Pure White wash to tone it down where needed. Roxanne wrote, "When you start it, your inner Annie Sloan kicks in and you just kinda work it…If you hesitate you will never do it…Tag me if ya need help…Or awesome Trish"
And isn't her dog cute too?!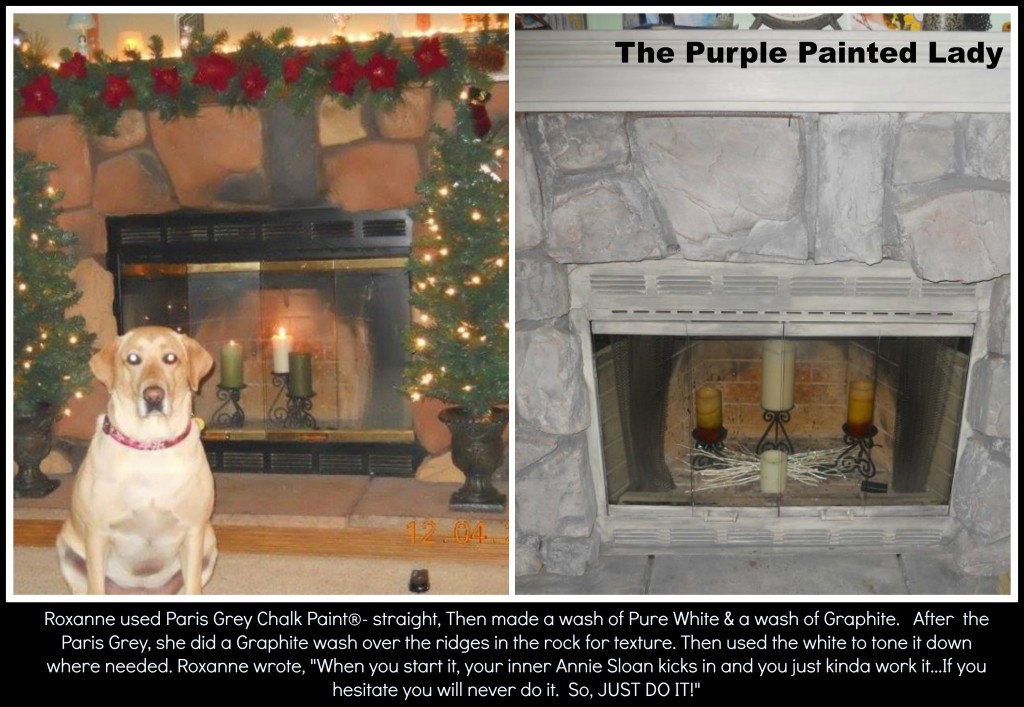 Kristin Belsito Sherman
A little Coco Chalk Paint® and voila!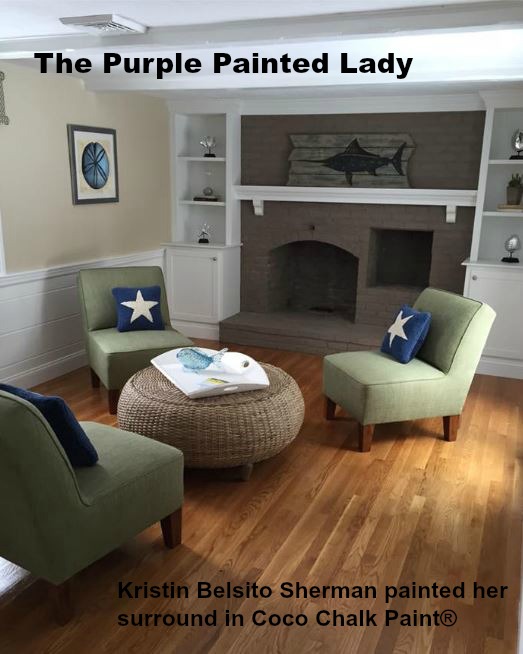 Suzanne Bagheri from at The Painted Drawer
Suzanne did a whitewash using Old White Chalk Paint® by Annie Sloan mixed with water. About a 1 part paint to 3 parts water ratio. She stippled the paint on in sections and then used paper towels to lift and remove excess strategically. Check out Suzanne's blog HERE!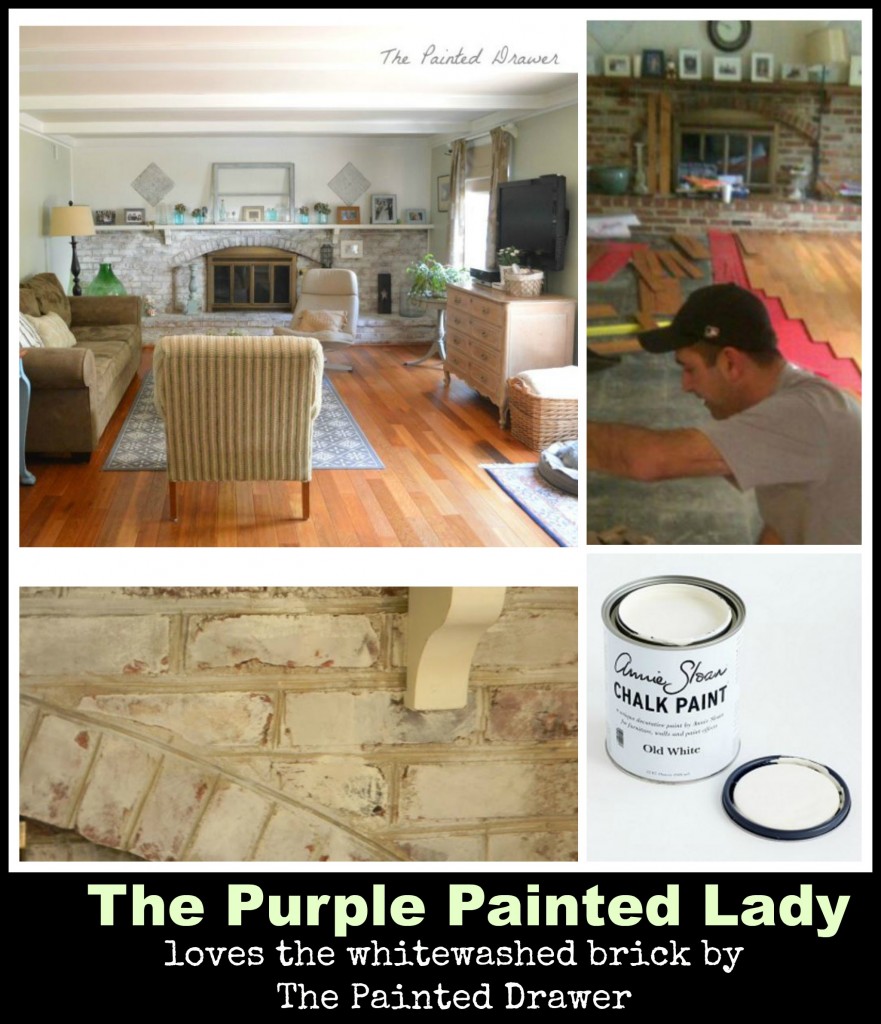 Susan Chamberlin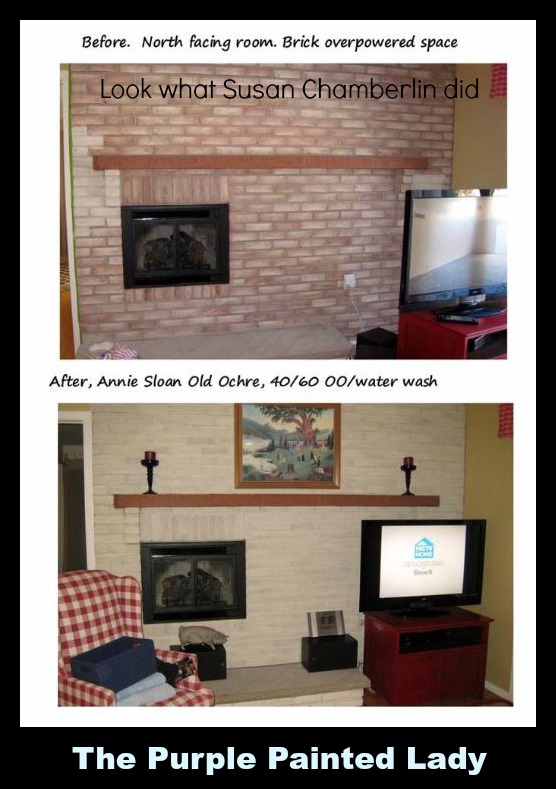 Eileen Carney:
Eileen used a watered down version of Chalk Paint by Annie Sloan in Pure White, followed with Old White to soften the brightness. Then, randomly rubbing to show texture and color of brick. She loves it now!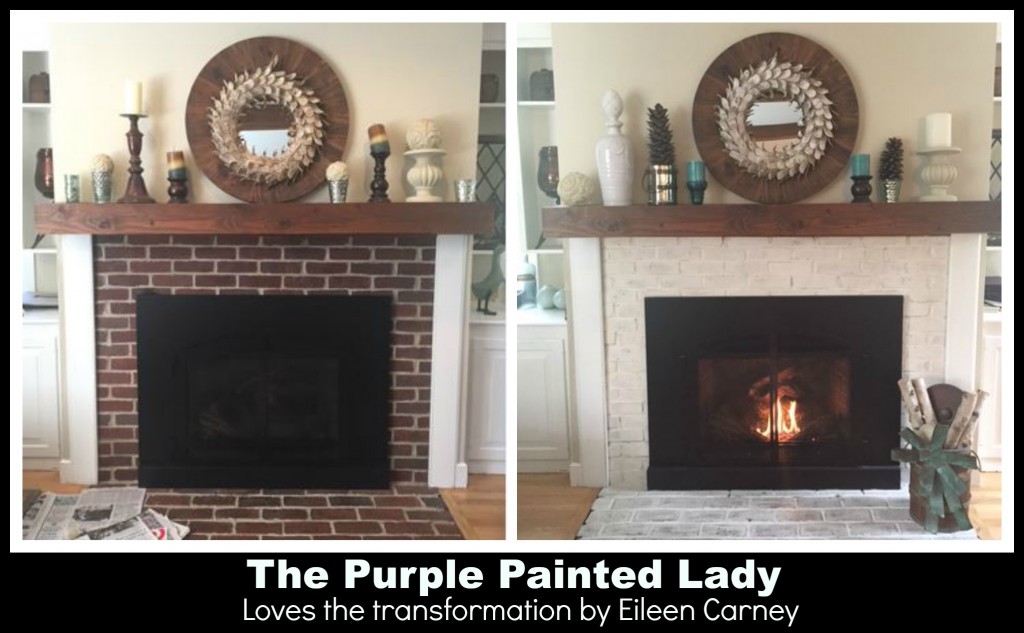 Mary Roach Kleps
Mary did a great job! She used French Linen Chalk Paint® on the floor tiles and then ran a wash of Pure White and water (1 part each) over the dried French Linen and immediately wiped off the excess. I used the same wash on the brick fireplace.